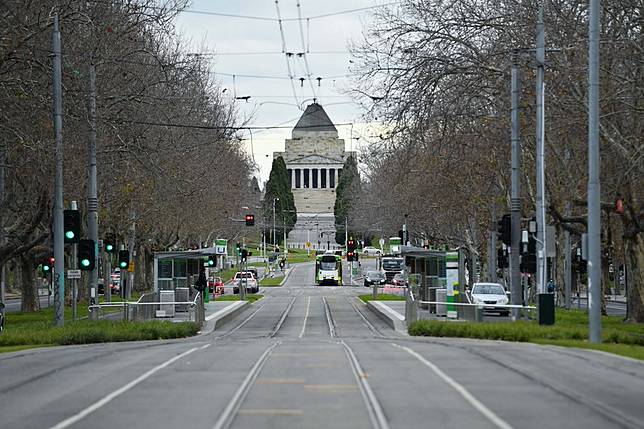 Photo taken on Aug. 3, 2020 shows a street in Melbourne, Australia. (Photo by Bai Xue/Xinhua)
Australia's State of Victoria entered a State of Disaster from Sunday night with its capital city Melbourne moving to Stage 4 restrictions with stronger rules in a bid to limit the movement of people and the spread of COVID-19. How Victoria became the only State in Australia to experience such an outbreak?
SYDNEY, Aug. 6 (Xinhua) -- The Australian State of Victoria once again broke it's own record for both new COVID-19 cases and deaths on Wednesday, with 725 new infections and 15 fatalities, taking the national tally to 7,227 and the death toll to 162.
Among the deaths was Australia's youngest ever victim, a man in his 30s, which Victorian Premier Daniel Andrews described as tragic evidence that the virus affects everyone.
After a horror month of cases throughout July -- taking Australia's total number of infections to 18,729 -- on Sunday, Andrews announced a State of Disaster and the strictest lockdown measures yet in an attempt to regain control.
Victoria's capital city, Melbourne, entered six weeks of stage 4 lockdowns including a nightly curfew and heavy penalties for those in breach of social isolation orders.
Under the restrictions, one person from every household could shop for essential items once a day and residents were allowed to leave their homes only for work, school or one hour of outdoor exercise, and only within 5 kilometres of their home.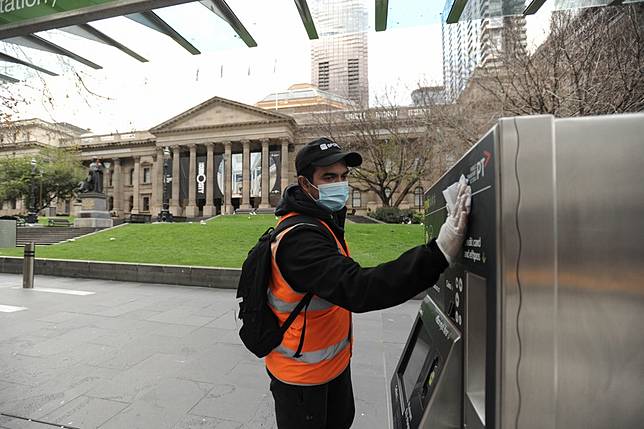 A sanitation worker cleans a facility in Melbourne, Australia, on Aug. 3, 2020. (Photo by Bai Xue/Xinhua)
Face masks were also made mandatory in public, enforceable by a 200 Australian dollar fine (144 U.S. dollars).
Health experts were hopeful that the drastic measures would finally bring the Victorian outbreak under control and in line with the rest of the country's minimal occurrences of COVID-19.
Biostatistician and epidemiologist at the University of South Australia, Professor Adrian Esterman told Xinhua that the government was now on the right path, but should have taken more decisive steps even earlier.
"The Victorian government has basically done the right thing now, and in another week or two, we should start seeing the results of a drastic decline in numbers," Esterman said.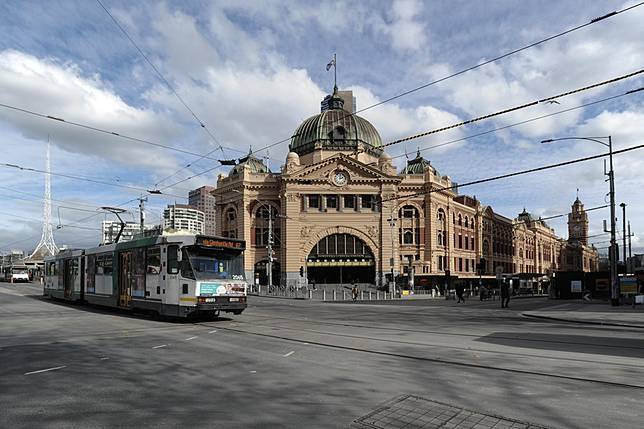 Photo taken on Aug. 3, 2020 shows a street in Melbourne, Australia. (Photo by Bai Xue/Xinhua)
However many are asking, how Victoria became the only State in Australia to experience such an outbreak and why authorities have been unable to stop the spread for so long?
Esterman believes that throughout July, Victorian officials were simply too slow to act, putting them one step behind the virus at every turn.
"Victoria could have got away with slightly less severe restrictions first, but they didn't do it. And now they're still reaping the consequences of not doing that," he said.
Instead due to soft messaging, people continued to go to work in non-essential industries far longer than they should have, many of whom would prove to have had the virus and spread it to their colleagues, Esterman explained.
Victoria has now cracked down on business operations, likely at a great cost to the state's economy, with hard closures in retail, manufacturing and office administration sectors.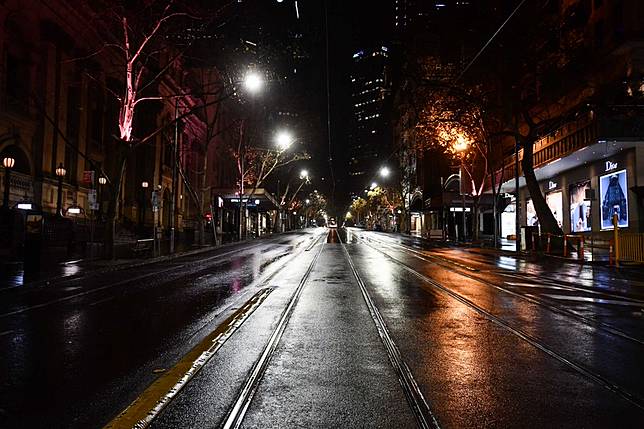 Photo taken on Aug. 3, 2020 shows a street during curfew in Melbourne, Australia. (Photo by Bai Xue/Xinhua)
Also of significant economic and social impact, is the 8:00 p.m.-5:00 a.m. curfew, enforceable by on-the-spot fines and even arrest.
It is the first ever large-scale curfew ever placed on an Australian city, including during the world wars, and is particularly stifling for Melbourne which prides itself on having a world-class bar and restaurant industry.
"People have asked about why on earth would they put the curfew on in Melbourne. The answer is that in Victoria, they were seeing younger and younger cases," Esterman explained.
"Around half the cases were under thirty. And the reason is it's the youngsters who go out and party and go to bars. And that's where we've seen them put the curfew on to try and clamp down on that."
Esterman explained that there was a certain amount of fatigue associated with the pandemic and by the time the second wave struck some Australian's preferred to ignore it -- which he says was partially a failure of government messaging, but also a lack of personal responsibility.
The curfews will help police determine who is out in public for a valid reason, such as essential or emergency work, and who is flouting the rules.
To assist with Victoria's handling of the virus, roughly 1,400 Australian Defence Force (ADF) personnel were deployed to Victoria, offering expertise in planning and logistics as well as ensuring compliance with health orders.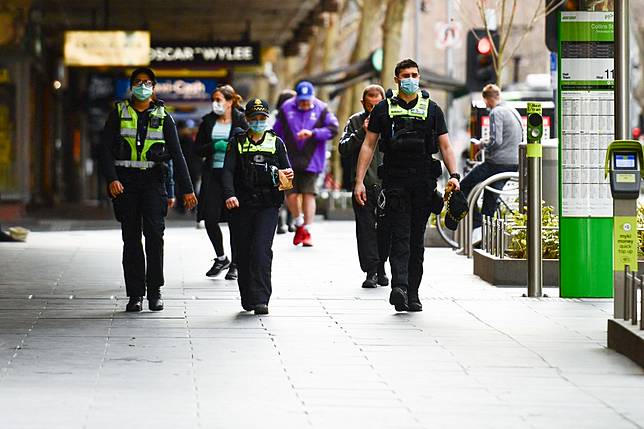 Police officers patrol a street in Melbourne, Australia, on Aug. 3, 2020. (Photo by Bai Xue/Xinhua)
ADF personnel were tasked with visiting the homes of those ordered to self-isolate, in order to ensure compliance and offer assistance or support should it be required.
Andrews revealed that prior to this week, out of 3,000 door-knocks conducted, in 800 instances the person who was supposed to be self-isolating was not at home.
With the current stage 4 restrictions, Esterman said that if the case numbers didn't decline he would be very surprised, as their effectiveness has been shown both in Australia and overseas.
"There's no reason why current restrictions wouldn't work, and we'll see case numbers come down to much lower levels, where we can basically have it firstly under control, so we see a drop in community transmissions of unknown contact," he said.
"And secondly, down to much lower levels anyway, where we can basically say that they've reached the same level as other states and territories." ■