Walls have sprung up all over Hong Kong in past two weeks, having been first seen in city during Occupy protests in 2014
The Hong Kong iterations are based on an original one that was mounted in Prague after John Lennon's assassination in 1980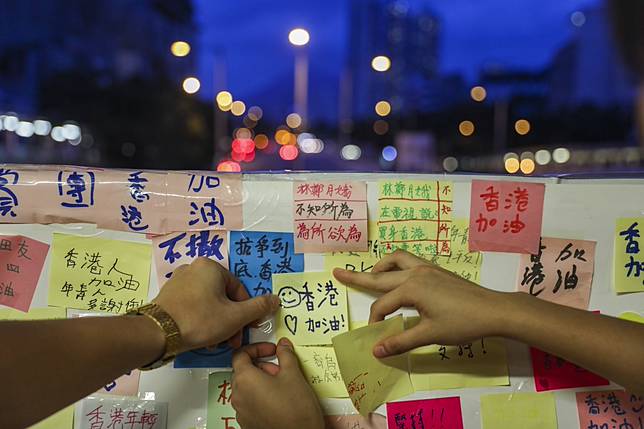 Hong Kong has been rocked by waves of protests against the government's extradition bill since June. But while opposition to the now-suspended bill has at times been fierce, the episode has also inspired many Hongkongers to express themselves in a quieter, more creative way.
Since last week, displays of colourful sticky notes have sprouted up across the city, making international headlines. Known as Lennon Walls, the displays made up of anti-bill messages and other protest statements have transformed entire underpasses, pedestrian bridges and even shopfronts into multicoloured billboards.
City Weekend takes a closer look at how the protest movement has become a major source of inspiration for the creation of art and memes.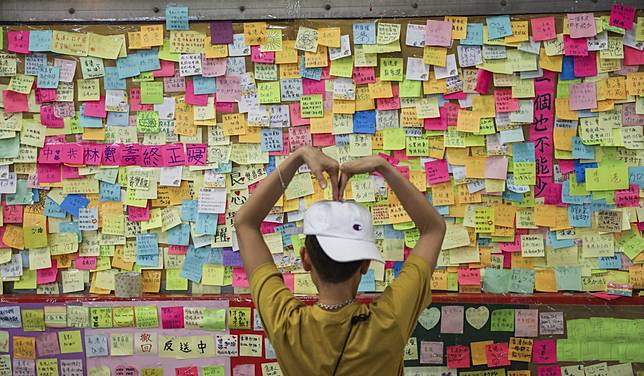 The origin of the Lennon Wall
The colourful walls get their name indirectly from one of the most iconic figures in popular music, John Lennon, who was also an anti-war activist in his later life. The original Lennon Wall sprang up spontaneously in his honour in Prague following his assassination on December 8, 1980. Lennon's pacifist anthems recorded during his solo career after the break-up of The Beatles, such as Give Peace a Chance and Imagine, became anthems for anti-war movements across the world.
The latter, with the lyrics "imagine all the people, living life in peace", was also sung during the 2014 Occupy protests in Hong Kong.
After Lennon's death, an unknown artist painted a picture of him and some lyrics on a wall located in a secluded square across from the French embassy in Prague.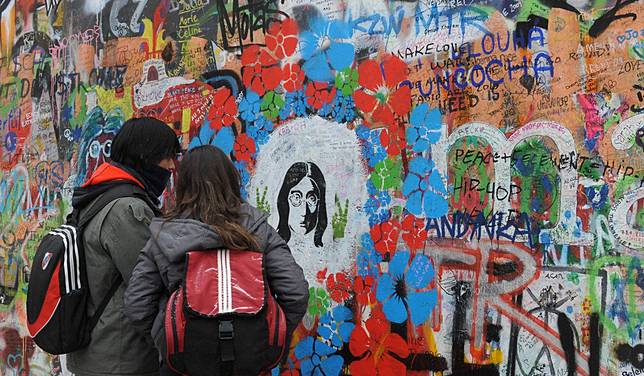 At the time, Western music and symbols were repressed, and sometimes banned, in the country, still known as Czechoslovakia and behind the iron curtain, and the image of Lennon was essentially a form of protest. The Czechoslovakian secret police, the StB, quickly painted it over, but the initial image of Lennon triggered an unstoppable deluge of anti-Communist graffiti.
After the peaceful toppling of the Communist regime in November 1989 during the Velvet Revolution, the wall became a popular " and ever evolving " site for calls to activism worldwide and a vibrant landmark in the city.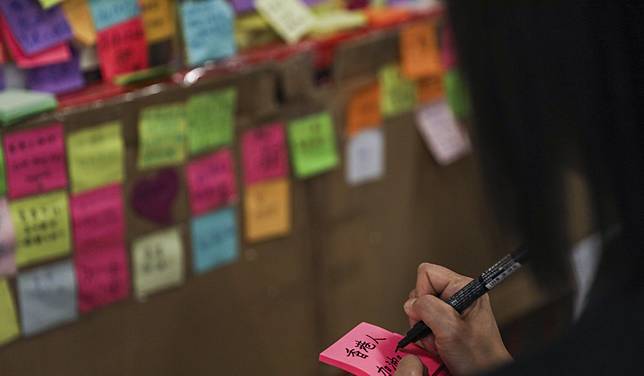 In November 2014, on the 25th anniversary of the Velvet Revolution, the wall was painted over in white by a group of student artists, leaving behind only the words "wall is over". But the wall did not remain blank for long, with the graffiti and messages soon returning.
Hong Kong braces as protesters from both camps to take to streets
In April this year, the Czech Republic branch of Extinction Rebellion, a climate activist group, repainted the Lennon Wall with the words "klimaticke nouze" which means climate emergency in Czech.
How did the Lennon Wall become a site of protest art in Hong Kong?
In Hong Kong, the Lennon Wall first appeared in 2014 on an outdoor staircase leading to the Hong Kong government headquarters. As police began to clear protesters who had been occupying Admiralty, an online version of the Lennon Wall appeared.
Students in Causeway Bay also constructed a miniature Lennon Wall in December that year. After police used tear gas on protesters, crowds grew and began spreading and occupying other areas, including Causeway Bay, a hopping hub, and even Nathan Road in Mong Kok.
Last month, the Lennon Wall in Admiralty quickly reappeared at the same location as in 2014 after one million people marched on June 9 to voice their anger over the bill, which would have allowed the transfer of fugitives to jurisdictions with which the city lacks an extradition agreement, including mainland China. Hong Kong's leader Carrie Lam Cheng Yuet-ngor suspended the bill on June 15.
Among the posts were messages such as "Hong Kong, add oil", "Carrie Lam step down" and "My dear, democracy is a good thing", along with caricatures of the police, who had pepper-sprayed, tear-gassed and fired rubber bullets at protesters.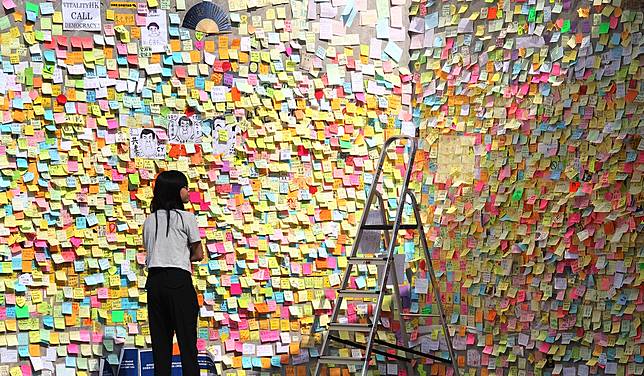 As the protests continued, more and more of the colourful walls began to spring up across Hong Kong Island, Kowloon and beyond, even as far as some of the outlying islands. Among the biggest are in Tai Po, Causeway Bay and Austin. Outside Hong Kong, Lennon Walls sprang up in Toronto, Canada, Tokyo, Berlin and London, just to name a few.
There is even a Lennon Clock in Vancouver's Gastown, where supporters have left notes on a steam-powered clock that rings every 15 minutes.
A Hong Kong protest Lennon Wall has just appeared on the tourist trap steam clock in Vancouver's Gastown. Quite smart because the clock ding-dongs every 15 minutes and tourists constantly take photos of it. pic.twitter.com/opgiyDNzYk

" Joanna Chiu 趙淇欣 (@joannachiu) July 13, 2019
The walls are also a place for people to gather and commiserate. A video shared on Twitter showed a group of people at the Lennon Wall in an underpass tunnel near Tai Po Market Station singing one of the unofficial anthems of the protests, Under a Vast Sky by the Canto-rock band Beyond.
But the walls have also met with anger in some places, with pro-Beijing and pro-police citizens attempting to strip away the messages, which has led to altercations, with several people arrested.
More than 200 police in riot gear also visited the Lennon Wall in Tai Po on July 10 to remove posters that disclosed the identities and personal details of some officers.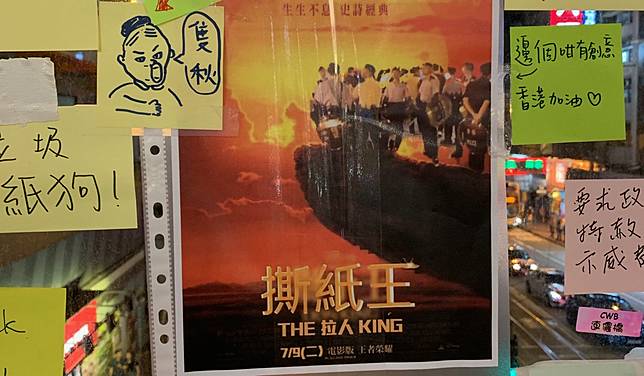 How does one piece of art inspire the creation of others in the movement?
The police's actions in Tai Po provided yet more inspiration for activists " including the creation of numerous online memes. One was a parody of the poster for the new Lion King film " the Cantonese term for arresting people sounds similar to "lion" in English, and in Cantonese, tearing paper is a homonym for the Cantonese name for the lion.
Masked group defaces Lennon Wall in Tai Po
The memes have also appeared on Lennon Walls as Hongkongers turn to humour to vent their frustration. Another popular installation at the Lennon Walls are posters of Carrie Lam next to a hanging flip-flop, allowing passers-by to strike the chief executive's likeness with the shoe.
The practice derives from the tradition of "villain hitting", where people can pay a woman to curse their enemies as they "hit" paper figures with an old shoe.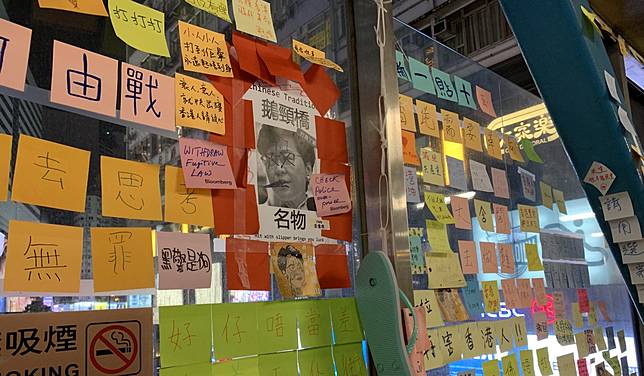 The walls have also become a means of communication. Large QR codes invite people to "scan for the latest travel tips" but they actually provide links to a website explaining the anti-extradition protests written in simplified Chinese. The use of the script prevalent on the mainland suggests these are aimed at visitors from across the border. Due to censorship on the mainland, many Chinese are unaware of the events unfolding to the south.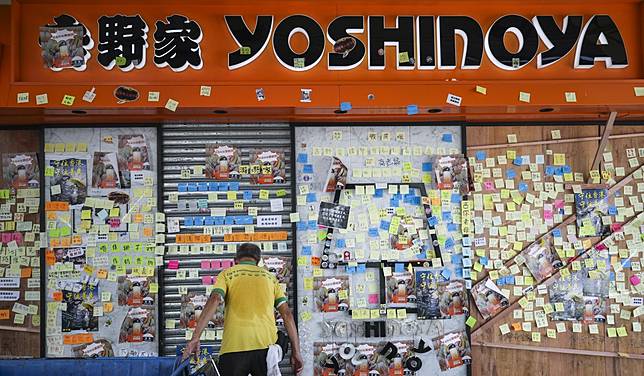 Additionally, protesters also turned the window of a Yoshinoya restaurant outlet into a Lennon Wall, after the pro-government boss of the Japanese chain's local franchise pulled a Facebook post that made fun of police for removing notes on a Lennon Wall.
Tai Po Lennon Wall restored after flags plastered by group of masked men
Marvin Hung Ming-kei, CEO of Hong Kong-listed Hop Hing Group, which runs Yoshinoya restaurants across the border, told mainland media he was outraged at the post, which he was not informed of in advance.
During a protest in Sha Tin on Sunday, a Yoshinoya outlet boarded up its windows and doors with plywood, and protesters used it to post messages and memes.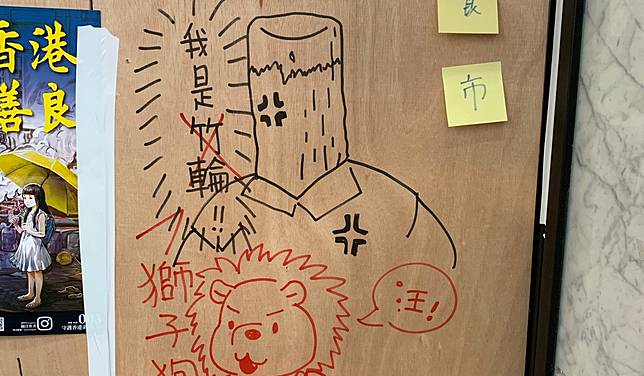 Some messages read "rats inside" and "boycott", while others drew a policeman as a Chikuya, a popular Japanese food called Si Zi Gau in Cantonese, the literal meaning of which is "lion dog". The name also sounds similar to "a dog that tore paper" in Cantonese.
Another Hong Kong march secures approval despite police request for delay
The walls have also become a place to display protest art. Well-executed art and design has been a staple of Hong Kong protests since 2014, with London's celebrated Victoria and Albert Museum featuring several pieces of art from the Occupy Central movement in a special exhibition called "Disobedient Objects".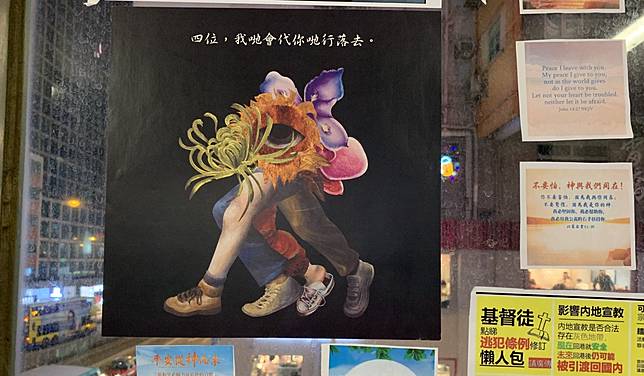 This year, art featuring four walking legs against a black background offered a poignant reminder of the four people who took their own lives, citing their opposition to the extradition bill. "We will continue on for the four of you," reads the text above the image.
Other art includes caricatures of Carrie Lam and police, while others drew the famous Lion Rock with the words "Hong Kong add oil" written down its face.
With more demonstrations planned, the protesters' anger shows no sign of abating, but there is at least one thing Hong Kong can be sure of " there will be no shortage of inspiration for local artists and creators.
Copyright (c) 2019. South China Morning Post Publishers Ltd. All rights reserved.