Emigration inquiries have risen fourteen fold since the protests started more than four months ago, says Midland Immigration Consultancy
A homeowner in Tuen Mun sold a flat 25 per cent below market value to finance emigration application.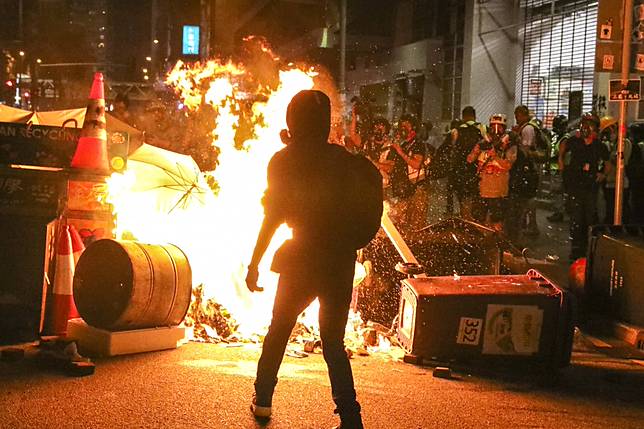 Hongkongers' interest in emigrating has jumped fourteen fold as the four-month long anti-government protests show no signs of ending, and many are selling their property before the housing market deteriorates further to finance their move, according to Midland Immigration Consultancy.
The consultancy said that inquiries have skyrocketed from some 20 in May before the controversy over the now-abandoned extradition bill erupted to about 300 in September when the protests started taking an increasingly violent turn.
"Part of the reason is the recent situation," said Tina Cheng, director of strategy at the consultancy. "The vast majority (of them) want to have a better living environment and better education for their children."
Cheng said that the more recent inquiries have largely been from professionals, such as doctors and lawyers, and those in the middle to high income category, compared to July, when it was mainly people in their 30s.
She said that as a lot of clients did not have ready cash amounting to millions of Hong Kong dollars for the golden visas, they were considering selling their homes to finance their move.
On Tuesday, the owner of a 549 sq ft flat at South Hillcrest in Tuen Mun sold it for HK$5.56 (US$709,000) million after slashing the price by HK$940,000.
Owners of Hong Kong luxury homes turn to daily leases to find tenants
"As the society continues to be under unrest, the owner slashed the price by about HK$1 million to move overseas," said Ryan Ku, client manager at Many Wells Property Agent, adding the price per sq ft at HK$10,128 was 25 per cent below market price.
Last week, a 795 sq ft flat at Double Cove in Ma On Shan sold for HK$10.7 million after the price was slashed by HK$1.3 million.
"The original owner wanted to offload stock to cash in and emigrate in light of market volatility," said Christy Chan, chief senior sales manager at Midland Realty.
The findings come as data from the Rating and Valuation Department showed Hong Kong's home prices declined 1.4 per cent in August, the fastest rate this year. The price index for lived-in homes slumped for a third successive month to 389.8, while the more current Centa-City Leading Index sank 2.4 per cent from September 1 to October 6.
David Hui, managing director of Centaline Immigration Consultants, said the number of people attending events held by his company had doubled to about 100 for each briefing.
"They made up their minds to emigrate (while the protests became more violent)," said Hui.
Midland's Cheng said the number of enquiries was likely to remain at the current levels "in the coming few months", adding Hongkongers were targeting Ireland and Portugal because of their relaxed requirements, particularly in the duration of stay to gain permanent residency.
Portugal has a golden visa scheme to get residency on property purchases of Euro350,000 (US$384,000) while Ireland offers four residency options with investments ranging from donations of Euro500,000 to a public project to Euro2 million investment in real estate investment trusts.
"A lot of people who have made inquiries (now) understand the difficulty of emigrating immediately and are making long-term plans (about actually living in the place)," said Swing Wong, director of immigration consultancy at Midland.
Hong Kong's desperate homeowners slash prices by 20 per cent after National Day
Separately, a recent online survey of 600 people conducted by Midland Immigration Consultancy showed that a few Hongkongers had started to act on processing their applications, compared to an earlier survey in July when they were only making general inquiries about moving overseas.
Copyright (c) 2019. South China Morning Post Publishers Ltd. All rights reserved.