Hong Kong's eight publicly funded universities are home to roughly 18,000 non-local students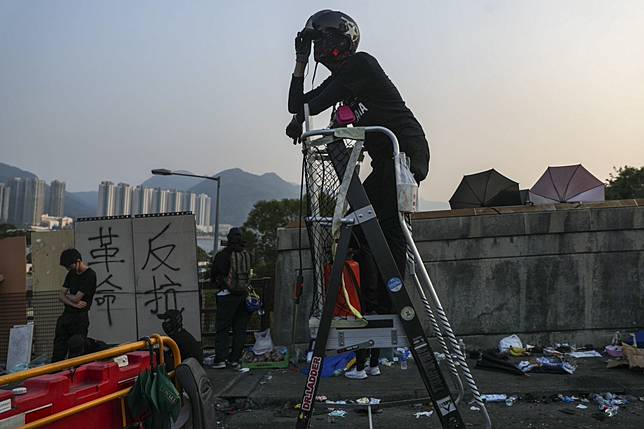 Chinese tech companies have offered internship positions to university students studying in Hong Kong after some of the city's campuses turned into battlegrounds amid ongoing anti-government protests.
Hong Kong has been rocked by five months of protests triggered by a now-withdrawn extradition bill, with universities the new frontline for clashes between protesters and police.
Hundreds of mainland Chinese students have already left or are leaving, while Taiwan has coordinated with its national carrier China Airlines to evacuate 81 of its students studying at Chinese University of Hong Kong, the scene of pitched battles this week.
The companies, including TCL Electronics, Zhengjiang Univew Technologies, Chinese electrical appliance manufacturer Midea Group as well as artificial intelligence companies Fano Labs and 4 Paradigm, are offering paid positions exclusively to college students in Hong Kong, according to their postings on social media.
Pitched battles on campuses as Hong Kong police warn of 'total breakdown'
The positions include programme developers, market officers, human resource officers and administration officers, among others.
"Some universities in Hong Kong do not have the stable conditions for study," read a Univew job posting on its WeChat official account, which offered internship positions in its Hangzhou headquarters as well as in Shenzhen, Wuhan, Tianjian, Jinan and Xi'an.
"We believe that internship experience in mainland China, working with excellent peers, will help Hong Kong students display their expertise and better grasp the opportunities in the era of rapid development."
Fano Labs, an artificial intelligence company spun off from Hong Kong University in 2015, also said it is providing job opportunities in its offices in Shenzhen, China's major tech hub next to the Hong Kong special administrative region.
"We have noticed that the recent social situation in Hong Kong has caused big inconvenience to … university students in the city," said Fano Labs in its official WeChat account.
HKUST condemnation of attack on student fails to dispel mainland fears
Midea Group said it would provide internship pay, reimbursement for high-speed rail travel from Hong Kong to Guangdong province where it is based, as well as accommodation and housing subsidies for interns who are assigned tutors by the company.
TCL specified that its offer was for mainland Chinese students studying in Hong Kong, but the other companies said their offers were open to all students in Hong Kong, including international ones.
The companies did not immediately respond to emails seeking comment.
Before the companies stepped up with their offers, a number of government-backed community organisations in Hong Kong and Shenzhen said they would help mainland Chinese students who planned to leave the city.
In Shenzhen, the city's branch of the Communist Youth League said on Wednesday it would allow students returning to the mainland to stay free for up to seven days at one of its 12 accommodation facilities.
A Hong Kong that writes off young protesters is writing off its future
The Peking University HSBC Executive MBA student's association said on Thursday it would host some students from Hong Kong so they could continue studies near a Shenzhen university campus, with up to seven days accommodation for free.
The central government's liaison office in Hong Kong issued a notice on Sunday saying Beijing would help mainland students in Hong Kong. On Wednesday morning Hong Kong marine police deployed a ship to help students from the mainland leave the CUHK campus.
Hong Kong's eight publicly funded universities are home to roughly 18,000 non-local students. Students from more than 50 countries and territories make up about one-fifth of CUHK's 20,000-strong student body.
Additional reporting by Iris Deng and Jane Zhang
For more insights into China tech, sign up for our tech newsletters, subscribe to our award-winning Inside China Tech podcast, and download the comprehensive 2019 China Internet Report. Also roam China Tech City, an award-winning interactive digital map at our sister site Abacus.
Copyright (c) 2019. South China Morning Post Publishers Ltd. All rights reserved.