China stocks fall as well on trade war concerns
Volatility index for Hong Kong stocks rises to a one-month high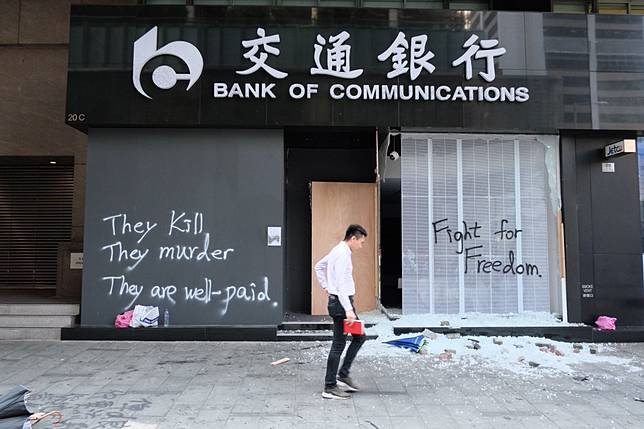 Hong Kong's stocks fell to their lowest level in three weeks, with volatility increasing and discounts to the mainland's equities widening, as protests crippled the public transport service and led to a record number of bank branches to close.
The Hang Seng Index slid 1.8 per cent, or 493.82 points, to 26,571.46 at the close on Wednesday, the lowest level since October 23.
One bright note for the city's stock exchange was drowned out by the protest chaos: Alibaba, China's e-commerce giant listed in the US, has gotten approval to sell shares in Hong Kong in a secondary listing that will catapult the city back to the top of the world's IPO rankings.
As anti-government protests rattled the city for a third straight day, a record 250 bank branches were closed on the day as a result of traffic paralysis, with one in five outlets of the 18 major banks including HSBC Holdings and Standard Chartered Bank being shut. The glass facade of the Bank of Communications branch in Central was smashed by bricks.
Meanwhile, the Education Bureau announced that all schools including kindergarten, primary and secondary as well as special schools will suspend lessons on Thursday out of safety concerns. At least 80 mainland Chinese students were evacuated by police from the Chinese University of Hong Kong by bus.
Hong Kong protests: at least three universities announce classes to be cancelled " with one closed until end of the month
Concerns about the strength of China's key October economic due tomorrow and the prospects of a trade deal between the US and the Asian nation also weighed on sentiment.
Industrial product growth probably decelerated from a month earlier, according to the estimates in a Bloomberg survey. US President Donald Trump said in New York his administration will raise tariffs on China significantly should the first phase of a trade agreement not be struck.
Protest chaos leads to the most bank branch closings in Hong Kong's history other than during typhoons
China's Shanghai Composite Index slipped 0.3 per cent to 2,905.24, with insurance companies and brokerages pacing the decline.
"The uncertainty in Hong Kong is making investors uneasy as there is no clear end to the situation," said Gerry Alfonso, director of the international business department at Shenwan Hongyuan Group in Shanghai. "In this environment, making a long-term asset allocation plan is rather difficult and hence you see people moving into cash."
The volatility index of the 30-day implied movements on the Hang Seng Index rose to a one-month high, while Hong Kong stocks traded at the biggest discount to mainland shares in almost two weeks, according to a measure tracking the price discrepancy of the two markets.
Stocks Blog: Alibaba approved to list in Hong Kong; New World, Wharf, other property stocks fall amid protest chaos
"Investors are very concerned about the Hong Kong economy," Kenny Wen, wealth management strategist at Everbright Sun Hung Kai in Hong Kong, said. "It is difficult to forecast coming developments. I strongly recommend investors to reduce exposure on those sectors that are highly correlated with the Hong Kong economy."
All the 50 members but one on the Hang Seng Index dropped on Thursday, with property developers and banks being among the biggest decliners.
New World Development, whose portfolio includes retail, and hotels and serviced flats, slid 4.9 per cent to HK$10.46 as the worst performer on the benchmark gauge. Wharf Real Estate Investment, which owns Harbour City in Tsim Sha Tsui and Times Square in Causeway Bay, dropped 3.7 per cent to HK$42.25.
HSBC retreated 1.4 per cent to HK$58.25 and Bank of Communications lost 1.7 per cent to HK$5.27.
Tencent Holdings, China's social media giant, slipped 0.9 per cent to HK$327.40 before the release of its third-quarter earnings.
In the mainland, Shanghai Fengyuzhu Culture and Technology tumbled by the 10 per cent daily limit to 14.81 yuan after the company said chairman and general manager Li Hui was detained Tuesday by the Beijing police for suspected collusion in tendering.
Additional reporting by Deb Price
Copyright (c) 2019. South China Morning Post Publishers Ltd. All rights reserved.