Restaurant operator Fulum Group Holdings has put eight properties worth some US$327.78 million on sale
Snack food chain Best Mart 360, and Maxim's Group Genki Sushi are debating whether to renew leases of some of their outlets in protest-hit areas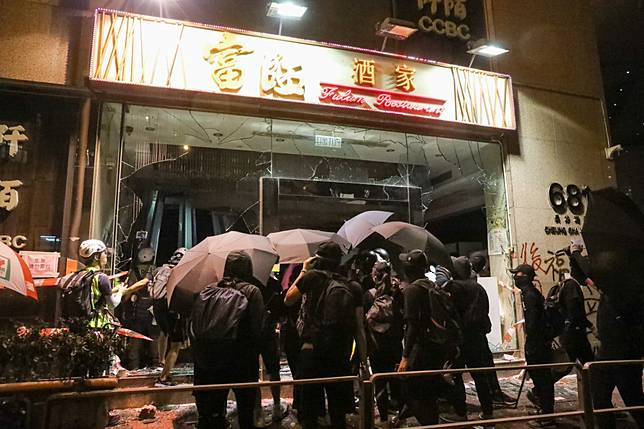 Companies that have been frequently targeted and vandalised in anti-government protests, because of links to mainland China or their owners supporting Beijing, are looking to downsize operations amid a gloomy retail environment.
Restaurant operator Fulum Group Holdings has put eight properties worth some HK$2.57 billion (US$327.78 million) on sale. Snack food chain Best Mart 360, and Genki Sushi, whose Hong Kong operations are run by Maxim's Group, are considering whether to renew leases of some outlets.
Fulum Group, which protesters believe is linked to a Fujian clan, did not comment on whether the sales were linked to the recent vandalising of its restaurants, but said it was strategically adjusting its brand structure and reducing the size and number of some of its larger restaurants to improve operational efficiency.
The company is seeking HK$150 million for a 18,664 sq ft property in Sha Tin Fun City, currently occupied by its Chinese restaurant, Fulum Fisherman's Wharf, as part of the revamp.
Fulum Centre, a seven-storey industrial building with 36,131 sq ft of space in Kwai Chung, is also on sale for HK$290 million.
Three other shops in Kimberley House, partly occupied by its MeokBang Korean barbecue & Bar restaurant, are being offered for HK$400 million.
Hongkongers who can afford overseas homes flock to seek sanctuaries abroad as protests rage on at home
Best Mart 360, which has repeatedly issued statements denying any connection with gang or triads, is debating whether to renew leases of shops in Sheung Wan's Wing Lok Street, Aberdeen's Wu Nam Street and Causeway Bay's Jardine's Bazaar. It has already closed outlets in Causeway Bay's Hennessy Road and Jordan's Nathan Road.
"Lease renewals for shops in Wing Lok Street, Wu Nam Street and Jardine's Bazaar are being discussed, so it is normal for the owners to offer them (to others) for lease," said a Best Mart 360 spokeswoman. "Normally, it is possible for the owner to offer the shop for lease when discussing lease renewals. It all comes down to the price."
Lam Chi-fung, co-founder and chairman of Best Mart 360, said that "it is not a good time to talk about this".
Fifty-nine of its shops have been vandalised in the ongoing protests and it was discussing compensation with its insurance company, Best Mart said in statement to the exchange last week, adding that it might have to bear losses if the insurer declined to cover the entire cost of the damages.
Hong Kong's luxury home sales sink to five-year low in September as caution prevails amid protests
Meanwhile, two shops currently occupied by Genki Sushi in Yuen Long's Sai Ching Street were being offered for lease by the owner. A worker at the sushi chain said they were still operating as usual and she was unaware of any plan to cease operations.
Protesters targeted restaurants owned by Maxim's Group after its founder's daughter, Annie Wu Suk-ching, called protesters "rioters", and said they did not represent Hong Kong.
Genki did not respond to requests for comment.
Edwin Lee, founder and chief executive of Bridgeway Prime Shop Fund Management, said owners who were putting their properties for sale were in no rush to sell, hinting at Fulum Group.
"They are testing the market and not really in need of cash. But I think at this price range, it will be very difficult to find buyers now," he said, adding interested buyers may wait for the protests to end.
Lee said that companies that have been frequently targeted by protesters could encounter difficulty in renting new shops as owners have concerns insurers might reject their policies.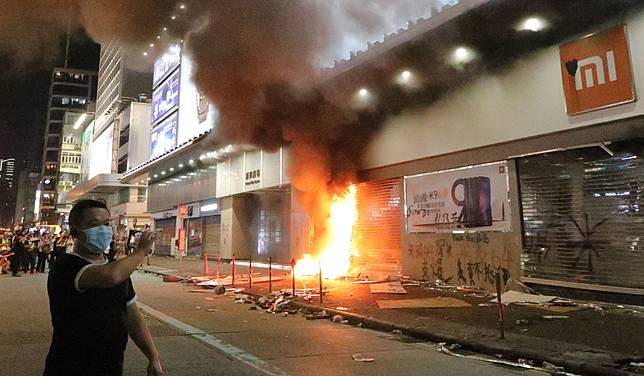 "When (potential tenants) come to rent (my shops) for a Starbucks or Best Mart 360 or Chinese telecom (companies), I will avoid that," said Lee. "The shop may be burned."
He said that it was possible insurers could reject their applications for insurance if the companies were repeatedly targeted by arsonists during the protests. "(Insurance companies) may not even insure us."
Separately, Simon Smith, senior director of research and consultancy at Savills, said street level shops in areas where protests were most common have seen an increasing number of vacant properties followed by shopping centres.
He said that despite rent concessions and additional rent-free periods of as much as 35 per cent offered by some landlords, prospective tenants have been backing off because of the difficult business environment.
Copyright (c) 2019. South China Morning Post Publishers Ltd. All rights reserved.