Commercial Radio employee was filming an incident in which he says officers were shoving reporters, and was told to stop
Force confirms sponge-tipped round fired, which hit reporter's backpack but did not injure him
A Hong Kong reporter was hit by a sponge grenade as he tried to flee an arrest after filming police shoving other journalists covering the unrest in Mong Kok.
The Commercial Radio reporter, surnamed Cheng, did not sustain any injury in the incident early on Saturday morning, but the non-lethal round was suspected to have left a hole in his backpack.
Police said he was running away from an arrest, after an altercation in which he was told to stop filming.
Commercial Radio strongly condemned the force and demanded an explanation and a thorough investigation of the incident, with two major journalist associations joining the chorus of criticism.
Cheng, 25, recalled he saw riot officers shoving other journalists wearing reflective vests and holding cameras near Langham Place mall in Mong Kok at around 1am, prompting him to take out his mobile phone to film the act.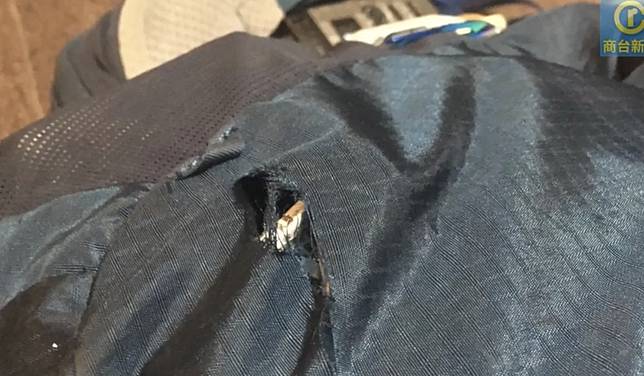 He said police tried to stop him from taking a video, but he resisted and read aloud an officer's "operational call sign" " ID numbers worn by frontline police for the public to identify them " for the record.
Another officer then pointed at Cheng, declaring "arrest him", according to the reporter, who said he then ran towards the mall.
Hong Kong Journalists Association condemns attack on reporter covering protests
"When I turned away and ran, I felt something strike my backpack. I also heard a gunshot."
A police source confirmed a sponge-tipped round was fired, which hit the backpack of the reporter, adding he was fleeing an arrest.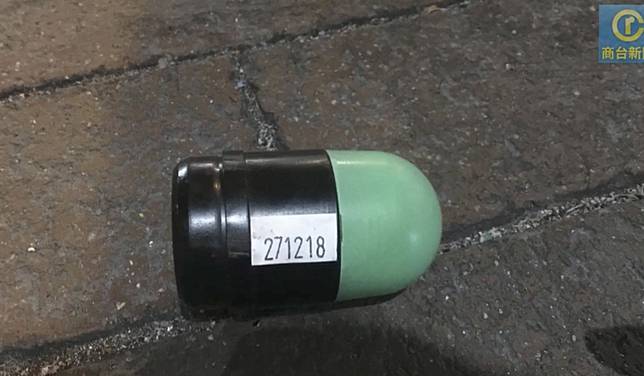 The source said about 120 protesters gathered on Nathan Road with petrol bombs and laser pointers after 12.30am on Saturday, and three reporters, including Cheng, refused to leave when requested by police.
One of the reporters pushed a police officer's hand away when he was warned, so police declared an arrest, he said.
Mong Kok once again became a hot zone for protests on Friday night and into the early hours of Saturday as protesters and police engaged in a familiar cat-and-mouse game.
Police fired tear gas in the district and there were three explosions in a fire that protesters started on a road. A Best Mart 360 shop was smashed as part on an ongoing vandalism campaign by protesters against businesses thought to have links to mainland China.
本台記者今日凌晨約1時,身穿記者反光背心,頭戴貼有標記的頭盔,在旺角亞皆老街採訪期間,被一名警員推撞,記者讀出警員行動呼號,並全程拍攝情況,警員指要作出拘捕,本台記者轉身往朗豪坊方向離開時,背後傳出一下槍聲。其後記者在現場發現一粒海綿彈,背…

Posted by 商台新聞 on Friday, 15 November 2019
In a video posted by Commercial Radio on Facebook, an officer is seen accusing another reporter of assaulting police and urging him to leave, with the journalist heard denying that and questioning what is going on.
Cheng who is filming nearby, is then pushed away by an officer. One policeman is heard shouting at the press: "What kind of reporter are you? You help shield rioters from bullets?"
In the clip, an officer then points at Cheng, asking him to stop filming, with the reporter pointing back. At one point, their hands come into contact when Cheng steps aside. An officer shouts "arrest him" as he runs off, and a gunshot is then heard.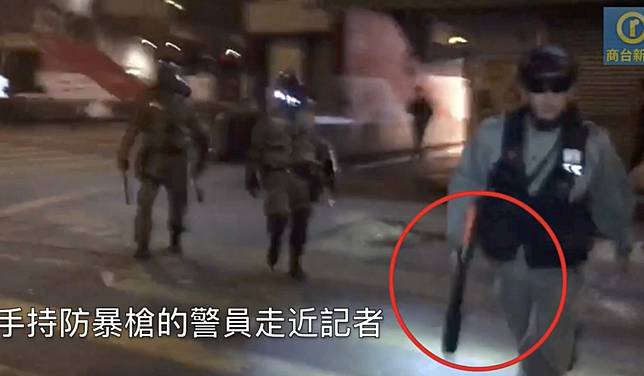 Cheng said he was not afraid when officers declared they would detain him, but he did not want to be arrested. "I know they can't charge me because I was working. But I don't want to be detained for 48 hours during which I don't know what will happen."
He added he did not see the two other reporters assaulting police.
"That was why I had to film it. During the process, I did not try to argue with (officers) or say they were wrong for pushing people," he said. "(Police's handling of matters) definitely has affected freedom of the press."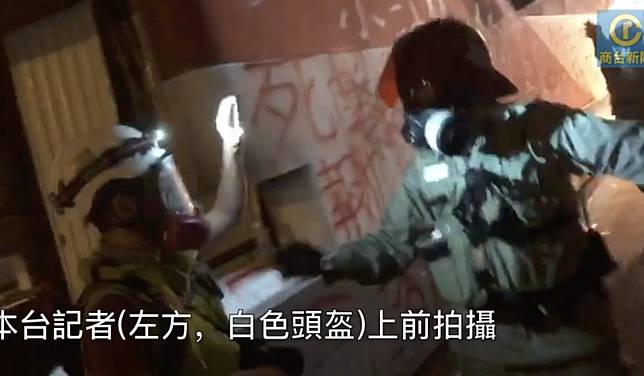 Commercial Radio urged the force to ensure it would not intervene in reporting work and to guarantee the safety of journalists.
"The move by officers not only damages freedom of speech and that of the press, which are cornerstones of Hong Kong's success … but (such acts) cannot help society return to calm, not to mention stopping the violence and chaos," the company said in a statement.
The Hong Kong News Executives' Association strongly condemned all violence towards reporters and called on police to have restraint and follow up on the matter seriously.
Police walk out of their press conference after reporters' silent protest
The Hong Kong Journalists Association, echoing similar sentiments urged the city's leader to revamp the force. It also called on police to look into the incident in Mong Kok seriously.
Hong Kong's political crisis, now into its sixth month, was sparked by the now-withdrawn extradition bill but has since morphed into a wider anti-government movement with no signs of waning.
Amid the escalating violence, there have been more reports of reporters being hit by pepper spray and non-lethal rounds during police operations.
Earlier this month, two journalists on assignment were arrested during weekend clashes.
Additional reporting by Olga Wong
Copyright (c) 2019. South China Morning Post Publishers Ltd. All rights reserved.