Three districts hit with protesters on streets in Central, Kwun Tong and Tai Koo Shing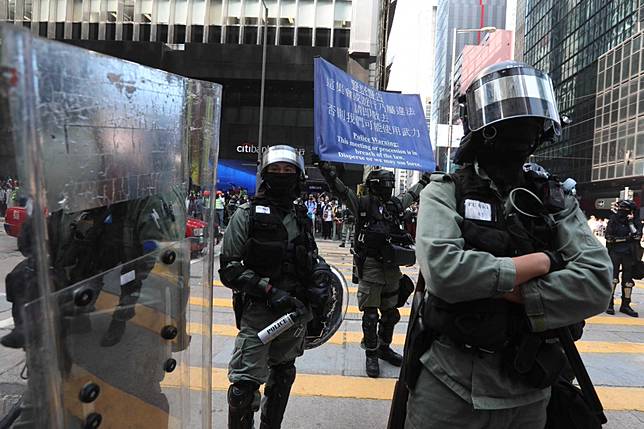 Hundreds of protesters showed up in three districts at lunchtime on Wednesday, halting traffic in part of Kwun Tong.
The protesters used traffic cones, rubbish bins and railing to block off Tsun Yip Street, Wai Yip Street, and Kwun Tong Road, chanting slogans as they marched along the roads.
But in Central, dozens of police officers were deployed along Pedder Street and Des Voeux Road Central to prevent the protesters from walking into the road, raising a blue flag several times to warn that the rally was illegal.
In Taikoo Shing, about 200 office workers gathered an open space outside One Island East office.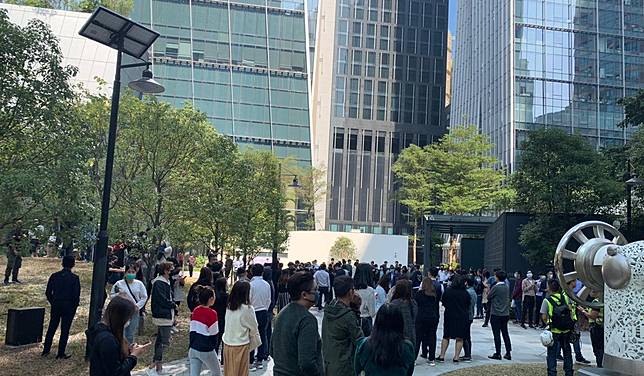 Around 200 office workers joined the protest in Tai Koo, by chanting slogans such as "five demands, not one less".
Peter Lee, 26, who works in the finance industry said he had been joining these protests because of his discontent towards the police.
"I am angry towards the government, especially Carrie Lam's attitude towards the demands of Hong Kong people, and towards how the police treated our young people," he said. "Maybe it's time for us as peaceful protesters to take more aggressive actions too."
He said he would be willing to take part in more aggressive protests if more Hong Kong people were willing to do so.
Another officer worker, Brian Chan, said it seemed useless to just chant slogans, but they would love to show the government that people are not giving up.
"I don't know what we can achieve, but we will not remain silent," he said.
Protesters high five a taxi driver on Kwun Tong Road as they march along a section of Kwun Tong Road opposite APM mall. #HongKongProtestsVideo: SCMP/Martin Choi pic.twitter.com/RAyhvU4BzR

" SCMP Hong Kong (@SCMPHongKong) November 20, 2019
More than 200 masked protesters took to the streets of Kwun Tong, singing Glory to Hong Kong, the protesters' de facto anthem, and chanting slogans such as "liberate Hong Kong, revolution of our times"," five demands not one less" and "fight for freedom, stand with Hong Kong".
They started from InPark, marched along Tsun Yip Street, and spilled onto Kwun Tong Road outside APM mall.
"Sometimes we can't go out to join in the protests. This is another way to support those students still trapped in Polytechnic University, to encourage them and to show that we stand together with them," said Chan, an office worker in his 20s.
Peter Fung, a 30-year-old engineer, said he joined the lunch rally because he wanted to do what he could to support the students in PolyU.
"When I saw live footage of what happened at PolyU, I really wanted to be there with them. But I'm worried about getting arrested because I'm the only one working in my family and I need to support my parents," Fung said.
He also felt police had abused their power.
"Sure, they can exercise their authority, but I don't think they need to bash people on the head," he said.
The crowds dispersed after four police vehicles arrived at the scene along Hoi Yuen Road.
Police at Pedder Street searched the bag of a man. He was carrying a water bottle, an umbrella and T-shirt in his backpack. Others around shouted for officers to release him. #HongKongProtestsVideo: SCMP/Lilian Cheng pic.twitter.com/ehBsMGfmO0

" SCMP Hong Kong (@SCMPHongKong) November 20, 2019
In Central, a man wearing a black sweater and a tie, had a bag containing a water bottle and T-shirt
searched by riot police during the protest on Pedder Street.
"I did nothing, I was just seeing what the police do, nothing else, and that aroused them," said the man, who wished to remain anonymous. "You can see the police are too hyped, someone has to stop them from doing all this."
Sam, an office worker, said she had attended the lunchtime protest on Tuesday as well.
"It's true that the police stopped us from doing something more, but we will come out as much as we can," she said.
Most of the people in Central, including Sam, left the protest soon after lunchtime.
Copyright (c) 2019. South China Morning Post Publishers Ltd. All rights reserved.