Passers-by seen fleeing from junction of Argyle Road and Portland Street after police launch crowd dispersal operation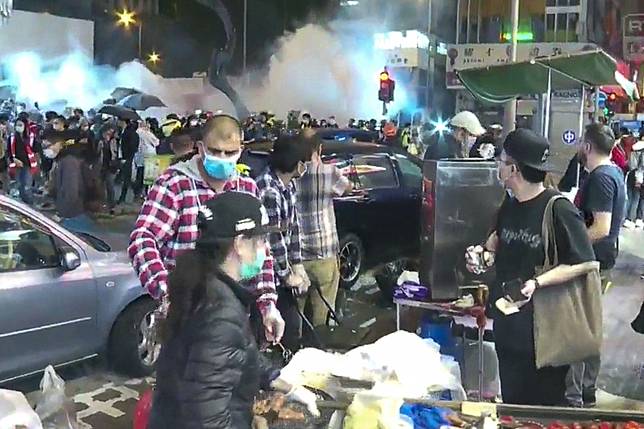 Police fired tear gas on the first day of the Lunar New Year in Hong Kong after a crowd gathered to mark the fourth anniversary of the Mong Kok riot in 2016.
Passers-by were seen fleeing from the junction of Argyle Road and Portland Street after police launched a crowd dispersal operation. Some found refuge at nearby shopping centre Langham Place where others helped them wash their eyes.
Just before 11pm, a group of black-clad protesters allegedly blocked Portland Street with rubbish and various objects, prompting riot officers to arrive at the scene.
Some protesters fled. A few were subdued and taken away. Police then fired tear gas as a crowd continued to gather and hurl abuse.
Street vendors, selling fish balls and deep-fried tofu, returned to Portland Street, a striking resemblance of what happened on the first night of the Lunar New Year in 2016, a disturbance sometimes referred to as the "fishball revolution".
On February 8, what started out as a dispute between street vendors and crowd control officers rapidly escalated into a full-blown night of vandalism and arson, as a crowd led by pro-independence group Hong Kong Indigenous clashed with police.
More than 90 people were charged with various offences from rioting to arson and possessing an offensive weapon.
Of them, about 60 were prosecuted while more than 27 were convicted in court, including localist activist Edward Leung Tin-kei, who was sentenced to six years in jail.
Copyright (c) 2020. South China Morning Post Publishers Ltd. All rights reserved.