Several rounds of tear gas fired after police shut down event in Central, as two plain-clothes officers attacked
Protesters in Chater Garden had urged foreign governments to consider sanctions against Hong Kong administration if democracy demands not met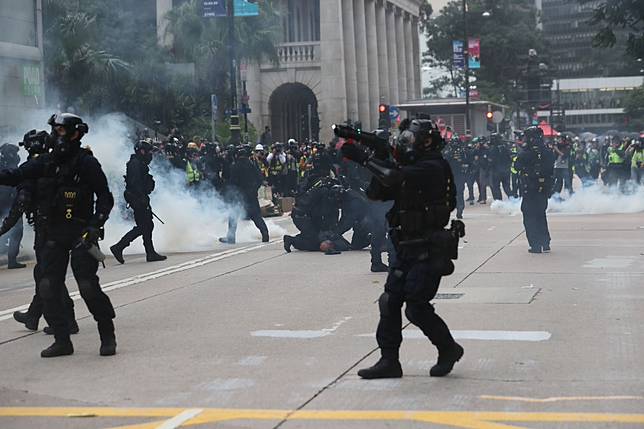 Tear gas was fired in Hong Kong after police shut down a rally for universal suffrage in the city's business district on Sunday, when two plain-clothes officers were assaulted by hard-core protesters amid the chaos.
Thousands took part in the police-approved demonstration in Chater Garden, Central, to demand electoral reform for September's legislative elections and urge the international community to impose sanctions on the city government if their calls were snubbed.
But it descended into mayhem when police declared the rally over after skirmishes between protesters and officers nearby.
Tear gas was fired after three suspected officers were attacked at the rally in Central.Video: SCMP/Alvin Lum pic.twitter.com/CtiKTnp9sy

" SCMP Hong Kong (@SCMPHongKong) January 19, 2020
The first scuffles broke out when police held a man to the ground in Des Voeux Road Central, drawing an angry response from protesters who then surrounded the officers.
Two plain-clothes officers were then assaulted by protesters an hour after the rally got under way.
"At around 4pm today, while two officers of the police community liaison office were liaising with the organiser of a public event in Chater Garden, Central, they were suddenly surrounded and beaten up brutally by a large group of rioters with wooden sticks and other weapons," police said in a statement.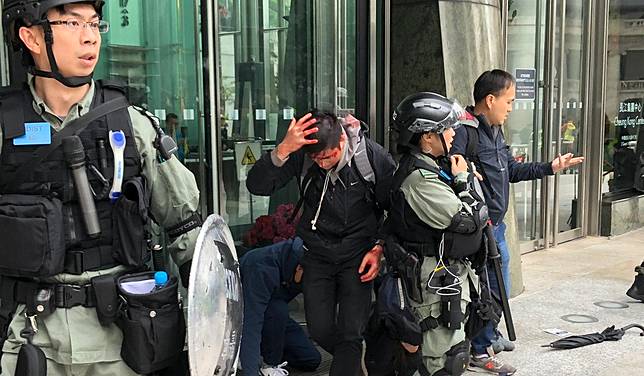 "They were left with bloody injuries to the head. Such appalling acts are not to be condoned. The police will endeavour to bring the assailants to justice."
In another statement, the force said some protesters threw water bottles at them when they were intercepting people in the area.
Six months after attack, many Yuen Long witnesses still have not heard from police
Some protesters were seen setting up barricades on roads and digging up bricks from the ground, police said in explanation of their decision to shut down the rally.
Officers were seen using pepper spray on protesters and several rounds of tear gas were fired.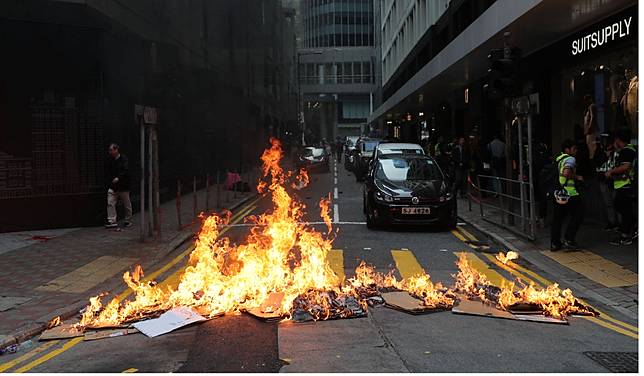 Shortly after the demonstration started at 3pm, police said at least four people had been arrested in the area for possession of expandable batons, hammers and spanners. The force said it believed those detained had plans to create chaos.
The demonstration, the second rally in a row pushing for more democracy, was held in Chater Garden as the city's anti-government protests, sparked in June by the now-withdrawn extradition bill, entered their eighth month.
Police officer among eight arrested next to Tuen Mun 'Lennon Wall'
The movement has morphed into a wider anti-government campaign, with protesters issuing five demands, including the establishment of a judge-led independent inquiry into alleged police violence.
Earlier, at least one police water cannon and an armoured vehicle were spotted in Admiralty, not far from the rally location.
Scores of officers were patrolling the area, including inside Central MTR station, intercepting rally-goers and checking their bags.
Protesters were seen damaging a set of traffic lights outside HSBC's headquarters in Central on Sunday afternoon.Video: SCMP/Alvin Lum pic.twitter.com/Wn4V17h8TB

" SCMP Hong Kong (@SCMPHongKong) January 19, 2020
Ventus Lau Wing-hong, spokesman for the organiser Hong Kong Civil Assembly Team, said the government must scrap the functional constituencies of the Legislative Council, which return 35 lawmakers to the 70-seat legislature and have long been criticised.
Voting for the functional constituencies, except for five "super-seats", is restricted to those from certain trades and professional sectors.
Glass bottles used for protest bombs can be recycled again after government lifts ban
"The first time I heard about the calls for universal suffrage, that was in 2007 and 2008. People have then been calling for it in 2012, 2017, and we're now already in 2020," Lau, 26, told the crowd.
"We have had a lot of peaceful demonstrations … but has the government ever listened?" The protesters responded with a resounding "no".
Lau added: "We're not just here to protest today. We're here to revolt, to exact revenge (for government inaction)."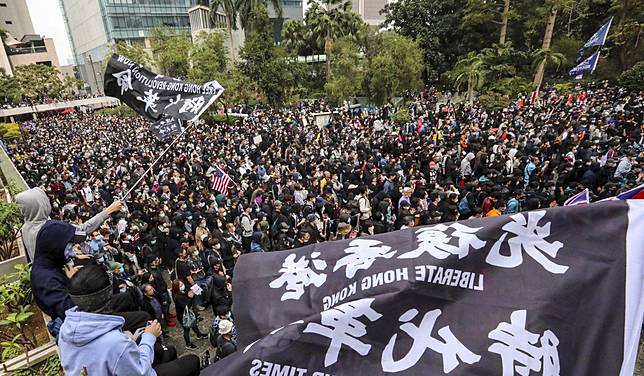 Some rally-goers waved US national flags and banners calling for Hong Kong independence.
In November, US President Donald Trump signed into law legislation that could bring diplomatic action and economic sanctions against Hong Kong, waving off multiple warnings by China against such a move.
Lawmaker files legal bid to know components of tear gas used on protesters
Protester Serah Kwong, a retired secondary school teacher in her late 50s, said she knew of teachers who were worried about retribution from their schools for supporting the protest movement.
"This oppression may happen to all professions. That's why we hope there will be more interventions from foreign countries," Kwong said, referring to sanctions from foreign governments.
"This is the only way to keep up with the pressure."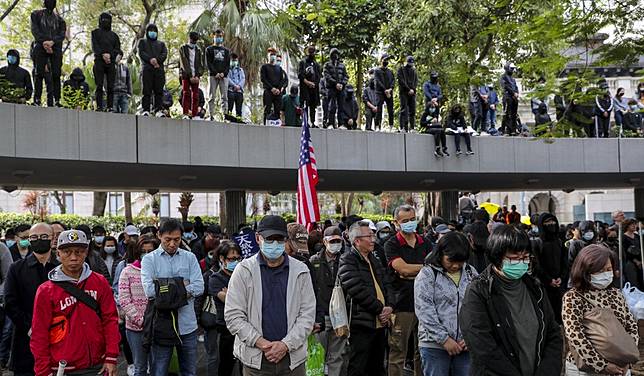 Earlier this month, Hong Kong's education minister Kevin Yeung Yun-hung warned that teachers' personal remarks on social media were regulated by the law and a professional code of conduct and those who behaved inappropriately should face consequences.
Another protester, office worker Andy Chan, joined the rally because he was angry at police's use of force at previous protests.
Man who attacked Post photographer during protest clash admits assault
"We have to make sure the five demands are fulfilled, in particular the demand to investigate police brutality," the 25-year-old said, adding that international sanctions were the only solution left when the Hong Kong government had failed to respond.
The organiser had applied for a march from Central to Causeway Bay, but police only authorised a rally in Central.
Copyright (c) 2020. South China Morning Post Publishers Ltd. All rights reserved.