Sparks fly as pro-government camp tries to clear two Lennon Walls in the city, before both sides attempt to drown each other out in song
Scuffles and bloody clashes intensify with flags and umbrellas used as weapons and 25 people taken to hospitals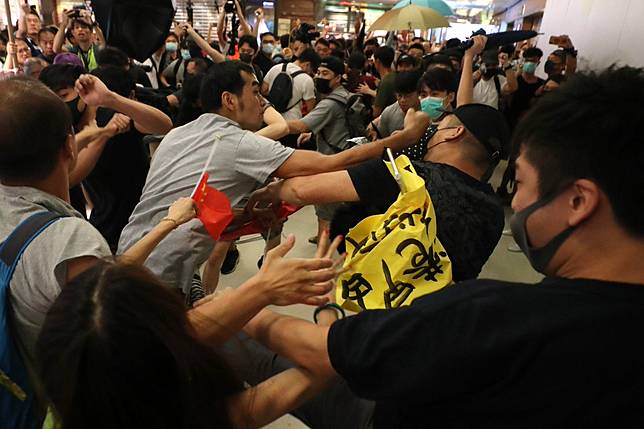 Skirmishes and fist fights broke out across parts of Hong Kong on Saturday as anti-government protesters and pro-Beijing supporters clashed during rallies, protests and singing sessions both sides organised on the 15th weekend of unrest in the city.
But the day passed with none of the scenes of major violence from previous weekends. No petrol bombs were thrown at crowds and no rounds of tear gas were fired. Black-clad anti-government protesters were also out in smaller numbers, as were riot police.
Demonstrators blocked roads in Tin Shui Wai and staged other protests in Central, Hang Hau and at a Hong Kong Premier League football game and brawls ensued in some of these locations, including near the "Lennon Walls" or murals where protesters and their supporters had plastered scores of anti-government messages and slogans.
By day's end, 25 injured people were sent to Tseung Kwan O Hospital and United Christian Hospital in Kwun Tong, with 23 reported to be in stable condition last night, the other two unknown, the Hospital Authority said.
On Saturday afternoon, pro-Beijing groups gathered to sing the Chinese national anthem, March of the Volunteers, and wave Chinese flags at rally in Amoy Plaza shopping centre in Kowloon Bay.
Earlier, they cleared a nearby Lennon Wall. A second wall was also cleared in Fortress Hill.
Their clean-up actions soon descended into chaos as rival protesters confronted them and retorted in song with their own latest anthem, Glory to Hong Kong.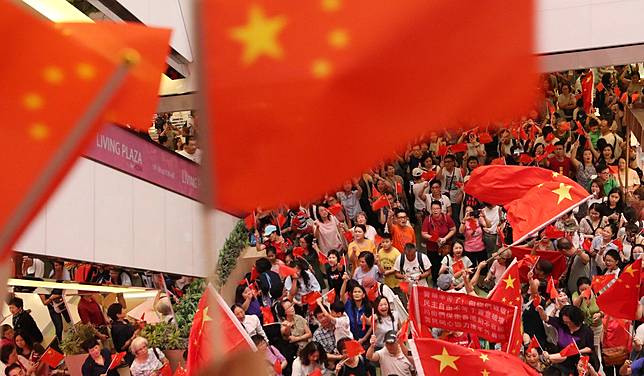 As the clashes intensified, several pro-Beijing supporters were seen using their flags to hit activists, who used their umbrellas in the scuffles.
An egg was thrown in the mall and blood stains were seen on the floor as both sides suffered bruises and cuts and at least one man had his left eye spray-painted in black.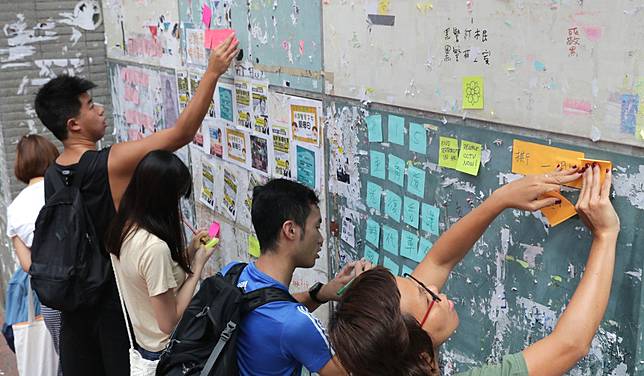 Police later subdued a dozen people outside Amoy Gardens residential estate and took away several young men inside the Kowloon Bay mall.
One man claiming to be the father of one of those arrested accused the police of "wanton arrest", saying his son was only in the mall for a meal.
A pro-government rally goer who gave her name as Elaine, 50, said she was there to lend her voice to an under-represented section of society.
"Even if you have a problem with your parents, you cannot just lose your temper and destroy everything in your home," she said.
Other residents were upset by the heavy police presence in the mall. Sharon, a mother in her 30s, said her 10-year-old son was frightened by the riot officers.
"It's a Saturday. Is it not reasonable to go shopping with your kids on a Saturday?" she said.
More energetic pro-government groups also followed in the footsteps of their rivals the previous day, hiking to the top of the city's iconic Lion Rock to wave the national flag.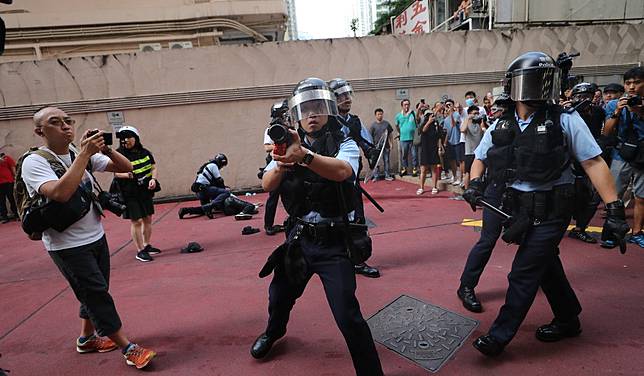 As they waved the red Chinese and Hong Kong flags, a black banner calling for "genuine universal suffrage" on the cliff face left over from Friday's anti-government activities fluttered in the breeze. By evening the two Lennon walls were again being plastered by Post-it notes as volunteers came to rebuild the murals.
Social worker Maggie Hui, 22, who was helping to put up the notes near Amoy Plaza, said there should be more tolerance toward the protesters' actions.
"The things radicals damage are objects. Police are beating real humans," she said.
Even if you have a problem with your parents, you cannot just lose your temper and destroy everything in your homeElaine, pro-government supporter
In Tin Shui Wai, hundreds defied a police ban and marched from a playground to a nearby railway station, causing bus route diversions and delays on the Light Rail. They built roadblocks with metal barriers and rubbish bins, as riot and Special Tactical Squad officers waited nearby. They later dispersed without incident.
Secondary school pupils gathered in Central for a rally which remained peaceful though there were attacks in other parts of the city.
Hong Kong leader needs to be the public's punching bag: Jasper Tsang
A police spokeswoman said a group assaulted a 35-year-old man in Hang Hau as he walked past a tunnel in Man Kuk Lane Park at 11.33am, leaving him with injuries to his arms, legs and face.
Soon after some demonstrators entered a shopping centre in Tin Shui Wai, an old man was beaten by a dozen black-clad protesters with objects, including an umbrella. It was unclear who started the brawl.
Meanwhile, fans at the Hong Kong Premier League game between Kitchee and Yuen Long at Mong Kok Stadium chanted slogans during the 21st minute of the game, accusing police of doing too little to avert an attack by white-clad men in Yuen Long MTR station on July 21.
By evening, the atmosphere was also tense in the shopping district of Tsim Sha Tsui after social media posts emerged to suggest pro-government protesters would gather at the Harbour City mall. Police officers were seen stationed outside one of the mall's entrances and at the Star Ferry pier nearby.
There was a fire at pro-Beijing lawmaker Junius Ho Kwan-yiu's office in Tsuen Fung Centre in Tsuen Wan but the blaze was quickly extinguished and no one was injured.
Other protests planned for Jordan Park, Yuen Long and Sai Wan Ho failed to materialise as the night wore on.
Hong Kong's cleaners left in tears as they pick up after protests
The Civil Human Rights Front, which organised three mass marches in June and July, cancelled its Sunday march from Causeway Bay to Central after an appeal board upheld the police's objection to it on Friday. But sources said they expected protesters to turn up anyway. Meanwhile on Saturday in Sham Shui Po, dozens of police officers searched the newly reopened National Disaster Hardware shop, which supplies protesters with equipment. But Lee Ching-hei, owner of the shop, said he was just providing "tools" for protesters to protect themselves.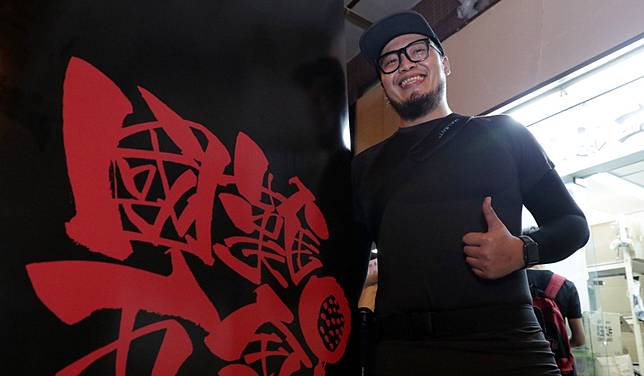 In a separate development, a pro-democracy group called Freedom Hong Kong raised HK$8.3 million (US$1.1 million) on a crowdfunding platform to run advertisements on October 1 "celebrating" the 70th anniversary of the People's Republic of China.
The group previously arranged a series of advertisements in foreign newspapers in June, calling for international readers to "stand with Hong Kong" at a G20 conference in Osaka.
Reporting by Kimmy Chung, Zoe Low, Yujing Liu, Holly Chik, Danny Lee, Sum Lok-kei, Karen Zhang, Minnie Chan, Victor Ting and Tony Cheung
Copyright (c) 2019. South China Morning Post Publishers Ltd. All rights reserved.