Police try to enter Polytechnic University at 5.30am, but are forced back as radicals set huge fires
Masked mob then tries to break out of campus only to retreat as police fire tear gas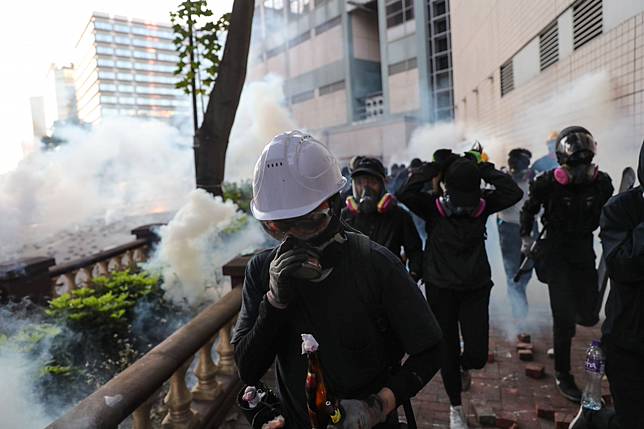 Hundreds of masked radicals and police officers remain locked in a stand-off at a Hong Kong university following more than 24 hours of unprecedented clashes, which saw live rounds being fired at two locations.
Radicals who stayed at the Polytechnic University campus in Hung Hom, despite repeated warnings to leave, started a massive fire at the school entrance to fend off police, who briefly stormed the campus and detained a few at around 5.30am on Monday.
After 8am, the mob decided collectively to leave the campus en masse, but were quickly met by rounds of tear gas fired by police at several entrances. Some managed to escape, while others were forced to retreat.
On Sunday night, police urged everyone to leave the campus or risk "taking part in a riot", and also vowed to resort to lethal weapons if protesters continue to attack officers. Those that did leave were arrested immediately.
Follow our live coverage as events continue to unfold.
Reporting by Kathleen Magramo, Lilian Cheng, Martin Choi, Alvin Lum and Jeffie Lam
Copyright (c) 2019. South China Morning Post Publishers Ltd. All rights reserved.