Two fathers say they arrived on the Hung Hom campus to find their sons and take them to safety but ended up trapped as well
Hundreds of radicals barricaded themselves on the site but numbers dwindling as they surrender to police
The siege of Hong Kong's Polytechnic University by police trapped not only radical protesters, but parents who said they were trying to get their children out.
John, 58, stood with his son wearing a gas mask near the main entrance of the Hung Hom campus on Monday night as they prepared to break free after the father's earlier rescue mission had failed.
Meanwhile, Li, 45, mulled his next move after his plan to bring his teenage son home also fell flat.
By Tuesday morning, about 100 radicals were still barricaded inside PolyU, where since Sunday night they had been "kettled", a crowd control measure of confining people to a small area.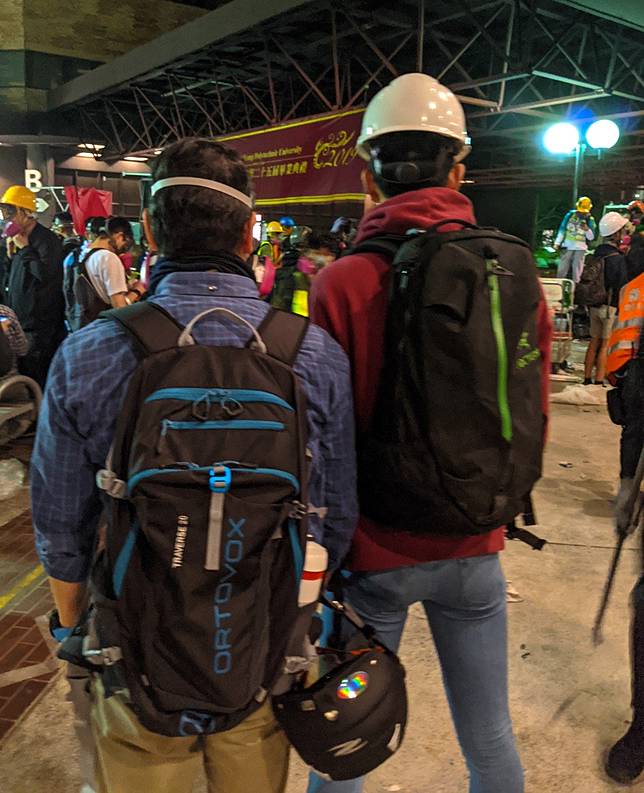 The long-running confrontation appeared to be coming to an end on Tuesday afternoon with the numbers of activists and others on site dwindling.
The university's red-brick campus has been one of several battlefields between hard-core protesters and police since last week, as clashes between the two sides reached new levels of intensity after more than five months of anti-government demonstrations sparked by the now-withdrawn extradition bill.
Radicals at PolyU obstructed the neighbouring Cross-Harbour Tunnel over several days, bringing traffic in the area to a standstill, while a police armoured vehicle went up in flames on Sunday following a barrage of petrol bombs aimed at force lines.
Police fired volleys of tear gas in return, as they cut off every campus exit and moved in to make mass arrests, holding everyone except accredited journalists. Among those also on the campus were first aiders and social workers.
John said he arrived on Sunday to look for his 18-year-old son, a PolyU student.
When things took a turn for the worse, he said protesters were given little choice by the authorities but to fight on.
'Cold and hungry' radicals surrender as Lam tells police to let minors go home
"They said on Sunday we can leave, but we saw people up ahead being arrested, no matter whether you were a first aider or a kid," he said. "There are no options or room for negotiation."
His teenage son thanked him for tracking him down amid intense clashes between police and protesters near the campus.
"I am grateful, he has also come to some protests with me before," he said.
The student said it was the idea that all radical protesters were gathered en masse inside the campus that made police take a hardline approach, in the hope of making mass arrests.
The father said early on Tuesday his wish was for the two of them to make a break from the campus and get home safely.
Li told the Post his 15-year-old son came to the university on Saturday to provide first aid. The father said he arrived to search for the boy the next day.
"I did not do anything, I just came to get my kid," Li said. "I don't want to be arrested." The two found each other at 7pm on Sunday, but by that time police had already put the campus on lockdown.
Thousands hit Hong Kong streets in bid to end police campus siege
Li said he felt helpless, after he found out not even Democratic Party lawmaker Ted Hui Chi-fung could secure a way out of the site.
"I don't know who to find to get out," Li said on Tuesday morning.
It was not clear what had happened to those parents and their sons by Tuesday afternoon.
Social workers and volunteer first aiders were among those stranded inside the campus on Tuesday morning.
A female social worker said she had spent four days there since Thursday and had provided counselling to youngsters.
Police's decision to kettle those on the campus had an emotional impact on people, she said.
"If we go out they will shoot us with real bullets, if we stay there may be no reporters and no one will know what happened (to us)," she said.
Despite facing arrest for rioting, the social worker said she did not regret coming.
"We are not the ones who paid the heaviest price, I don't want to be on the sidelines, we should be more involved," she said.
Anti-mask law ruling from Hong Kong judges slammed by Beijing
Pak, a 20-year-old first aider, said he was struggling to make a decision on leaving, adding: "I came to save people."
"When even a doctor can be arrested for rioting, it is against the international humanitarian standards," he added.
He said many first aiders were considering surrendering because they did not want to harm police officers, in case they needed to use force to get out.
In a daring episode on Monday night, dozens of people found a blind spot at the edge of the campus and abseiled themselves down a footbridge onto a highway to getaway vehicles below.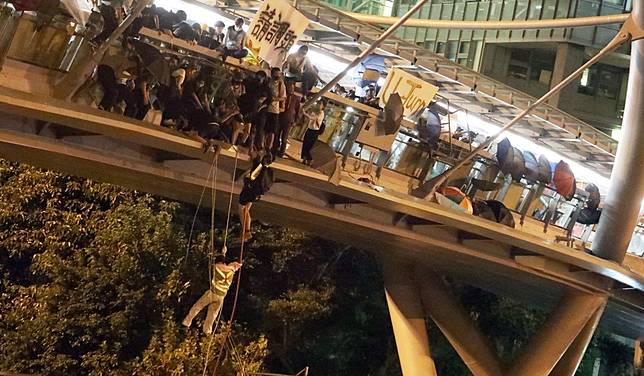 But those who did not take that leap of faith, including dozens of volunteer paramedics, remained on campus for another night, awaiting another day of uncertainties.
Conditions in the campus had deteriorated by Tuesday morning with some leaving saying they were too cold and hungry.
One spoke of getting by sharing bowls of noodles.
"And we only have biscuits for food and we haven't eaten almost since yesterday afternoon," a boy said.
Speaking of the worsening situation, Rain Lau, 28, said: "Some volunteers yesterday (Monday) still manage to cook some noodles and we are taken care of.
"But we are starting to only run on packaged food, like biscuits and things."
Lau said she was trapped on the PolyU campus after attending a "safeguard children rally" on campus on Saturday.
"It was all peaceful before police came near campus, and now we can't leave freely," she said.
She said she was too tired to stay much longer, adding: "Lawyers also told us we won't be charged immediately and can probably be bailed."
Nathan, 18, is among a batch who left PolyU campus this morning. His mother reported him to the school principal. He was standing ready for arrest on Tuesday.
Polytechnic University war zone: how radicals got boxed in by police
"We have already tried multiple times to break through police's defence lines, yesterday (Monday) 5am, then 10am, and another time," he said.
"Each time we lost 50 and another 100 people (to arrests), and the chance of walking out free slipped away."
Principal Joshua Lau Chi-kin, who joined others principals at the university in staying with the protester camp overnight, said many students refused to go because they did not want to leave others.
He spent three hours trying to persuade two students, aged 15 and 16, to leave campus on Tuesday morning.
"They feel their comrades are there. I can only tell them I'm worried about them," he said.
Copyright (c) 2019. South China Morning Post Publishers Ltd. All rights reserved.