Demonstrators orchestrate another full day of citywide chaos intended to bring local government to its knees
Officers draw guns while, at various locations including business district, protesters hurl bricks and petrol bombs amid tear gas and rubber bullets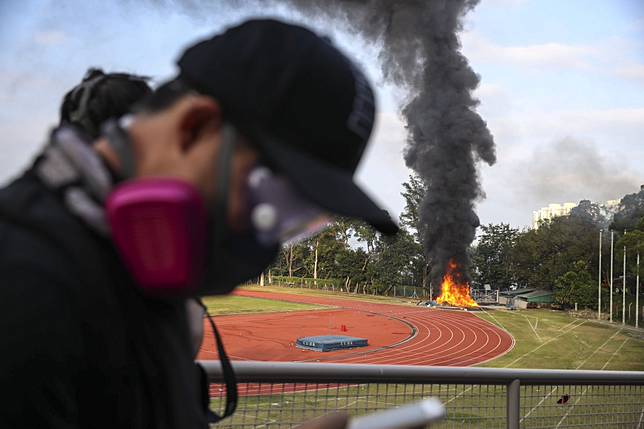 Protesters engaged in fiery battles with police outside university campuses and blocked roads at multiple locations including in the city's financial heart on Tuesday, for a second straight day of mayhem meant to bring the Hong Kong government to its knees.
At Chinese University, the site of the most violent clashes with scores of petrol bombs lobbed and tear gas deployed, water cannons showed up at 10pm spraying blue dye at protesters. Earlier, a truce was proposed after senior university officials intervened, but the pitched fighting continued after a brief interlude.
LATEST, LIVE: Hong Kong braces for third straight day of travel chaos
University president Rocky Tuan Sung-chi visited the scarred battlefield " littered with bricks and burnt barricades " in the evening to mediate between police and protesters. He ended up being hit by tear gas as his entourage was leaving for a police station to meet students who had been arrested earlier.
Former university chief Joseph Sung Jao-yiu also showed up later in the evening, to address students and protesters and plead with them to disengage. "Tonight I hope everyone can leave peacefully. I hope there won't be any more tear gas or confrontation," he said, before departing.
Most of the protesters were unmoved, still guarding their positions. By midnight, police had retreated from their earlier front lines.
Police said in a statement that a water cannon was deployed at the campus because protesters threw projectiles at officers while they retreated from the campus under a "consensus" reached with university management to defuse the situation.
"As police officers were retreating, rioters threw bricks, petrol bombs, launched arrows and even fired a signal flare at police officers. Such violence has reached a deadly level, posing a serious threat to police officers and everyone at the scene," the statement read.
Earlier, after more than 12 hours of exchanging fire and fury, protesters sent out messages on encrypted and open social media channels asking for other students to leave their universities to converge at the campus in Sha Tin to help them defend the site, and for other well-wishers to send supplies.
Internet users wanted to create the effect that Hong Kong has stopped running. If the government is stopping our daily activities, we would be falling into their trapChief Executive Carrie Lam
Supporters showed up at several drop-off locations with supplies of cup noodles, canned and dried food, eye masks and body wash, revealing the depth of support the protesters enjoyed despite the continuing violence of the past months.
The main battleground at CUHK was around Bridge No 2, near Campus Circuit, overlooking the Tolo Highway, a main road in the New Territories. From the bridge, a long-running stand-off with riot police played out as radicals threw petrol bombs, bricks and other objects and the force fired back with tear gas, rubber bullets and beanbag rounds.
At another corner of the university, a huge fire was lit in the late morning after a car, already vandalised, was set ablaze. Everywhere they went on the campus perimeter, protesters carried their black banners bearing the battle cry "Liberate Hong Kong; Revolution of Our Times".
At one point during the night, the Post observed protesters lobbing petrol bombs almost every minute behind their umbrella shields, as return shots of tear gas and rubber bullets punctuated the air and clouds of smoke blanketed the area.
Are buses the next target of protesters to cripple transport services?
Across the city, there were other scenes of destruction similar to Monday's violence " one of the worst days during a political crisis now in its sixth month " as a clearly overwhelmed police force accused protesters of bringing the city to the "brink of a total breakdown".
In the evening, at Festival Walk mall in Kowloon Tong, next door to City University, protesters broke in, smashing glass panes and setting fire to a large Christmas tree in the atrium.
In Mong Kok, once again a favourite night-time location for radicals to take on police, water cannons were deployed and multiple rounds of tear gas fired, as shops shuttered early.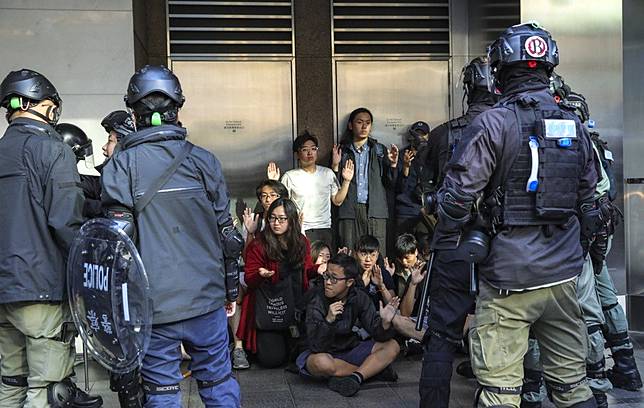 The Hospital Authority said that, as of midnight, 51 people had been sent to hospital with unrest-related injuries. Among them, one man was in serious condition at Prince of Wales Hospital. Thirty-one of them were stable, 16 had been discharged and three were still waiting to be seen.
Eight publicly funded universities plus the Open University, Hang Seng University, Shue Yan University and the Vocational Training Council said they would continue to suspend classes and exams on Wednesday.
Throughout Tuesday, public buses and MTR train services were severely disrupted. At least 10 train stations were closed, while a train on the East Rail line had to stop after it hit a bike and other objects thrown onto the tracks.
Passengers, including a pregnant woman, a disabled man and an elderly woman with a breathing aid, had to walk the last 100 metres (330 feet) of the track to get to the station. No one was injured in the incident.
At a news briefing in the morning, before a meeting with her Executive Council, the city's embattled leader Carrie Lam Cheng Yuet-ngor said it was "extremely selfish" for demonstrators to aim at paralysing Hong Kong.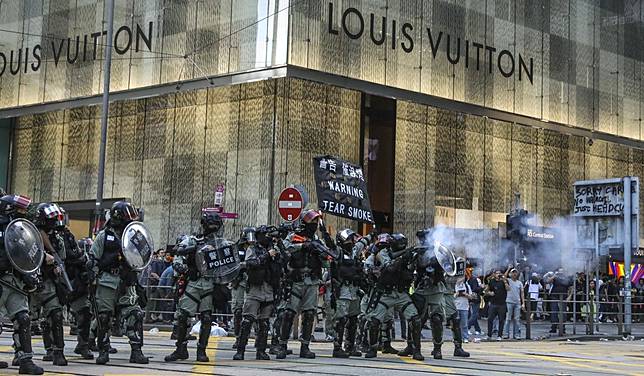 She insisted that the government would not announce the suspension of school classes, even though some schools had decided not to hold them on Tuesday.
"Internet users wanted to create the effect that Hong Kong has stopped running. If the government is stopping our daily activities, we would be falling into their trap," she said.
Lam said the government would do its best to make sure district council elections are held as scheduled on November 24, after a group of 125 people, including former officials, issued a joint statement calling for the reassurance.
Police condemned the arson and vandalism by radicals across the city.
"Society is on the brink of a total breakdown, and the mobs have seriously and extensively affected the lives of citizens," Senior Superintendent Kong Wing-cheung said at a news briefing.
Protesters' actions on Monday sparked one of the most violent days of the anti-government movement, as they whipped up anger against the police.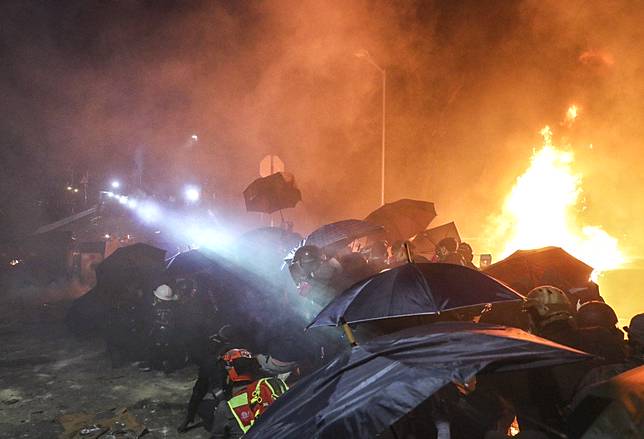 The force said 287 people were arrested on Monday, 190 of them students. Officers fired 255 rounds of tear gas, 204 rubber bullets, 45 beanbag rounds and 96 sponge grenades.
Two plain-clothes officers drew their guns in Sha Tin after their vehicle was attacked by a group of more than 30 protesters and the detectives found themselves outnumbered, a police source said.
During the previous day's clashes, a police officer shot a protester at point-blank range, while a man was set on fire by protesters in what police have classified as an attempted murder.
A police source said Chow Pak-kwan, the 21-year-old student who was shot, was arrested for unlawful assembly. His situation improved from critical to serious, while construction worker Leung Chi-cheung remained in critical condition from his second-degree burns.
In a statement, the State Council's Hong Kong and Macau Affairs Office expressed "the strongest condemnation of the rioters, and demands the suspects be arrested and be brought to justice as soon as possible".
Spokesman Yang Guang said violence should not be tolerated and expressed support for the Hong Kong government, police force and judiciary to take "stronger, more resolute and more efficient" measures to restore order.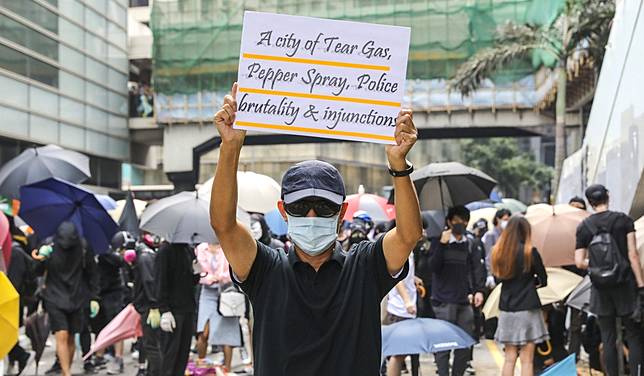 But in Central, as elsewhere, there were many scenes of ordinary Hongkongers supporting the protesters. In the city's business district, masked protesters showed up at lunchtime for the second day, blocking traffic on major roads including Des Voeux Road Central.
They damaged traffic lights, while one spray-painted the windscreen of a double-decker bus. Many protesters wore smart office clothes.
Among them was investment banker Jackie Cheung, 34. Wearing a brown suit with his face covered by a black mask, he said that protesting in Central was a good idea as it would attract international attention, shrugging off the notion it could hurt the very sector he is in. "The impact is minimal," he said.
"That is what you need to do when you are going up against a regime which is trying to scare you by using force."
But another investment banker, surnamed Wu, called protesters' actions in Central "ridiculous". The 60-year-old said investors' confidence could take a hit in the short run, but he was more upset about the traffic congestion, the petrol bombs and the physical attacks against those who had a different opinion.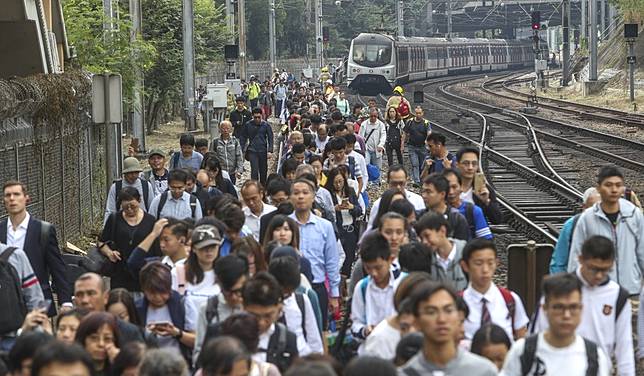 "The social norm is that you are supposed to respect each other," he said.
Radicals began their day shortly after 7am, part of a three-day campaign which started on Monday. At City University's student residence in Kowloon Tong, they set up barricades and began throwing bricks at police.
A 22-year-old university student who lives in the halls said she woke up "outraged" after finding out tear gas was fired near her campus, so she went to "defend" it by setting up roadblocks.
The police force had been targeting university students, she said. "(Police) just hate students and they go to different campuses without any reasonable reasons," she added.
As that was playing out, protesters began gathering outside Chinese University. They moved sports equipment such as arrows and javelins to a roadblock outside the university gym, and engaged in a stand-off with police.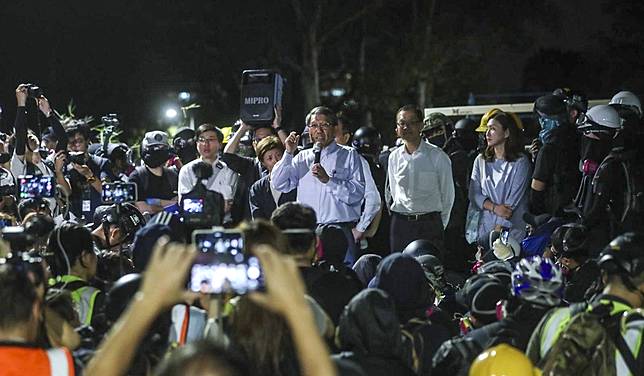 Senior Superintendent Kong Wing-cheung later said police had full legal power to enter the campus. They did so after 30 petrol bombs had been hurled against officers in 20 minutes, he added.
Earlier, dozens of protesters had gathered at Polytechnic University in Hung Hom and at the University of Hong Kong in Pok Fu Lam. At PolyU, they threw rubbish bins and debris onto Chatham Road South from a footbridge. Police later closed in and arrested at least two women.
An office worker named Cheung, who lives in Tai Po, had been trying to get to work since 7am and was delayed again at Hung Hom.
"Of course it's inconvenient," she said. "But I'm afraid of being attacked by police and speaking out to protesters as well. In the end, I'm a Hongkonger and I will side with my people, not the police."
At HKU, about 20 protesters blocked Pok Fu Lam Road near the MTR station by throwing chairs and other items from a footbridge. One man was injured as he was hit by a falling chair.
Several professors, including Matthew Evans, the dean of HKU's faculty of science, went to the footbridge to persuade the protesters to stand down. But not many listened. He later said he had to engage the students because they were "kids": "They are my students, they are other people's students, sons and daughters of families. They are kids."
Reporting by Sum Lok-kei, Lilian Cheng, Kathleen Magramo, Chan Ho-him, Karen Zhang, Phila Siu, Alvin Lum, Chris Lau, Victor Ting, Danny Mok, Kimmy Chung and Tony Cheung
Copyright (c) 2019. South China Morning Post Publishers Ltd. All rights reserved.