Heads of Hong Kong's nine universities issue joint statement calling on both sides to end bitter conflict that has moved onto campuses around the city
Government warns 180,000 employees they face immediate suspension if arrested while taking part in unlawful public activities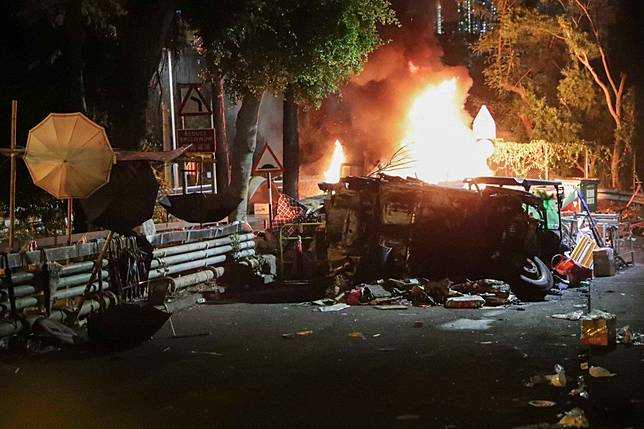 The Hong Kong government has taken the unprecedented step of warning 180,000 employees they will face immediate suspension and other disciplinary action if they are arrested taking part in unlawful public activities.
The announcement came as violent protests ground the city to a halt for a fifth straight day, causing widespread disruptions and a rising number of casualties.
With several campuses occupied by masked protesters, the heads of the nine public universities on Friday night for the first time issued a joint statement, calling on both sides to end the conflict.
By Friday night, those occupying the Chinese University of Hong Kong had apparently pulled out, but Polytechnic University and Hong Kong University remained under the control of masked radicals.
In a letter addressed to all public servants on Friday, Secretary for the Civil Service Joshua Law Chi-kong said the government had "zero tolerance" for any of its employees joining illegal assemblies or breaching the anti-mask law.
"It would be difficult for the community to accept a civil servant under arrest being allowed to continue to exercise powers and resume functions of office. We will suspend the officer's duty in the public interest once an inquiry against him is undertaken," Law wrote.
The spiralling unrest once again put Hong Kong's anti-government protests, now into their sixth month, under the global spotlight. Chinese President Xi Jinping, while attending an annual international summit in Brazil on Thursday, took the rare step of commenting on the Hong Kong situation, saying it was the city's most urgent priority to end violence and restore order.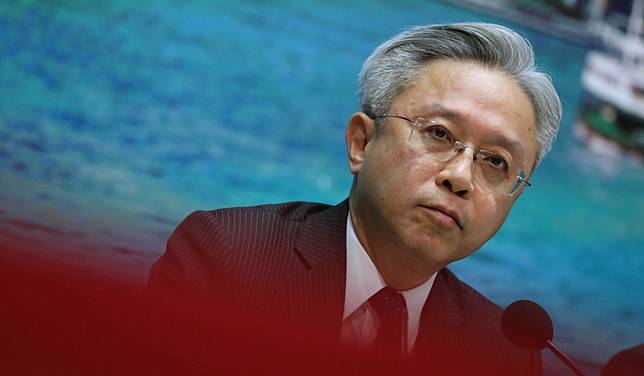 In a statement, Beijing's liaison office in Hong Kong said that Xi's remarks in Brazil were not just the central government's judgment on the city's situation, but also "substantive requirements" for the Hong Kong government.
"We hope the executive, legislative and judicial institutions will work together … so that social order can be restored," a spokesman said.
Yang Guang, spokesman for the State Council's Hong Kong and Macau Affairs Office, also said in a separate statement that his office would be firm in meeting Xi's requirements.
Hong Kong Chief Secretary Matthew Cheung Kin-chung announced on Friday that he would lead an interdepartmental task force to coordinate government efforts in returning the city to normality.
"We are making sure that tackling violence is the No 1 priority for all departments and bureaus, as President Xi said yesterday," Cheung said.
Measures include pooling resources from other disciplined services to help the badly stretched police force, and mobilising the Lands, Highways, and Food and Environmental Hygiene departments to restore order.
The Education Bureau was tasked with contacting schools and other educational institutions, while the judiciary will explore ways to expedite the handling of protest-related cases.
But the moves did little to quell the unrest. Soon after Cheung's news conference in the afternoon, chaos returned to the streets after a relatively peaceful day.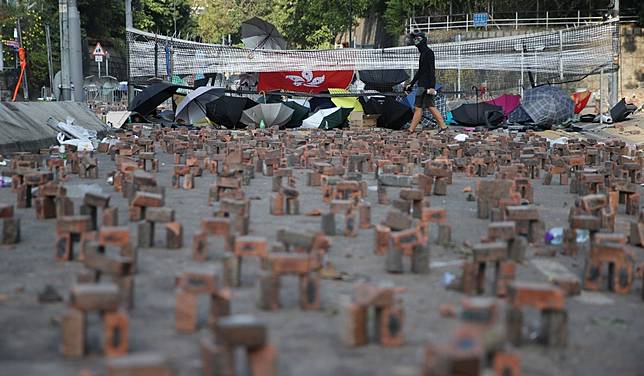 The Tolo Highway, which had been partly reopened for nearly eight hours, was again blocked by black-clad protesters occupying Chinese University.
Live footage showed vehicles, including private cars and buses, stuck on both northbound and southbound routes of the highway at around 7.30pm.
The protesters blamed Cheung for not returning their earlier "friendly gesture" by refusing to pledge that district council elections would "definitely" take place on November 24.
The protesters in the morning agreed to partly reopen the highway they blocked, on the condition the government guaranteed to hold the elections.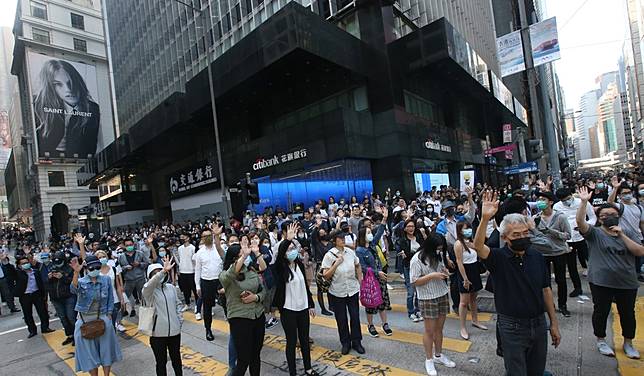 The chief secretary merely said "the government was preparing for the elections" when asked by reporters. Patrick Nip Tak-kuen, Secretary for Constitutional and Mainland Affairs, added that any violent acts would only pose further risks of postponing or even cancelling the election.
At nightfall, some radicals set what was believed to be an empty vehicle on fire on the bridge outside Chinese University, causing at least three explosions. Police also clashed with other protesters in Mong Kok, firing several rounds of tear gas.
In the past week, university campuses have emerged as the new battleground between radical protesters and police.
On Tuesday, riot police battled a group of protesters occupying a bridge above the Tolo Highway, after some protesters threw petrol bombs and other objects onto the highway to disrupt traffic. The bridge leads to the Chinese University campus.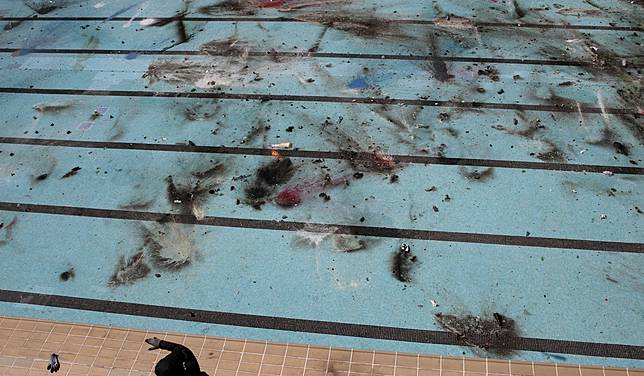 The violent clash lasted for hours and ended only with a police withdrawal. The campus since had been turned into an "arsenal" occupied by black-clad protesters, said John Tse Chun-chung, chief superintendent of the force's public relations.
Similar developments also occurred at the University of Hong Kong, Polytechnic University, City University and Baptist University.
For the first time, the presidents of all nine universities issued a joint statement to express their frustration and concerns.
While they condemned the radicals' use of violence and occupation of the campuses, the university chiefs also accused the government of an ineffective response.
"The past week has seen a rapid escalation of violence and confrontation throughout Hong Kong. Several universities are now under protesters' control; on-campus hazardous materials have been taken; staff and students have left campus out of fear for their personal safety," the joint statement read.
" These events are challenging our universities in the most fundamental way."
"No political viewpoint gives a licence to damage property, employ physical threats or use violence against individuals …
"However, any demand that universities can simply fix the problem is disconnected from reality: these complicated and challenging situations neither originated from the universities, nor can they be resolved through university disciplinary processes," they said.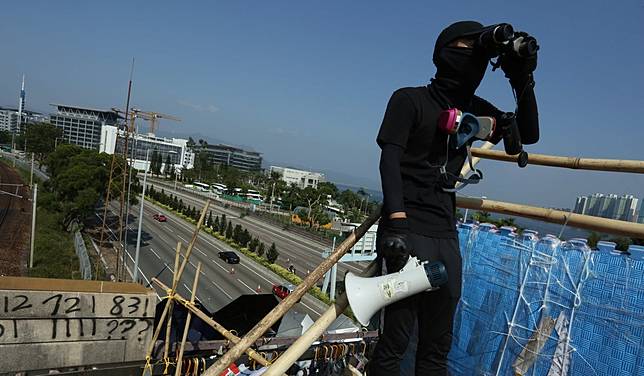 The universities' chiefs asked the city government to "take the lead with swift and concrete action to resolve this political deadlock and restore safety and public order."
Earlier in the day, both CUHK and PolyU urged their students and staff to leave those campuses, which they said were no longer safe.
In an open letter, Rocky Tuan Sung-chi, the vice-chancellor of Chinese University, said he believed that most of the masked protesters who occupied the campus "are not CUHK students".
"The masked protesters set fires, removed bricks from pavements, stole vehicles and broke into our academic buildings and hostels, wrecking properties and damaging facilities. Our canteens and kitchens have also been taken over," he said.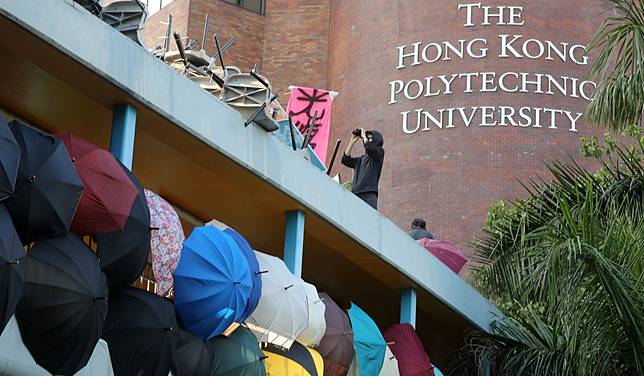 Tuan said these masked radicals "brought in materials and supplies from outside to assemble a large number of petrol bombs" and broke into the university laboratories to steal "highly flammable chemicals … some of which may be turned into explosives, posing serious life threats."
He said the university would seek help from "relevant government departments" should the crisis persist, while asking outsiders to leave.
PolyU president Teng Jin-guang issued a similar statement to condemn the occupation by "activists from outside".
Both universities are strategically located near some of Hong Kong's most important transport arteries. The CUHK campus overlooks the Tolo Highway and the East Rail Line that connects the New Territories East to Kowloon, while the PolyU campus in Hung Hom sits next to the Cross-Harbour Tunnel that links Kowloon with Hong Kong Island. It remained blocked on Friday night.
People walk across the usually busy lanes of the Hung Hom Cross-Harbour Tunnel, as a protester on the footbridge above warns of nail traps on the groundVideo: SCMP/Kathleen Magramo pic.twitter.com/TFk9Knca9Z

" SCMP Hong Kong (@SCMPHongKong) November 15, 2019
The violent tactics adopted in this new wave of protests also further divided Hong Kong society. While some staged demonstrations to support the masked protesters blocking roads and occupying campuses, many residents became increasingly frustrated and angry.
At Central, where flash mob protests were staged during lunchtime for the past few days, a woman was seen trying to remove the bricks placed on the pavement but was stopped by a group of protesters who told her to leave.
She refused and said she was just trying to help clear the road.
The woman asked the protesters, under their principle of democracy, if they had the right to place bricks in the middle of the road, surely others should have the same right to remove them.
"This has gone too far. (You) should think about the ordinary people," she said.
Full letter from Chinese University vice-chancellor
The following is the full text of an open letter sent on Friday from Rocky Tuan Sung-chi, vice-chancellor and president of Chinese University.
We are keenly aware of the concern of the whole Hong Kong community, especially university members, regarding recent events at CUHK. Accordingly, we wish to provide an account of what has happened in our university campus in the past few days.
On Monday 11 November, there were individuals found throwing objects onto the Tolo Harbour Highway from the No 2 bridge at CUHK for the purpose of interrupting traffic. We condemn such irresponsible acts as it could seriously endanger human life. We understand that the police had to enter our campus and station themselves on the bridge to prevent such acts and ensure the safety of traffic flow on the highway. Although CUHK has right of way to the No 2 bridge, it is officially public property.
In the next evening, I went to the scene with a view to negotiate with the protesters and the police. The police suggested that as long as the protesters would cease throwing objects down from the No 2 bridge, they would retreat from the bridge. The university then conveyed the suggestion to the protesters; unfortunately, it was not accepted and violent confrontations later broke out again. Eventually, the police departed the campus as suggested by the university, and the protesters took possession of the bridge. The boundary of the campus was cordoned off subsequently by masked protesters to prevent access to the university via the east entrance leading directly to the bridge.
On Wednesday 13 November, objects were again thrown from the bridge onto the highway by masked protesters, and as a result the highway was no longer safe for traffic to pass through and has since been closed. We condemn the irresponsible act and wish to apologise to the general public for the resultant traffic chaos that has seriously inconvenienced hundreds of thousands of commuters.
In the past few days, a large number of masked protesters entered the university campus in response to online appeals and have caused wide mayhem. We have reason to believe that the majority of these masked protesters are not CUHK students. Afterwards, many more seriously illegal activities were seen on campus. The masked protesters set fires, removed bricks from pavements, stole vehicles, and broke into our academic buildings and hostels, wrecking properties and damaging facilities. Our canteens and kitchens have also been taken over. These masked protesters brought in materials and supplies from outside to assemble a large number of petrol bombs. Some of our laboratories have also been broken into, and various hazardous and highly flammable chemicals have been removed, some of which may be turned into explosives, posing serious life threats. We deeply regret that the university has become a base camp for these individuals to conduct the above illegal activities, that present serious public safety hazards. We believe that it will take months to repair and restore some of these damages to the campus.
Since Wednesday, masked protesters were stationed at all entrances to the university campus to control access. Barricades were built to block the roads inside and outside the campus, and vehicles, including fire service vehicles and ambulances, can no longer pass through these gates. University members entering the campus have been made to show their identity cards to masked protesters, and have their bags searched and even their telephones screened by them. Such acts have seriously restricted free access of university members and caused panic. These totally unacceptable acts indicate that our university has now been taken over by masked outsiders.
I understand that many members of CUHK as well as our stakeholders are distraught to see what has happened to their beloved and beautiful campus, and urgently wish to see order restored and the damages repaired. In view of the escalating sentiment both inside and outside campus and after rigorous risk assessment, we have decided to terminate the semester early, and are doing our best to facilitate members of the university to leave the campus.
As university operations have been seriously compromised, I strongly request that all outsiders leave our university campus immediately. The university is a place of learning, not a weapons factory, battlefield for violent acts, or political arena. If the university should find it impossible to execute our core functions and mission, we will have no choice but to seek help from relevant government departments to help us resolve the difficult situation.
We also advise members of the university community who still remain on campus, in hostels and staff quarters, to leave the campus as soon as possible on a temporary basis, so that function and order can be restored, and our colleagues can start work to clean up and repair all the damages. With a positive response to our plea, we will be able to bring order out of chaos and restore peace on campus.
Rocky S Tuan
Vice-chancellor and president
Copyright (c) 2019. South China Morning Post Publishers Ltd. All rights reserved.