Officer from police's public relations branch says model of extendable baton 'entirely different' from one used by force when asked whether plain-clothes officers had carried out attack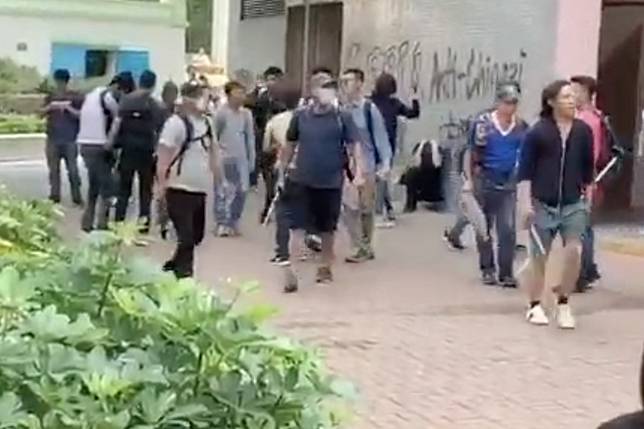 A black-clad man was assaulted by a gang with what appeared to be retractable batons in northern Hong Kong on Thursday.
The assault took place outside North District Town Hall in Lung Wan Street, Sheung Shui at 11.51am. The site is just a short distance away from where a 70-year-old man was hit unconscious by a hurled brick during a confrontation between two groups of people on Wednesday.
"Numerous reports were made to police, saying a man was being chased by a gang and some of the pursuers were carrying poles," a police spokesman said.
The gang fled before officers arrived.
The spokesman said at the scene, police found an injured man who claimed he had been beaten with poles. He was taken to North District Hospital for investigation and his condition was said to be stable.
The investigation was being handled by Tai Po criminal investigation unit and so far, no one had been arrested.
An online video clip showed a gang of more than 20 people carrying poles and what appeared to be retractable batons assaulting a man.
At a press conference on Thursday, Kelvin Kong Wing-cheung, senior superintendent of the force's public relations branch, denied the attackers were police officers.
"I can clearly tell you that (in) the video clip that was circulated, the model of that extendable baton is totally different from ours," Kong said. "I have to stress here that (the assailants) are not plain-clothes officers."
He added that police had not received any related intelligence before the attack, saying they were only informed after it had taken place.
Another video clip circulated online, believed to be at the same scene, showed a woman in black being dragged away by a man in white top.
But police on Thursday night said that they have not received any reports of such a case.
Copyright (c) 2019. South China Morning Post Publishers Ltd. All rights reserved.