Tens of thousands of teenagers study hard during the week and then give up their weekends to press on with the protests, risking injury and arrest
Lunch and pocket money are saved to buy protest gear and hobbies have to wait while the young of Hong Kong invest their efforts in their vision of better future for the city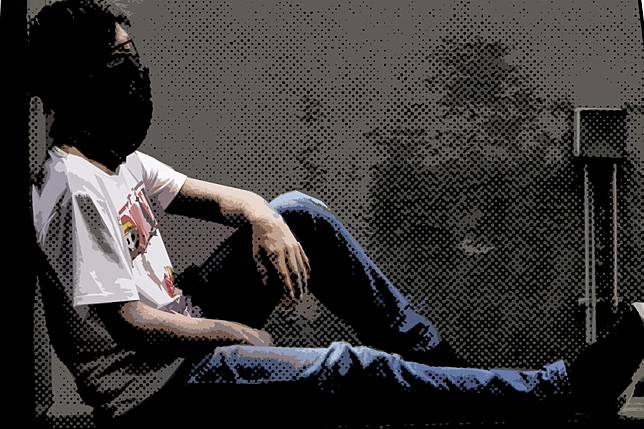 On weekends, Sophia never leaves home without a collapsible grey bucket in her backpack. It is not that she is an avid gardener or needs the pail for a picnic washing-up.
Sophia is a teenage tear gas soldier. During clashes with police, she swoops in with her bucket filled with water and coolly throws hot canisters into it using industrial gloves. Barely exchanging glances, her squad of two or four black-clad comrades moves in coordinated fashion to snuff out the rounds as they land. It is back-breaking work, given that police have so far fired more than 5,100 rounds over the past four and a half months.
Sometimes when she has time to look up and suss out the riot police on the other side, she flings a canister back at them. "I want to protect others as I know how painful it is to be gassed," she said.
At 17, Sophia is one of the tens of thousands of teenagers who make up the backbone of the movement. They give up their weekends to press on with the protests, week after week, risking tear gas, beanbag rounds, rubber bullets, sponge-tipped pellets and the metal batons of the riot police. What about the arrests of more than 2,600 of their comrades and the injuries sustained by hundreds others? Bring it on, they seem to say.
University students have typically been at the forefront of social movements the world over. In Hong Kong, it has been no different " except that the undergraduates have been joined by spirited teenagers like Sophia. Secondary school students, some as young as 12, also fuel the protests with an idealism and innocence " if not naivete " that in turn draws sympathy, guilt and worry from older adults that young people could be trading their future for seemingly impossible dreams of democracy and a Hong Kong with its own distinct characteristics.
The fastest way to cool down a round (of tear gas) is to place the canister in a bottle and shake it with mudSophia, protester
Their yearnings, as revealed on social media, imagine a Hong Kong where people speak Cantonese, patronise family-run shops and not chain stores and pharmacies catering to mainland Chinese tourists, and care for one another as neighbours in close-knit communities. Maps and guides online provide a list of "yellow" restaurants and stores " the colour symbolising democracy in Hong Kong " that protesters should support.
It is of a Hong Kong lost over the years with more mainland Chinese and rapid development that brought wealth to the upper crust and left many others feeling out of place in their own city.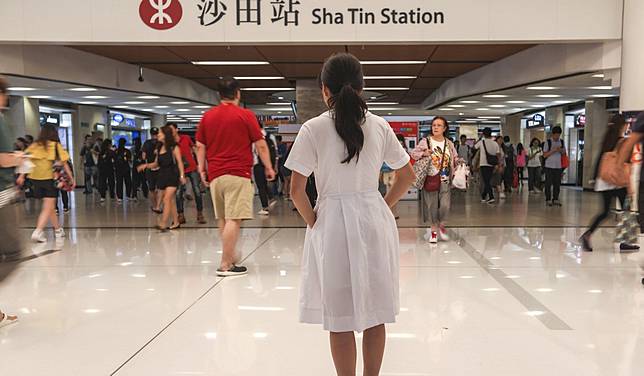 For now, though, the heady romance of this reimagined Hong Kong has to reckon with the harsh reality of being on the front lines. Two teenagers, aged 18 and 14, have been shot, one in the chest, the other in the leg. The injuries young people have suffered have added to the collective anger and guilt among Hongkongers. The biggest danger, however, is how a protest movement made up of the very young is fecund ground to breed a permanent opposition to those in power in the city if they are not won over.
Mobilising for the defining moment
On weekdays, Sophia is a bookish secondary school pupil in her pristine white uniform. Bespectacled and barely five foot tall, her hair is in a ponytail and her backpack sports a soft toy pig keychain. She enjoys reading Chinese literature when she is not busy with her school's debating team. She wants to be a lawyer someday.
On weekends, tear gas soldier Sophia dons her ballistic hat and helmet, and black outfit and speaks like a detonation expert. "The fastest way to cool down a round, actually, is to place the canister in a bottle and shake it with mud," she said, adding she also knows how to tell apart the sound of a tear gas being fired from that of other pellets being dispensed. She has also chosen extinguishing tear gas as her core skill because she is too small to hurl bricks, she said.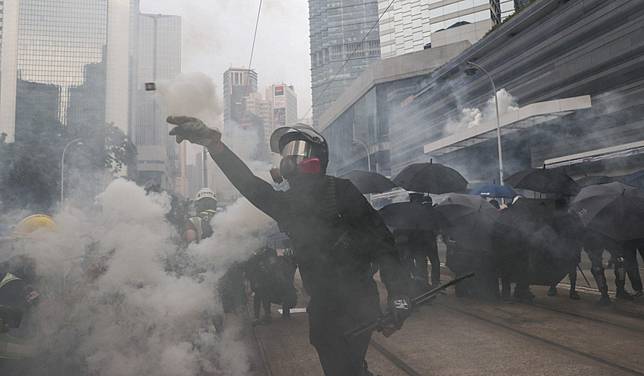 Back on July 1, she was among those who stormed into the legislature as the city marked the 22nd anniversary of the city's return to Chinese rule. "I knew I was not gutsy enough to deface the city's emblem and so I decided to stay in the antechamber and remind our comrades not to vandalise the antiques there," she said.
Initially, government sources said privately that they had hoped the protests " which began in opposition to a now-withdrawn extradition bill that would allow fugitives to be sent back to mainland China, among other jurisdictions " would die down with the new school year in September. That has not happened. Instead, secondary school students organised class boycotts and human chain protests outside their campuses.
After school, they still flood shopping malls. Instead of lolling about, however, they labour over posters to put up all over the city and launch flash mobs to sing the protest anthem Glory to Hong Kong or to shout slogans.
"Five demands!" a young masked student, sitting at the atrium of Yoho Mall in Yuen Long, chanted as she raised her right hand on a Friday afternoon. Passers-by responded just as loudly: "Not one less!"
One of the most frequently-chanted slogans, the demands are for the government to withdraw the extradition bill, stop categorising the June 12 protests as riots, launch an independent probe into police's use of force, pardon all arrested demonstrators and implement universal suffrage. Hong Kong leader Carrie Lam Cheng Yuet-ngor has only acceded to the first demand.
Top Hong Kong school accused of curbing freedoms with political events ban
Like Sophia, 16-year-old Bosco started out as a peaceful protester. But the Yuen Long attacks of July 21, when a mob of white-clad men attacked passengers and protesters indiscriminately inside the MTR station, changed all that. Police were slow to arrive, showing up 39 minutes after a report was made, sparking accusations of collusion with triads. From that day, both felt violence was justified.
"If the law enforcers are breaking the law, I don't think they are qualified to say what we do is wrong," Bosco said.
But the bigger mission, he said, was not just to hold the police to account but also to push for a Hong Kong with its freedoms preserved and democracy as promised in the city's mini-constitution, the Basic Law. Hong Kong identity, not independence, mattered most to those whom the Post spoke to.
Too junior to have taken part in the Occupy protests of 2014 when pro-democracy supporters staged a 79-day mass sit-in, for these young teens, these past four months have been what they see as their defining moment, a chance to make a difference.
So, sacrifices have to be made, they said. Lunch and pocket money have to be squirrelled away to buy protest gear. Hobbies have to wait and weekend activities must lay hidden from the prying eyes of parents and friends. Arguments with family are frequent. Beatings when confronting police are an unavoidable risk.
In a group, we hurl bricks together. Wouldn't you be happy if you get to hit a police van?Bosco, high school student
Seventeen-year-old Henry dreams of studying for a sports science degree and hopes to join the basketball team in university. But throughout the summer he did not attend a single training session.
The student recalled a painful moment when he begged his father to delete all the conversations and pictures with him on his phone before travelling to mainland China. Reports of Hongkongers being asked by mainland China's immigration to unlock their phones for checks of protest activity spooked him.
"He only deleted it after I refused to let go of his arm. I had never before grabbed my dad's arm like this. I wanted to cry," he recalled. "He is supposed to be a good citizen in the eyes of Communist Party and should not be dragged into any troubles," he said of his businessman father, a law-abiding citizen who is against any attempt to take on Beijing.
On August 24, at a Kwun Tong protest, Sophia was hit by Special Tactical Squad officers with batons and injured her waist. She managed to wrestle free but dared not visit a doctor for fear of being reported to police. She turned instead to a volunteer Chinese medicine practitioner through the encrypted messenger app Telegram.
"It would be imprudent for me to say I am ready for the 10-year jail sentence at this moment," Sophia replied when asked if she was prepared for the worst.
"I dare not say it would be worthwhile, but I will say I have no regrets if this is the risk I must bear."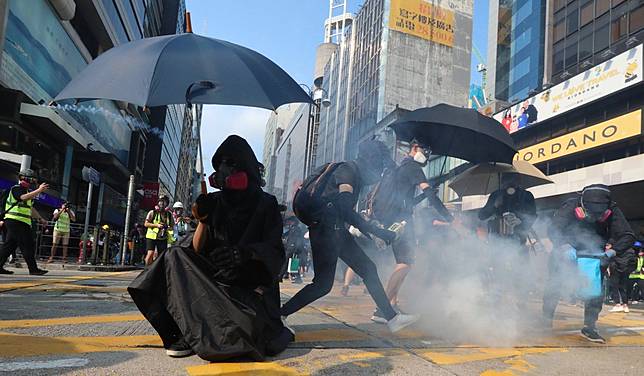 Henry said most of the protesters are ordinary students not eyeing a career in politics. "Not everyone is Joshua Wong Chi-fung and Edward Leung Tin-kei. Not everyone can turn the jail term they served as political capital," he said, referring to the city's poster boys of youth activism.
Bosco was clear-eyed when he said: "The efforts will be worth it if we win, but not if we lose."
But the increasingly dangerous stand-offs with police have sometimes also been thrilling, they admitted, giving their weekend protests an almost addictive quality.
Henry, a fit athlete, gave a sheepish smile as he recalled how he felt he was in a "Korean drama" when he had to sweep a female teammate into his arms and rescue her from smouldering tear gas.
For Bosco, who described himself as an introvert, the feeling of unity on the front lines is intoxicating. No one from his school or family would have thought he would be a hard core protester, he said.
"In a group, we hurl bricks together," he said. "Wouldn't you be happy if you get to hit a police van?"
Navigating youth and violence
Henry, who used to manage supply stations at protest sites, said he had received more than 100 requests for gas masks from pupils that he had turned away " including some as young as 12.
"As we chant slogans in school, some of the pupils who have no idea on what's going on would also join. I am not hardhearted enough to let them go this far," he said.
While there have yet to be findings suggesting hard core protesters are getting younger, political scientist Dr Samson Yuen Wai-hei, of Lingnan University, said the secondary school students' involvement in the protests was unprecedented.
Almost two-fifths of the 12,231 protesters cumulatively polled in 19 protests from June to August were younger than 24 and about 11.8 per cent of them were 19 or below.
Some 22.2 of them were aged between 25 and 29 while those in their thirties made up of less than one-fifth of those surveyed by a team of university researchers, including Yuen.
In a separate study Yuen did at a students' rally in September, 85 per cent of the 230 respondents said they had been involved in the anti-bill movement before July 1.
He also found that anti-bill concern groups had mushroomed in more than 390 out of the city's 472 local secondary schools on Instagram since August.
"The findings suggest that secondary school pupils have participated in the movement at a fairly early stage in their personal capacity and they have tried to bring the cause to school campuses ahead of the new school year in September," Yuen said.
The high school students are arguably the most organised groups in the movement which has so far appeared to be leaderless, he added.
Yuen highlighted that 28 per cent of the 230 students he polled in a September rally regarded "having a friend being arrested" as a critical factor motivating them to carry on the fight.
"It isn't particularly high compared with other factors but the fact that 28 per cent have had a friend arrested is significant," he said.
Unlike adults, Yuen said young people have a very clear "black-and-white" point of view. "They would stand up if their peers are attacked as it matters to them a lot."
But the active participation of young students in the increasingly violent clashes with police has taken a troubling turn in recent weeks.
On October 1 when China celebrated its 70th anniversary, an 18-year old Form Five pupil who was wielding a white stick and blue shield and fighting with the police was shot in the chest by an officer, becoming the first protester to be hit by a live round in the four months of protests. Less than two weeks later, another 18-year old was arrested for slashing a policeman's neck from behind with a box cutter during a protest in Kwun Tong.
As of October 21, around 35 per cent of the 2,671 arrested protesters are students, according to figures obtained by the Post from police. One in eight arrestees " or nearly 360 " are high school students. Around 140 of them are below 16, with the youngest being just 12 years old. A total of 232 people have been charged with rioting, an offence punishable by 10 years in prison. Chief Secretary Matthew Cheung Kin-chung described an earlier set of figures released as "shocking and heartbreaking".
The young hard core protesters the Post talked to suggested about 40 per cent of those on the front lines are secondary school students.
They move between two conflicting worlds " of purposeful study and protest staging. Some make time for university open days to find out how to further their studies, even as they know they might not make it there if they get arrested.
Nobody wins when a movement gets violent. Everybody losesDana Fisher, professor in sociology, University of Maryland
"Secondary school students are here because the city's future belongs to them," said Bosco, who will face a university entrance exam next year, as will Sophia.
"Go ask people why they take to the streets. They are still here despite knowing the cost. That's because they know the consequence is not just about a 10-year jail term (for rioting) but the possibility that the Chinese Communist Party will continue to oppress Hong Kong."
High school students have fewer responsibilities and therefore can do more, Sophia reasoned.
A 38-year-old nurse, surnamed Ho who has a six-year-old son, said she has supported the movement but thought it unfortunate the protesters' methods had deviated from their original cause and turned to violence. The wills the students have been known to put into their backpacks troubles her the most.
"Young people decide to stand up because they have learnt what justice is and they envision their future with hope," she says. "But the moment they put wills in their school bags before going out, they contradict their goal of achieving a beautiful future."
A retired church employee, surnamed Chan, said she found it heartbreaking and felt guilty seeing young people sacrifice themselves on the front lines.
Her two daughters, aged 27 and 31, are both frontline protesters. She said she understood why the protesters feel compelled to send a signal by vandalising mainland-linked shops but she could not support such actions. "We should focus on the authorities," she said.
Sociologist Dana Fisher, a University of Maryland professor and expert on activism, said young people are more willing to engage in confrontational tactics " not because they are immature, but because they have less life experience and thus are more willing to sacrifice for their cause. She warned, however, that if protesters became violent, it would only yield a more violent response. "Nobody wins when a movement gets violent. Everybody loses."
Meira Levinson, professor of education at Harvard University who specialises in civil education and youth empowerment, said young activists are creative, idealistic and are not bound by past practice to push for change. But it was also easy for adults to dismiss them as young, foolish or being manipulated by other adults, a tendency common in movements worldwide.
Levinson said the city's young protesters should not think they can get everything done all at once or as soon as possible, citing how some activists in the Black Lives Matters movement in the US slowly learned the need to pass on the torch.
"You will just end up killing yourself and you should not do that, especially when those changes will take a very long time and you want to be there for the long change," she said.
In recent weeks, the movement has taken a persistently violent tilt, as radicals go on rampages, hurling petrol bombs at police and metro stations, setting fires on roads and trashing banks and shops with mainland Chinese links. Some have also taken the law into their own by beating up those who did not share their views or go after police.
Sophia admitted she fears the movement could spin out of control. "Some frontliners are so emotional these days and I seriously don't know what will happen if they catch an officer," she said.
"I'm worried not because I think public support is important, but the fact that I don't want to see us going further away from our original goals. 'No rioters but only tyranny' has been one of our slogans."
She has become less active recently, after a timely reminder. "A teacher asked us to think clearly whether what we are doing now could help us play a more influential role in the society in the future as it is going to be a long fight," she said.
More than 20 of her 27 classmates have joined the protests, with around half being hard core participants. Her class teacher created a WhatsApp group asking them to share their status every weekend.
For now, her dream of being a human rights lawyer is on hold. Sophia has a job to do, collapsible bucket in hand.
"What I am doing now and what lawyers do are actually for the same ends " justice. So even if I can't be a lawyer, I have done my part," she says.
*Sophia and Henry are pseudonyms. Bosco is a real name
Additional reporting by Christy Leung
Copyright (c) 2019. South China Morning Post Publishers Ltd. All rights reserved.