Secretary for the Civil Service Joshua Law says the government will not tolerate government employees breaching the law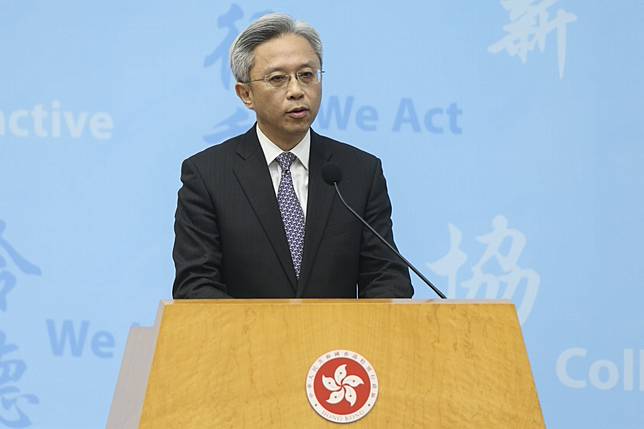 Hong Kong's civil service minister has warned government employees they could face immediate suspension or other disciplinary action if they are arrested for taking part in unlawful public activities.
In a letter to 180,000 civil servants on Friday, Secretary for the Civil Service Joshua Law Chi-kong said the government was extremely concerned about civil servants getting involved in unlawful activities.
"The government will not tolerate civil servants breaching the law," he wrote.
"It would be difficult for the community to accept an arrested civil servant being allowed to continue to exercise the powers and functions of office.
"In this regard, we will interdict the officer in the public interest when an inquiry against him is being undertaken," he wrote.
"Civil servants convicted of criminal offences will not only be penalised under the law; the government will also take disciplinary actions against them in accordance with established mechanisms," Law wrote.
He emphasised the government had a "zero-tolerance" attitude towards civil servants who violated the law.
"Civil servants must not take part in any unlawful activities and actions, including illegal procession or assemblies," he said.
On November 2, the Communist Party mouthpiece People's Daily ran a strongly worded commentary, warning that Hong Kong civil servants supporting the protests would "burn with the rioters".
"There is no middle ground on the issue of fighting against rioters and unrest in Hong Kong. No matter whether they have given silent approval out of sympathy or connived to give support, there will be only one end to those civil servants who join the 'black terror'. They will lose their careers and future," the newspaper warned.
It described the behaviour of some Hong Kong government agencies as "surprisingly disappointing" and quoted the recent arrest of an assistant clerical officer from the chief secretary's office as an example.
In September, a government trade officer was arrested in connection with an anti-government protest after he was stopped on a bus at a police roadblock.
Ray Yep Kin-man, a professor at City University's department of public policy, said the government needed to clarify what was meant by "inquiry" which could lead to the suspension of a civil servant.
"Is it a trial in court or disciplinary hearing conducted by the Civil Service Bureau?" he asked.
"I think the government's latest move will be subject to legal challenges."
Copyright (c) 2019. South China Morning Post Publishers Ltd. All rights reserved.