The 49-year-old is accused of chewing off part of a local councillor's ear and wounding two others with a knife in a mall near Taikoo Shing
The case was adjourned to early next year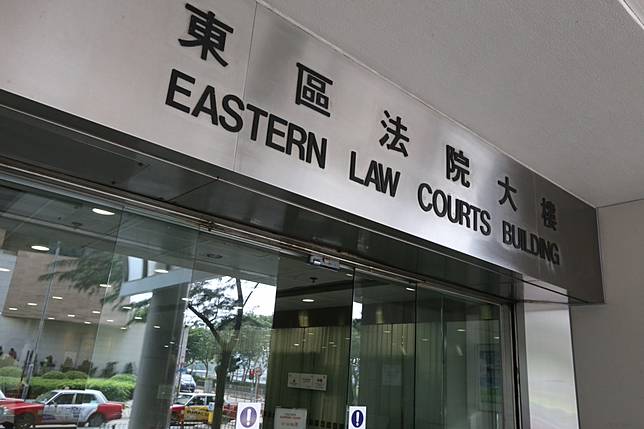 A Hong Kong man accused of biting off part of a local councillor's ear during a dispute related to anti-government protests has suffered depression for more than eight years, a court heard on Tuesday.
Joe Chen, 49 and retired, allegedly assaulted three people, including Eastern district councillor Andrew Chiu Ka-yin, outside the Cityplaza mall, near Taikoo Shing, where protesters had gathered, on November 3.
Chen was taken into the dock at Eastern Court in a wheelchair wearing a mask, his forehead bandaged. He faced one count of causing grievous bodily harm to Chiu, who represents Taikoo Shing West constituency, and two counts of wounding two others " Louis Wan Ho-lun and Leung Pik-kei " with a knife.
He was not required to enter pleas to the charges, all of which carry a maximum sentence of life imprisonment.
Chen's barrister, Peter Chiu Ka-ming, told Principal Magistrate Bina Chainrai his client had been visiting Pamela Youde Nethersole Eastern Hospital in Chai Wan every three months for treatment on his mental illness.
He also said Chen had been taken care of by his relatives since he moved to Hong Kong a decade ago.
Chainrai refused the man bail and ordered he be remanded in custody.
51 children, 3 teachers burned in attack at Chinese kindergarten
She adjourned the case to January 3, pending further police inquiries, including getting medical reports from victims, reviewing security footage and a forensic examination. She advised senior public prosecutor Vincent Lee Ting-wai to take a DNA analysis of Chiu's damaged left ear.
Wan and Chiu were still in hospital, while Leung had been discharged. Police had yet to take any statements from the injured trio.
Also on Tuesday, 29 others aged between 12 and 33 were separately charged at five courts over protests in the previous two days.
They included 33-year-old fireman Fong Chi-hung, the first member in the city's disciplined services to be charged over the civil unrest, now in its sixth month. He faced three counts at Kowloon City Court for allegedly possessing offensive weapons, including four petrol bombs, a crowbar, a hammer and a folded knife, on Shantung Street, Mong Kok, on Saturday.
He was also charged with assaulting and resisting an acting station sergeant, who the prosecution only identified as X.
Fong did not appear before acting principal magistrate Ada Yim Shun-yee, as he was still in hospital. Yim adjourned his case to November 19 and ordered him to remain in custody.
Separately at Eastern Court, a 16-year-old student, who cannot be named for legal reasons, was charged with possessing offensive weapons, including a box cutter and two laser pointers on Pedder Street, Central, on November 2. The pointers were listed as "laser guns" in court documents prepared by police.
The student was granted HK$500 (US$64) cash bail by Chainrai, but needed to obey a curfew. He will return to court on January 7. The case continues.
Copyright (c) 2019. South China Morning Post Publishers Ltd. All rights reserved.