Deputy Commissioner of Police Chris Tang Ping-keung takes charge on ground as protesters clash with police near PLA Barracks in Hung Hom
Protesters had earlier thrown bricks at crowd of people trying to clear intersection between Austin Road and Chatham Road South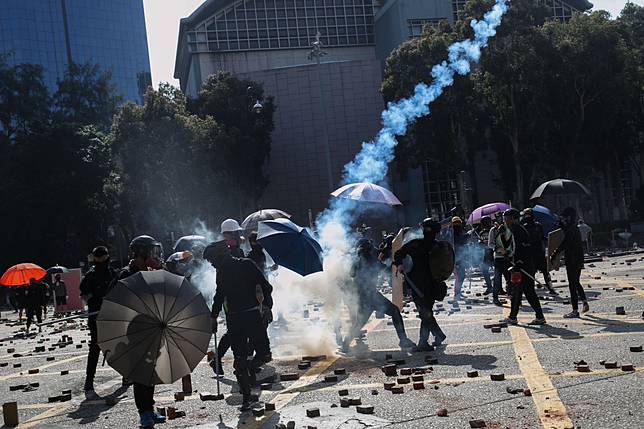 The Education Bureau has announced classes at all schools in Hong Kong will continue to be suspended on Monday out of safety concerns, as protesters and police clashed on Sunday morning outside Polytechnic University.
Schools were officially closed on Thursday and Friday last week as transport chaos gripped the city, although many schools had opted to close earlier in the week.
With protesters vowing to make weekday chaos the "new normal", the bureau has opted to keep kindergartens, primary schools, secondary and special schools closed for at least one more day.
Live: Officer shot with arrow, police deploy water cannon as university clash escalates
In a statement on Sunday, the bureau said schools should prepare for classes to resume, but students should stay at home and not take part in any illegal activities.
"There are still uncertainties despite the recovery of roads and public transportation services," the bureau said, adding Monday would also be the first busy working day after the weekend.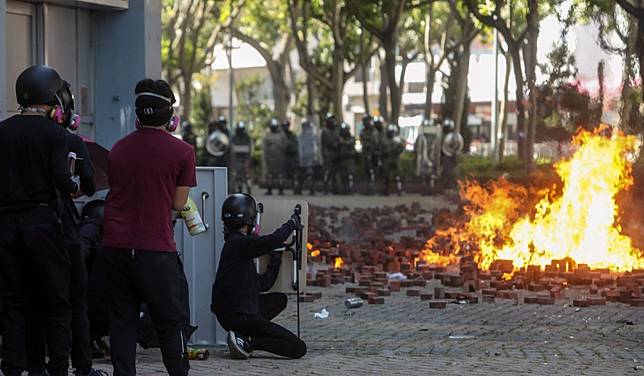 The announcement came as multiple rounds of tear gas were fired on Sunday morning as dozens of Hong Kong protesters threw bricks at people trying to clear barricades from the roads.
The latest confrontation in Hung Hom near Polytechnic University came after a week of traffic chaos caused by protesters, which brought parts of the city to a standstill.
And clashes between the radicals and police at the junction of Austin Road and Chatham Road South intensified as the morning wore on. With the PLA's Gun Club Hill Barracks located a short distance from the intersection, the Deputy Commissioner of Police, Chris Tang Ping-keung, personally took control of the operation at the scene.
The 54-year-old deputy commissioner is expected to succeed departing police chief Stephen Lo Wai-chung in the top job on Tuesday.
Earlier this month, Tang was also seen wearing riot gear and leading the riot police to disperse crowds on Hong Kong Island
Protesters throw bricks at people clearing the road outside Polytechnic UniversityVideo: SCMP/Phila Siu pic.twitter.com/0lGWseR2Oi

" SCMP Hong Kong (@SCMPHongKong) November 17, 2019
An 18-year-old protester called Cheung said protesters should continue to occupy the university so as to paralyse the Cross-Harbour Tunnel that sits next to the campus.
He said he was angry that the People's Liberation Army left their Kowloon Tong barracks on Saturday to clear up barricades left on the streets.
"I think the PLA's action was to test the water to see how the public reacted to it," he said, adding he had no plans to go home and vowed to keep fighting.
Earlier, about 100 people, mostly middle-aged and wearing masks, had arrived at the intersection near the university, to clear barricades set up by protesters.
Dozens of protesters rushed down to the road from the campus and told them to stop.
"They have really affected Hong Kong people's lives," one volunteer said before leaving, and several other people declined to talk.
Protesters started throwing bricks towards the crowd and about 10 police officers arrived soon after, asking those who had tried to clean up the road to leave.
"All of you have to leave immediately. It's not safe here," an officer said over a loudspeaker.
Police fire tear gas on Chatham Road, Tsim Sha Tsui, after protesters chase off people clearing barricades outside Polytechnic UniversityVideo: SCMP/Phila Siu pic.twitter.com/Sycoid8gkD

" SCMP Hong Kong (@SCMPHongKong) November 17, 2019
As those people started leaving, the riot police fired several rounds of tear gas at the protesters, who responded by throwing more bricks, and petrol bombs.
Among the protesters at the PolyU campus on Sunday morning was a 16-year old high school student called Chan, who had been camping there for two days.
He said he was worried about getting hurt but decided to keep the fight going because of what he called "police abuse of power".
Asked if he felt public support was waning because of the roadblocks and the hurling of petrol bombs, he said he valued public support, but if the citizens decided to walk away from them, it was not something he could control.
"I want the public to support us. But if they don't, there is nothing I can do," he said.
Protesters throw tear gas canisters back to police, while others use fire extinguishers to put out canistersVideo: SCMP/Phila Siu pic.twitter.com/7fuI1UKJ62

" SCMP Hong Kong (@SCMPHongKong) November 17, 2019
Meanwhile on Hong Kong Island, two main gates of the University of Hong Kong which had previously been blocked by protesters were cleared by around 20 workers on Sunday morning, who are expected to then clear barricades inside the campus.
Umbrellas, metal railings, rubbish bins and chairs were removed and a manager said they would clear the roadblocks so maintenance vehicles could enter the universities for further repairs inside the school.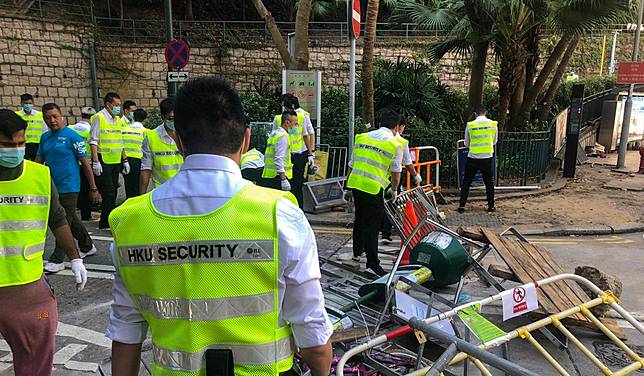 Two key roads outside the university, Bonham Road and Pok Fu Lam Road, were cleared by volunteers on Saturday.
Earlier this week, hundreds of protesters occupied several universities in Hong Kong, turning them into fortified bases. A PolyU spokeswoman on Saturday night confirmed the university had contacted police after many of its laboratories were broken in and some dangerous chemicals taken.
The social unrest in Hong Kong has entered its sixth month and shows no signs of stopping.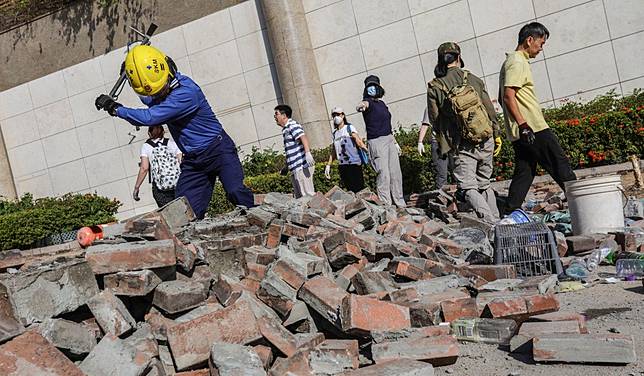 Over in Kowloon Tong, nearly 100 people arrived early on Sunday morning to clear Cornwall Street next to City University (CityU) by removing bricks, barricades and boxes of leftover petrol bombs. The street had been cut off since Tuesday after intense clashes between protesters and police.
Among them was Paul Siu, a neighbourhood resident and teacher at the Baptist Oasis Kindergarten next to the university. "We've been closed for thee days," he said. "We just want the kids to go to school again."
Others came from further away to help clean up the streets.
"You can't say you want freedom, but do what you're doing, which is ruining the lives of Hongkongers," said Fung Po-yee, who works in the retail industry.
The Hong Kong Island resident came to check out the latest situation after her morning Buddhist class in nearby Diamond Hill was cancelled.
Hong Kong residents turn out in force to clear protesters' roadblocks
Chris Lee, a salesman in his 40s who arrived with Fung, said he was worried protesters would come out.
"Destroying something to achieve a goal, even if you achieve something, isn't worth it," he said.
As Cornwall Street cleared, dozens of civilians made their way to a bridge connecting to the CityU dormitory. They filled bags with bricks and rubbish while around 20 riot police stood watching on the bridge and from the road.
Joey Siu, acting external vice-president of the provisional executive committee of CityU's student union, said the bridge was the school's property and police should have asked the crowd to leave.
"The police claim it (the bridge) is public and they don't have the power to convince them to leave," she said, adding very few students were left on campus.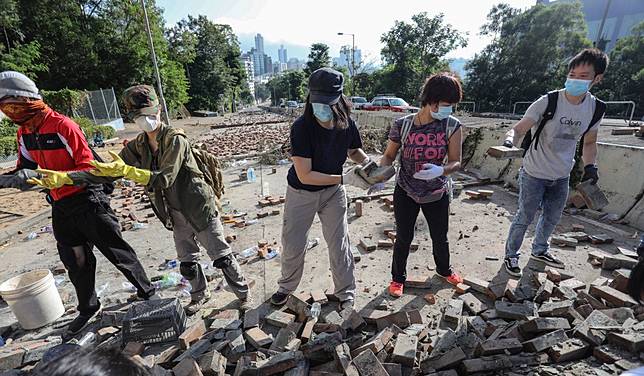 By 11.15am, the road and bridges were cleared, allowing traffic to pass, though riot police still stood at street corners.
At the nearby Festival Walk, which sustained heavy damage from vandalism throughout last week, workers put up metal walls in front of the building's exterior.
On Saturday night, massive stone blocks were placed by Highways Department staff on the No 2 bridge which crosses Tolo Highway near Chinese University.
The bridge was the scene of intense conflict between protesters and police on Tuesday.
In a statement, the government said petrol bombs and various objects had been hurled onto the highway from the bridge, and had decided to close the bridge to ensure the safety of road users.
Copyright (c) 2019. South China Morning Post Publishers Ltd. All rights reserved.