Cross-Harbour Tunnel remains blocked while people work to clear Pok Fu Lam Road of debris
Government arranges ferries for stranded Tai Po residents before major link road reopened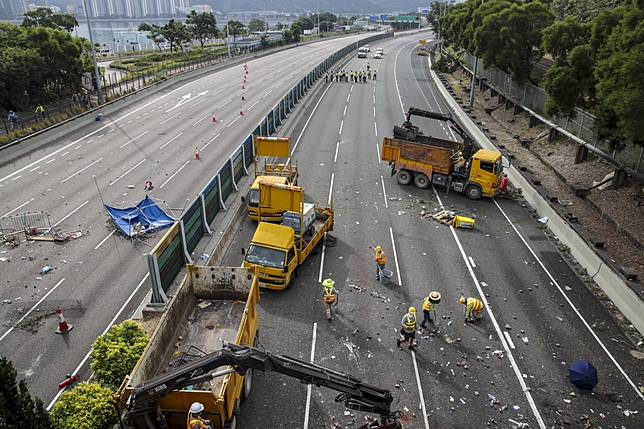 After five straight days of traffic disruption and chaos, Hong Kong enjoyed a relatively calm Saturday morning as the Tolo Highway fully reopened after being blocked by protesters on Friday night.
However, main arteries such as the Cross-Harbour Tunnel and stretches of Pok Fu Lam Road and Bonham Road remained blocked, while MTR train services between Fo Tan and Tai Po Market were suspended.
Train services were also suspended between Hung Hom and Mong Kok East after a petrol bomb was thrown onto the tracks in the morning, but services later resumed.
With the closure of Tolo Highway and the suspension of train services on Friday, the government provided free ferry services between Tai Po and Wu Kai Sha, so Tai Po residents could travel to other parts of the city.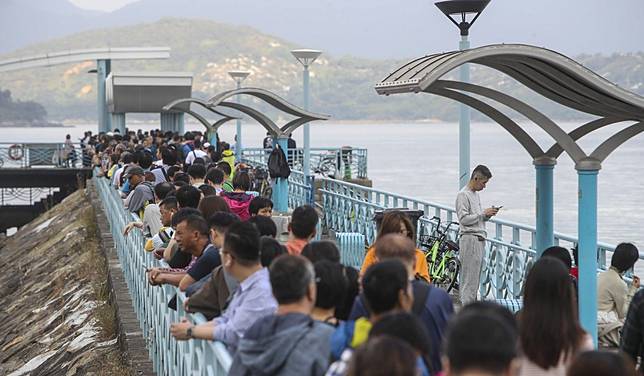 Before the highway was reopened on Saturday, hundreds of people queued up for the ferry service, and some residents who could not get on decided to pay as much as HK$100 each to travel by small boats.
On Friday night, protesters clashed with police in Mong Kok, while those who had occupied Chinese University (CUHK) for days pulled out of the campus.
On Saturday, messages circulated on the internet, calling for alumni of the University of Hong Kong (HKU) and CUHK to return to their alma mater to clear roadblocks. But the latter's Alumni Affairs Office advised against such help, citing safety concerns.
A small group of police officers, led by New Territories South acting commander Rupert Dover, inspected the No 2 bridge, which spans Tolo Highway near CUHK, on Saturday morning. The bridge, which is government land, was the scene of intense clashes between protesters and police earlier this week.
At Polytechnic University (PolyU), near the Cross-Harbour Tunnel's Hung Hom entrance, about 100 protesters were scattered around the campus on Saturday. Some were patrolling the grounds, while others cleaned up trash, or collected and tidied up food supplies in the canteen.
Makeshift checkpoints were set up at entrances as protesters required everyone to have their bags searched.
Two students from the University of Science and Technology, Chan and Hugo, guarded the PolyU entrance near Chatham Road South, and said they had been at the campus since Wednesday.
"The tunnel is a key artery in Hong Kong. We need to block key roads in Hong Kong as a bargaining chip against the government," Hugo said.
We need to block key roads in Hong Kong as a bargaining chip against the governmentHugo, student protester
Another protester, Wan, 16, a secondary school student, was carrying a bag of arrows at PolyU. One arrowhead was tied with cloth soaked in petrol, which would be set alight and fired at police, according to the teen.
"Police have shields and strong protective clothing. I will not aim at their bodies but use the weapons merely as a way to delay their attacks," Wan said. "They have fired live rounds against us. It is them, not us, who want to take our lives."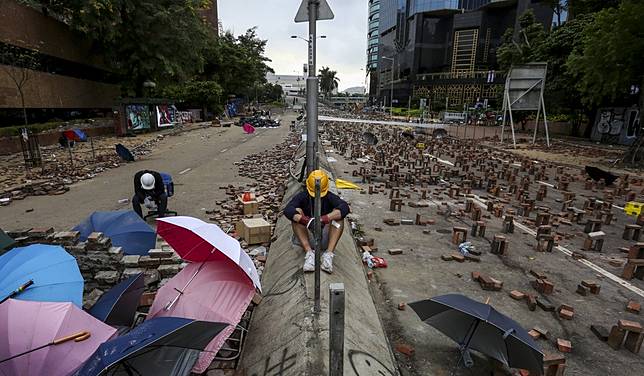 He said he took the arrows from the campus and had practised archery only in recent days.
Meanwhile, two 13-year-old girls in black were also among young protesters on the campus.
One of them, Form Two student Jasmine, said it was her responsibility to fight against "a totalitarian government".
"My parents disagree with my views and tried locking me up at home for three days. We live on the first floor of a building, and I really thought of climbing down to the ground," she said.
She added that she had reached a compromise with her parents and agreed not to participate in frontline protests.
Are Hong Kong's universities becoming 'weapons factories' as claimed by police?
At the Hung Hom entrance of the Cross-Harbour Tunnel, the smell from charred remains of toll booths lingered after protesters set fire numerous times to the facilities. With a footbridge above the tunnel occupied by protesters, many pedestrians had to walk across vehicle lanes on the ground, past scattered bricks, traffic cones and debris.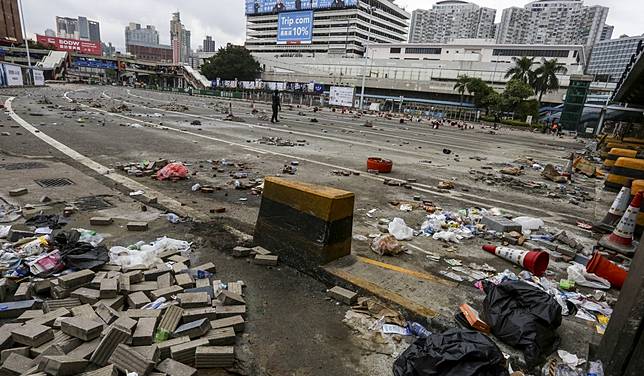 A woman with an injured leg was shocked to find she had to walk through the ravaged path on her way to a doctor. But she pinned the blame on Chief Executive Carrie Lam Cheng Yuet-ngor instead of protesters.
"It is Carrie Lam who started all this. If not for her, Hongkongers would all be happy shopping and discussing where to go."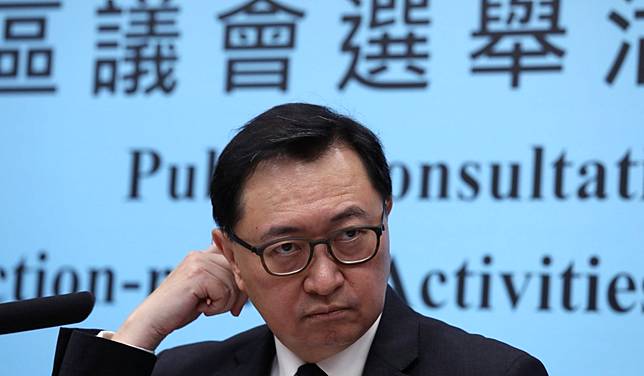 On an RTHK radio programme on Saturday, Electoral Affairs Commission chairman Justice Barnabas Fung Wah said election authorities were doing their best to hold the district council elections as scheduled on November 24.
"Please remain reasonable and calm. Don't let violence destroy the election. Hong Kong voters' right to vote must not be disturbed by violence or any wrongdoing," he said.
A group of residents work together to dismantle a barrier built by protesters along Pok Fu Lam Road near the University of Hong Kong. #HongKongProtestsVideo: SCMP/Simone McCarthy pic.twitter.com/FtSAy4nOxL

" SCMP Hong Kong (@SCMPHongKong) November 16, 2019
But protester Hugo said he was not concerned about officials' warnings that blocking roads would risk postponing the coming polls.
"That's only some scare tactics from the government. A postponement will only show that the government is afraid of losing in the election," he said. "From what we experienced down on the ground, most of the public side with us."
A protester has lit a piece of charcoal and left it in the middle of the road to clear out a group of residents who were dismantling blockades built on Pok Fu Lam Road. #HongKongProtestsVideo: SCMP/Simone McCarthy pic.twitter.com/iH0QZUHysZ

" SCMP Hong Kong (@SCMPHongKong) November 16, 2019
In Pok Fu Lam, HKU's main campus, which had become a base for protesters this week, was eerily quiet on Saturday morning, with hubs like the main library closed and few students to be seen, although evidence of the week's events was visible throughout the school grounds.
Protesters on an overpass at HKU have thrown a few flaming materials down onto Pok Fu Lam Road, where around 100 residents and HKU alumni have gathered to dismantle roadblocks. Scuffles have broken out between the two sides. #HongKongProtestsVideo: SCMP/Simone McCarthy pic.twitter.com/9ZYSdyF2aE

" SCMP Hong Kong (@SCMPHongKong) November 16, 2019
Stretches of Pok Fu Lam and Bonham roads remained blocked to traffic, and a group of residents worked together to dismantle one barrier built by protesters.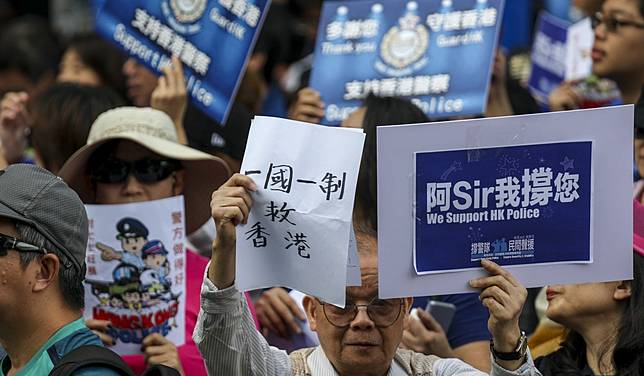 A call has been issued by a group describing itself as a university alumni body to come out at 3pm on Saturday to "liberate Pok Fu Lam Road".
Outside the government's headquarters in Admiralty, a pro-Beijing group staged a rally in support of police, and an RTHK reporter at the scene was verbally abused.
Additional reporting by Kinling Lo
Copyright (c) 2019. South China Morning Post Publishers Ltd. All rights reserved.