Arrest figure is similar to that during the 1967 riots, which is considered Hong Kong's worst-ever disturbance
Experts attribute high number of arrests to wider public participation and police strategy of detaining people even without strong evidence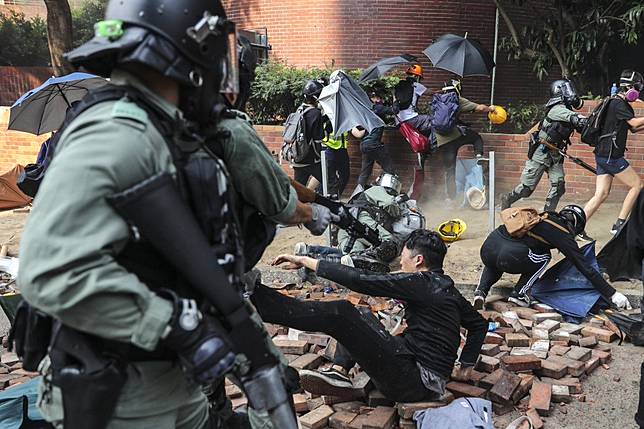 Police have arrested nearly 4,500 people in connection with anti-government protests since June, similar to the total number of arrests during the 1967 riots, which is considered Hong Kong's worst-ever disturbance.
Experts on civil unrest attribute the high number of arrests in the ongoing protests to wider areas affected by anti-government sentiment compared with those plagued by 1967 riots. Police's strategy of arresting people even without strong evidence has also led to a rise in the arrest figures, the experts said.
Some 4,498 people were arrested between May 1967 and June 1968, of which 2,077 were eventually convicted for taking part in the disturbances which nearly brought the city to a standstill.
On Monday afternoon, police said a total of 4,491 people had already been arrested in connection with the protests since the first anti-government rally took place on June 9.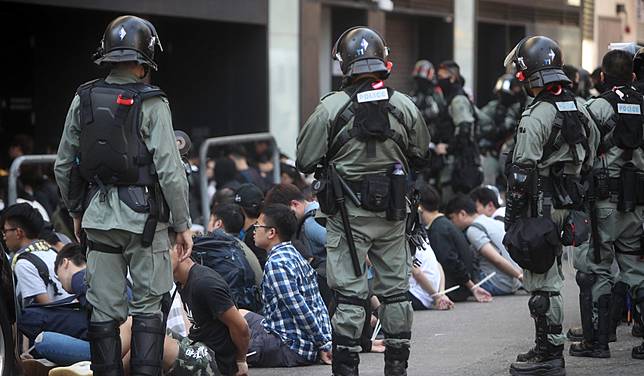 The protests, which have roiled the city for more than five months, were initially triggered by the now-withdrawn extradition bill but have since morphed into a wider anti-government campaign.
The 1967 riots were a spillover of the Cultural Revolution that began in mainland China a year ago, while its trigger in Hong Kong was a labour dispute at a factory in San Po Kong in April.
The incident escalated quickly after the leftist camp and mainland officials stationed in Hong Kong seized the opportunity to mobilise followers to protest against the colonial government.
The left wing was inspired by Beijing's support for the "anti-British struggle", and violence peaked when extremists started planting bombs on the city's streets.
Tensions only subsided in December 1967 when Premier Zhou Enlai expressed Beijing's disapproval. By then, the riots had claimed 51 lives.
Radicals arrested as they attempt to escape from university campus
Ray Yep Kin-man, a City University political scientist and an expert on the 1967 riots, said only people from the leftist camp took part in the anti-British disturbances in 1967, while people from various walks of life are involved in the ongoing protests against the administration headed by Chief Executive Carrie Lam Cheng Yuet-ngor.
"In the past two months, some arrests were made even without strong evidence," Yep said. "I think police are adopting the strategy of arresting people to deter others from taking part in the protests."
Yep said the force's "dehumanisation" of protesters as "cockroaches" had helped convince some police officers of the legitimacy of unrestrained use of force.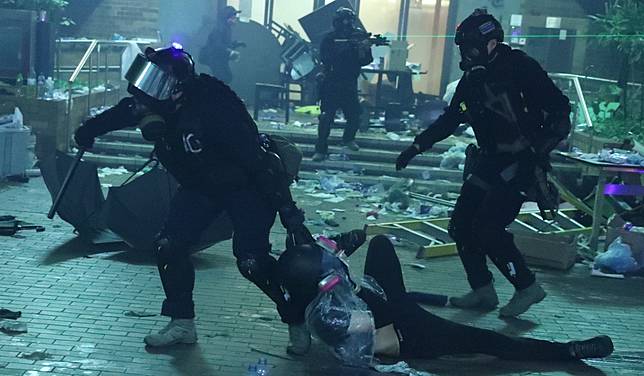 "Even during the 1967 riots, protesters were called 'leftists', but they were not compared with insects or animals," he said.
Lawrence Ho Ka-ki, assistant professor of social sciences at Education University of Hong Kong and an expert on policing in Hong Kong, also pointed to the fact that more people were involved in the current protests compared with those who took part in anti-British rallies in 1967.
Tear gas fired as radicals attempt to escape Hong Kong university
He also said the population of Hong Kong in 1967 was 3.87 million, compared to more than 7.5 million at present.
"During the 1967 riots, skirmishes between police and protesters were confined only to urban areas," he said. "But now, almost all districts in the city are being engulfed in violence on a regular basis."
Ho added the easy flow of information in the present society also contributed to more conflicts between protesters and police.
"The 1967 riots were directed by the leftist camp, but the ongoing protests are leaderless. The unpredictability of the current protests is much higher than what had happened in 1967," he said. "I expect the number of arrests to rise steadily in the months ahead."
Copyright (c) 2019. South China Morning Post Publishers Ltd. All rights reserved.