New strategy sees demonstrators descend on stores and restaurants deemed to have connections to Beijing, police or Hong Kong government
About 1,000 protesters gather at shopping centre, some splintering off to vent anger at retailers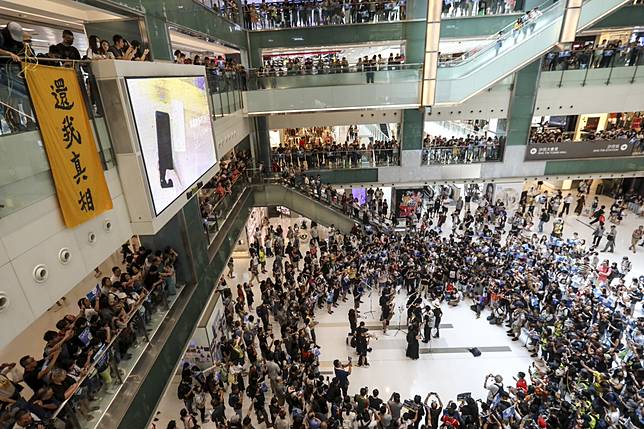 Telecoms giant Huawei was among the firms to close their shops in Hong Kong malls on Sunday after they were targeted by protesters over mainland China connections.
Anti-government demonstrators descended on the New Town Plaza shopping centre in Sha Tin, some of whom turned their ire on stores and restaurants that are owned by pro-Beijing supporters or deemed to be opponents of the anti-government movement.
MTR station closes as Hong Kong protesters vandalise mall, desecrate flag
Dozens of retailers also shut up shop in V Walk mall in Sham Shui Po following a similar boycott campaign there.
In Sha Tin, a group seized the Chinese national flag from outside the city hall, which they then smeared with paint, trod on and dragged across the floor of the mall before dumping it in a nearby river.
Protesters in Sha Tin trampled a Chinese national flag as hundreds of onlookers cheered. They then spray painted and tore it.Video: SCMP/Lea Li pic.twitter.com/NWETLCDCdL

" SCMP Hong Kong (@SCMPHongKong) September 22, 2019
After an hour of "singing protest" involving about 1,000 activists, hundreds earlier broke off to march through the New Town Plaza under a "shop with you" demonstration, a new form of direct action in opposition to the Hong Kong government and its now-withdrawn extradition bill.
They chanted slogans as they plastered anti-government posters and stickers on windows and doors of retailers that were judged to be pro-government or police supporters.
Those New Town Plaza shops included Huawei, Bank of China, snack retailer Best Mart 360, Hey Tea and coffee chain Starbucks.
Huawei and Best Mart 360 closed their doors after they were visited by protesters.
At a Bank of China branch, some masked, black-clad protesters were tampering with ATMs.
No uniformed police officers were in the area and the mall's security guards were not seen taking any action.
The customer service counter was closed and taken over by protesters as a place to rest and prepare anti-government material.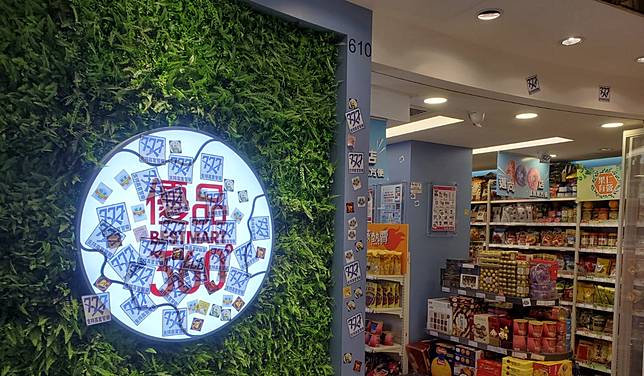 A group of protesters launched a boycott of cafes and restaurants owned by one of the Hong Kong's largest food and catering firms, Maxim's, by adorning sites with stickers saying "support high ranking officials and police" and "777", which refers to the number of votes Chief Executive Carrie Lam Cheng Yuet-ngor received in the 2017 election.
The restaurant group has become a target of anti-government protesters after its founder's daughter Annie Wu Suk-ching slammed protesters, calling them "rioters" and saying they did not represent Hong Kong.
The crowd cheers as protesters lower down a chain of receipts from a Maxim's group restaurant. It stretches from the sixth floor all the way down to ground level.Video SCMP/Simone McCarthy pic.twitter.com/wLhMqQoPMT

" SCMP Hong Kong (@SCMPHongKong) September 22, 2019
Maxim's owns or operates several well-known chains, including the Hong Kong operations for Starbucks Coffee, upmarket bakery and cafe Cova, and Chinese restaurants including Jade Garden and Peking Garden restaurants.
Meet the invisible Hong Kong taxi drivers helping protesters escape police
Its own shop Maxim's Cakes earlier also issued a directive to forbid staff from writing "liberate Hong Kong" on custom order cakes.
Outside the Jade Garden restaurant in New Town Plaza, a line of around 40 protesters waited their turn to jam the digital table reservation system, chanting slogans in the hall in front of the restaurant entrance and covering security camera with stickers.
Restaurant staff declined to comment.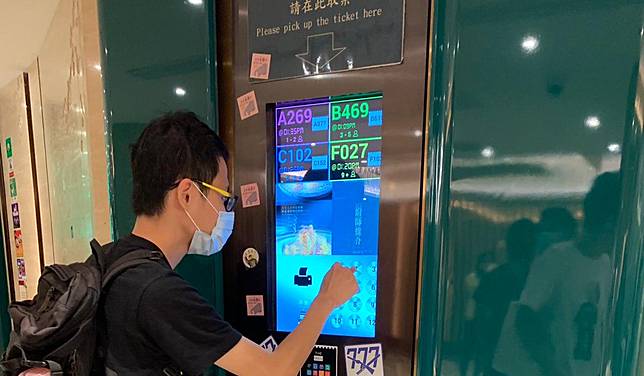 When a couple who wanted to eat there tried to skip the queue, they were told in a polite but forceful manner to get to the back of the line. They decided to leave instead.
Hong Kong airport disruption planned as another day of protest begins
The few parties still waiting for a table at the busy restaurant did not want to comment, but some diners who had finished their meal appeared apprehensive as they headed for the exit.
Others were more relaxed. "For me it's OK I'm not supporting this, but this is OK for me," said one diner, who declined to give his name.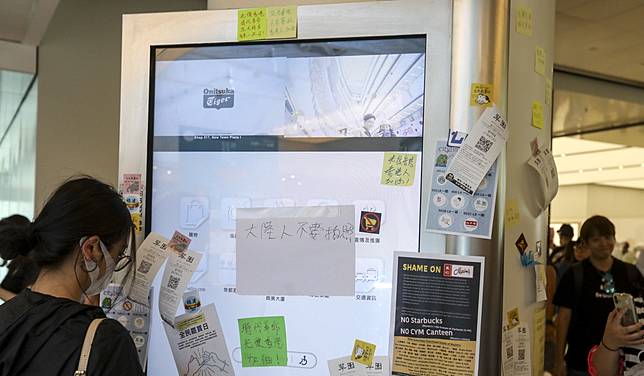 Along with Maxim's, other food and drink corporations whose management staff have openly expressed support for the government and the police or who are known to have links to mainland businesses have also become the target of protesters' boycotts, including the Jardine Restaurant Group and Dairy Farm.
Jardine Restaurant Group operates Kentucky Fried Chicken and Pizza Hut in the city, while Dairy Farm runs Ikea and 7-Eleven convenience stores in Hong Kong.
About 40 of the 100 shops in V Walk mall closed their doors on Sunday afternoon, including jewellery store Chow Sang Sang and Fu Lam restaurant.
The group who desecrated the Chinese national flag marched it out of the New Town Plaza shopping centre and threw it into a large bin that they then pushed into Shung Min River, to cheers and laughter from a crowd of supporters.
Anti-government protests have gripped Hong Kong for 16 weekends in a row.
Hong Kong police get court orders for protesters' e-payment details
They were triggered by the now-withdrawn extradition bill, which would have allowed criminal suspects to be sent back to mainland China.
Unmet demands by protesters include establishing a commission of inquiry to investigate police conduct and restarting the city's stalled political reform process.
Copyright (c) 2019. South China Morning Post Publishers Ltd. All rights reserved.