Elite unit of 80, sourced mainly from prison riot team, set to be deployed to safeguard key sites in city
Police chief to announce new squad within days following approval from Hong Kong leader under public order legislation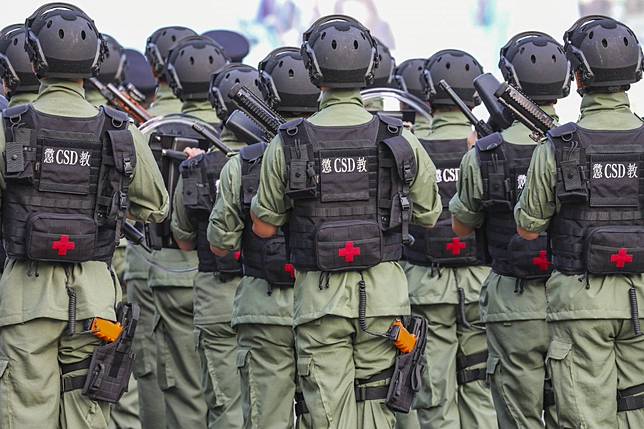 An elite prison unit of about 80 riot control specialists will be deployed to guard important sites in Hong Kong to ease the burden on a police force stretched to the limit by anti-government protests, sources have told the Post.
Chief Executive Carrie Lam Cheng Yuet-ngor is expected this week to announce the unprecedented move, made under public-order legislation that allows her to authorise the police commissioner to appoint "special constables".
A senior police source said force chief Stephen Lo Wai-chung was preparing to officially appoint the new team, which would be largely drawn from a response unit that deals with prison riots and would help protect key locations in the city such as Lam's official residence.
The city's biggest police association welcomed the move as a show of unity among the disciplined forces against the challenges of the protests, but urged the government to protect all law enforcement personnel from doxxing and bullying.
The police source said: "The 80 special cops will be recruited on a voluntary basis from the Correctional Services Department, mainly from the elite response team which is trained to deal with prison riots."
It could free up more police resources for the ground-zero demonstrations that have been raging against the Lam administration for months, he continued.
"The new recruits would not be on the front line to deal with the protests," the source added. "Such an arrangement allows police to reserve more manpower for frontline operations."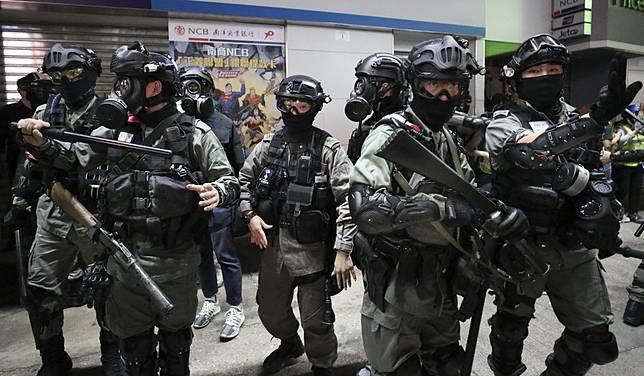 Another law enforcement insider said the force had previously stationed about 200 elite officers inside key buildings, such as the government headquarters in Admiralty, when the risk level was high.
"As the violent protests intensified and became more widespread, we have also sent these officers to the streets instead of guarding the premises," the insider said.
"Sometimes we stationed some low-tier officers back to the building depending on the risk assessment."
Chinese University stand-off escalates with volleys of tear gas from police, car set on fire by protesters
The Post understands the new recruits account for one-fifth of the existing manpower within the department's escort and support group, and are mainly sourced from its regional response team, which was established three years ago.
Before joining, members of the response team must receive more than 11 weeks of tactical and firearms training to prepare them for escorting high-risk inmates and dealing with riots and other emergencies in Hong Kong's prisons, the department said when the team was launched.
They are currently equipped with weapons such as pepper ball launchers and rifles which fire beanbag rounds.
Apart from emergencies, the teams are also responsible for routine tasks such as patrolling prisons and sharing their skills with colleagues in seminars.
Last Wednesday, the team led an emergency exercise to test the department's responses in scenarios such as hostage-taking situations at Pik Uk Prison. The exercise was joined by the police force and the fire department.
Under the Public Order Ordinance, the chief executive has the power to authorise the commissioner of police to appoint special constables.
Police No 2 Chris Tang expected to be named top cop next week
Lam Chi-wai, chairman of the Junior Police Officers' Association, which represents 80 per cent of the force, said the new measures could ease the staffing burden and reduce stress among officers.
"It shows other disciplined forces are willing to join hands with us in the battle with the mob. I hope more members would join us," Lam said.
"But there's a price to pay. The correctional officers might be subjected to doxxing and online bullying. I hope the government can protect them as well."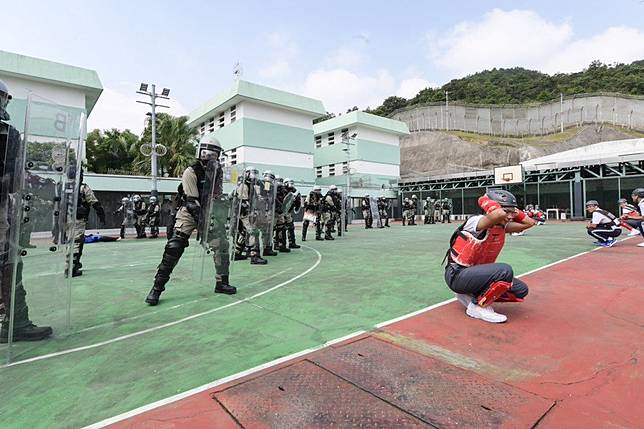 The idea of drawing on staff from other disciplined services was first floated last month when all the heads of the city's disciplined departments met with Secretary for Security John Lee Ka-chiu.
Force chiefs have flagged the long hours that some of the city's 30,000 police officers have endured during recent operations.
The Post also reported last month that the police force planned to re-employ up to 1,000 retired officers to cope with the anti-government protests.
Since June, Hong Kong has been hit by wave after wave of protests sparked by the now-withdrawn extradition bill. It has developed into a wider anti-government movement, with elements resorting to increasing levels of violence.
Hard-core protesters have vandalised MTR stations and businesses, hurled petrol bombs and bricks at police and attacked members of the public who have taken issue with their conduct or challenged their views.
Officers have responded by firing nearly 7,000 rounds of tear gas and using rubber bullets, as well as other methods of crowd dispersal.
Hong Kong protesters vow to continue new paralysing weekday violence strategy
Police have so far arrested more than 3,600 people, the youngest aged 12. More than 1,550 people have been sent to public hospitals, while nearly 400 police officers have been injured.
The crisis has deepened since the weekend, with police shooting a protester at close range with a live round and a man being set on fire during an argument with demonstrators.
The force has been under huge pressure, including facing accusations it has used excessive force in confrontations with protesters. There have also been allegations that those arrested have been mistreated while in custody.
Lam denounced on Monday those who believed the violence would force the government to give in to their political demands, calling that "wishful thinking".
Correctional services were a police responsibility until 1879, when the Correctional Services Department was officially formed.
Copyright (c) 2019. South China Morning Post Publishers Ltd. All rights reserved.