Overcrowding measures brought in at Kowloon Tong station as protests, including obstructing doors, cause delays and closures on six MTR lines
Police siege of university campus enters fourth day with dozens of radical protesters still on campus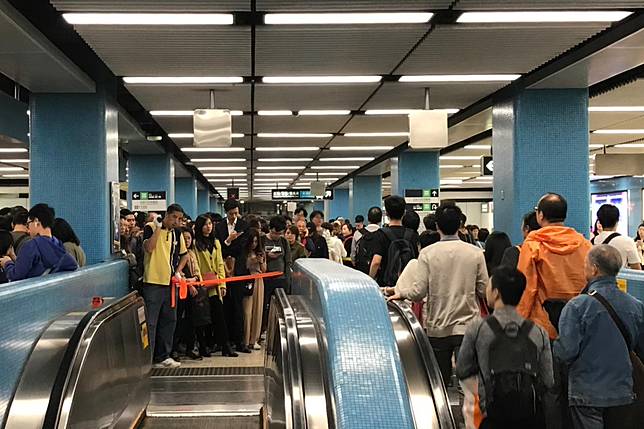 Protesters have responded to online calls to "paralyse" Hong Kong by disrupting road traffic and rail services on Wednesday, with the police siege of a university campus in its fourth day.
A fight broke out at Tin Shui Wai station in the morning forcing its closure, and the obstruction of train doors on Kwun Tong, Tsuen Wan, Tseung Kwan O and Island lines have caused delays, the city's rail operator said.
Trains also skipped Yuen Long station earlier because of protester disruption, while large queues are building at the interchanges of Kowloon Tong, North Point, Mong Kok and Yau Tong as the impact of the direct action takes its toll on the rush hour commute.
At Kowloon Tong station, hundreds of commuters have to line up along the stairs all the way onto the concourse as train services are delayed. MTR staff have suggested people try other means of transport. #HongKongProtestsVideo: SCMP/Chan Ho-him pic.twitter.com/PfwFfMEm5C

" SCMP Hong Kong (@SCMPHongKong) November 20, 2019
Overcrowding measures have been put in place at Kowloon Tong, an interchange connecting the busy commercial hubs of Kowloon with northern parts of the city.
Classes resumed at primary and secondary schools on Wednesday, with about 100 pupils in Kwun Tong marking their return by disrupting traffic at the junction of Hip Wo Street and Tsui Ping Road. Riot police have arrived on the scene.
Mask-wearing secondary students in their school uniforms marched from Kwun Tong MTR station to the intersection. Some blocked roads with bricks, rubbish bins and metal railings as they called for the government to meet all five demands of the protest movement.
It led to flashes of disputes as commuters got off the bus and tried to clear the road.
Nearby in Hip Wo Street, a handful of protesters dressed in black could be seen throwing bricks onto Yue Man Square. Some passers-by chased them off and cleared the area.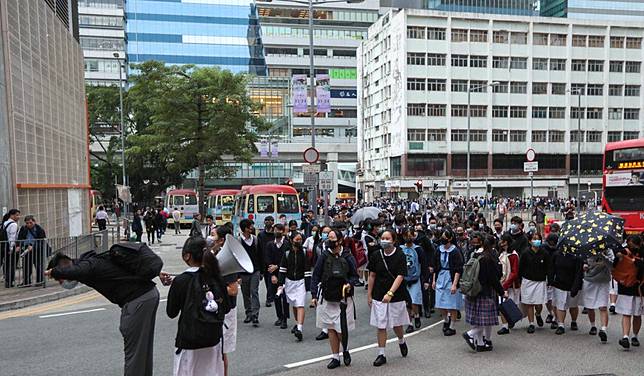 Activists had issued calls on social media for protesters to "paralyse the whole of Hong Kong" on Wednesday morning.
As of 9.30am, six MTR lines were affected by service delays or station closures.
After riot police arrived at Tin Shui Wai station, about 10 secondary students in uniforms were stopped and checked by the officers.
The first trains of the day on part of the East Rail line were delayed for staff to clear several objects off the track near Fanling, including a bicycle hanging from an overhead cable.
At Diamond Hill station, where carriage doors were not closing, more than 100 passengers were unable to board trains during the rush hour.
Students in Kwun Tong are occupying roads during a protest before school on Wed (Nov 20) morning. #HongKongProtestsVideo: SCMP/Martin Choi pic.twitter.com/k7yWuKBuU5

" SCMP Hong Kong (@SCMPHongKong) November 19, 2019
A 58-year-old clerk at an accountancy firm in Central, who gave her name as Ms Wong, said she would be more than an hour late for work because of the delays at Diamond Hill, and feared having to take the whole day off.
"I feel angry. I wanted to go to work, but there's nothing I can do … The (protesters) have affected our livelihood, bringing Hong Kong to a standstill," Wong said.
Another commuter at Diamond Hill station was less put out by the disruption, saying her boss would understand why she was late.
Meanwhile, the Transport Department has put on free ferry services and diverted buses to cope with the ongoing closure of the Cross-Harbour Tunnel, which connects Kowloon with Hong Kong Island.
Wednesday marked the return of classes at primary and secondary schools following suspensions over several days because of the transport chaos caused by protesters.
Many pupils arrived early after demonstrators said they would take direct action across swathes of the city, with several saying they were glad to be back in school.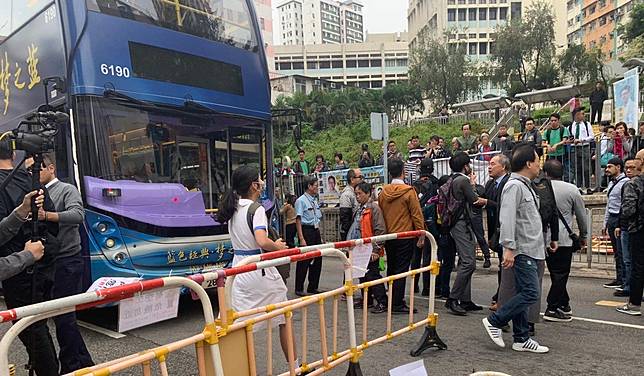 Adrian, a Form Four student studying in St Paul's College near to the University of Hong Kong, arrived school at 7.10 am, an hour early. He said it was good to be back at school after spending the last few days at home. Adrian said his bus ride to school was "smooth".
Form Six student, Bill Chan, who lives in Tung Chung, said the railway service was normal for his journey to school.
"It's been a week since school closed. I am quite eager to go back for classes and meet my classmates," he said.
Over at Polytechnic University, officers continued to surround the campus in a lockdown imposed since Sunday evening after a day of extreme violence in the area which the force declared a riot.
According to police, about 1,100 people had been arrested or surrendered during the clashes, as of Tuesday afternoon.
The PolyU campus resembled a disaster zone early on Wednesday with unused petrol bombs, cans of petroleum gas, loose bricks and protest equipment scattered across the ground, while many buildings had glass windows and doors smashed in.
The diehard radicals still on site have turned the gymnasium into a sleeping area, which is strewn with sleeping mats and first aid materials.
It is understood those on the campus were still exploring ways to escape, including via a manhole.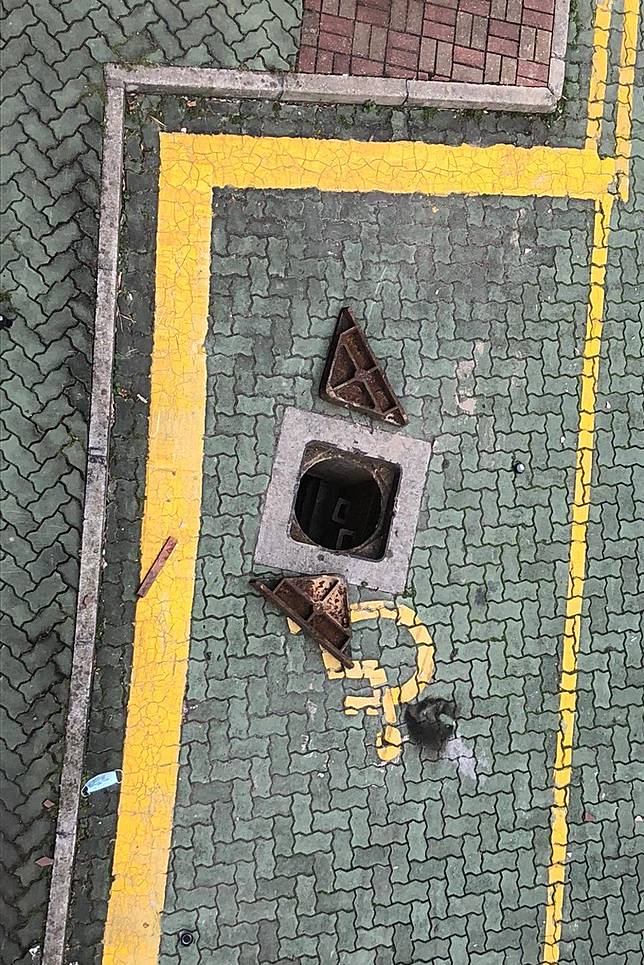 University of Hong Kong's Vice-Chancellor Zhang Xiang made a surprise appearance at PolyU shortly after midnight.
He wanted to meet HKU students stranded at the PolyU campus. But 1 1/2 hours later, he said he could find not any of them.
In a voice message to students before his arrival, the HKU leader said: "I am worried about you. Please stay safe. I want to see you again.
"As your vice-chancellor, I promise I will do my best to help you. Trust me. I need you to rebuild the future with me."
Among those who remained inside PolyU in the early hours of Wednesday was a Chinese University student, who vowed not to turn himself in.
"I want to leave, but I won't surrender," he said. "I might be arrested if I continue to stay here. But if I just walk out now, I will definitely (be arrested)."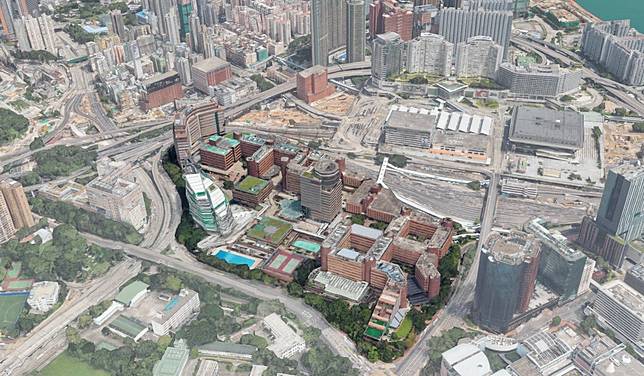 The Chinese University student said he was part of the team helping dozens of activists use ropes to descend about seven metres from a campus footbridge to waiting motorcyclists below.
"I was one of those holding the ropes. I thought I would be able to leave too. But then the police came to chase after us," he said.
"Anyway, there had to be someone to hold the ropes."
Another protester, Chan, said he had been searching in vain for secret passages to make good his escape since Sunday. The 24-year-old has still not told his parents he was inside PolyU because he did not want them to worry.
"I have no regrets," he said. "It's the police's actions on protesters (since June) that has driven us to this."
He said not everyone who remained inside the campus were frontline protesters. Some just helped cook food at the canteen while others were simply supporters, he added.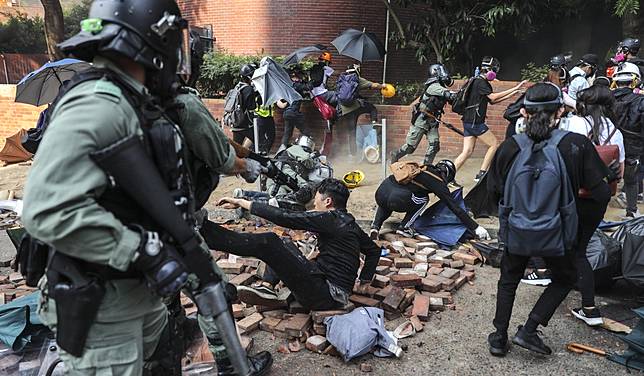 The auxiliary bishop of Hong Kong, Joseph Ha Chi-shing, spent four hours at PolyU with Reverend Yuen Tin-yau until the early hours of Wednesday trying to convince protesters to leave the campus peacefully, to no avail.
"They are tired. They are anxious and puzzled. They still haven't decided their next steps," Ha said.
"We tried to listen to them and let them know our thoughts … I hope they can understand that there is still a way out of this."
By Wednesday, no first aid volunteers could be seen inside the campus any more.
According to education sector lawmaker Ip Kin-yuen, who was inside the campus at the time, about 40 of the medical volunteers left on Tuesday night.
They were not arrested as they departed, but police told them they might face investigation in the future.
Police have been calling on those inside the campus to surrender and leave the campus through police checkpoints.
Those that do run the risk of being arrested for rioting offences, which can bring a maximum penalty of 10 years in jail.
During the violent clashes on Sunday, radical protesters threw a large number of petrol bombs at police, who responded with tear gas and water cannons.
They were some of the ugliest scenes since the anti-government protests erupted in June, sparked by the now-withdrawn extradition bill.
Copyright (c) 2019. South China Morning Post Publishers Ltd. All rights reserved.