Uproar centres on clips that critics say show police kicking detainee after he was subdued in back alley, but force denies this
Police initially denied that a person was visible in the video, saying the man was a 'yellow object', but footage from other people suggests otherwise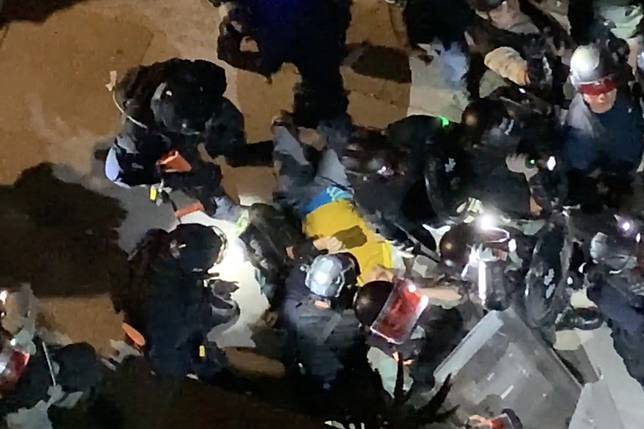 A self-proclaimed sibling of the man who was allegedly kicked by police after being arrested in a Hong Kong protest has condemned the force for calling the alleged victim a "yellow object", saying while he had no power, he was not "lifeless".
In an online message posted on the forum LIHKG on Thursday, the user called on people not to be irrational because of hate. The forum is popular with protesters.
The arrested man, who was accused of assaulting police last Saturday in Yuen Long, is now safe, according to the message.
Representing volunteer group "Protect the Children", the Good Neighbour North District Church said on Facebook they had verified that the post was from his family. The man is a member of the group.
The controversy centred on viral online videos showing at least 20 riot officers surrounding the man in a back alley at Fung Yau Street North. Critics said the video showed an officer kicking the suspect, but the force said it was a "yellow object".
The volunteer group, often seen on protest front lines, said he had suffered injuries consistent with being kicked.
"My brother is just an ordinary, grass-roots man, he has no power or influence, but that does not mean he is lifeless. He has flesh and blood, he is not an object.
"His plight has angered everyone, including me, but I do not want to be blinded by hate and become irrational or the type of person I dislike. Don't fall into that trap," the user wrote.
Police say video shows officers kicking 'yellow object', not a man
The church said the man, who was nicknamed "yellow shirt" for his attire when he was arrested, had been negotiating with police in Yuen Long over the arrest of young protesters when he was pepper-sprayed, along with other volunteers and reporters.
However, police claimed he had assaulted an officer and took him to the back alley with two others, where the officers were accused of kicking him. He was arrested there and released on bail on Tuesday.
At a news conference on Monday, police claimed that one video showing the alleged assault had been "doctored" and that officers had kicked a "yellow object". The force also challenged witnesses to come forward. But police said on Tuesday they would look into the incident and review other videos that had surfaced.
The volunteer group's post further described the man as a kind-hearted person. "He consistently takes care of children and the elderly, and along with 'Protect the Children', has helped many people in the past few months," it stated.
"He is not just a person, he is a Hongkonger who should be respected, and we are very proud of him."
The user thanked everyone who had shown support and said the most important thing now was that "yellow shirt" could rest and recover.
Copyright (c) 2019. South China Morning Post Publishers Ltd. All rights reserved.