Embattled MTR Corporation once again badly affected as protesters vandalise the rail giant's facilities from early morning
Radical protesters vow to keep fight going on Tuesday morning after 21-year-old student shot and critically wounded by police officer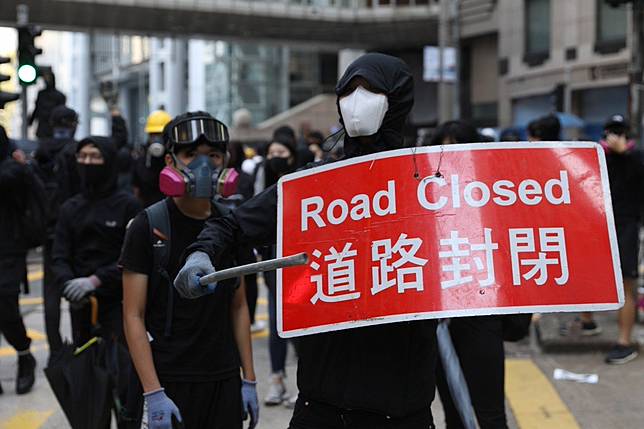 A citywide anti-government protest plunged Hong Kong into transport chaos throughout Monday, crippling metro, bus and cross-border services and making it difficult for millions of commuters to get home after work.
The turmoil was expected to persist on Tuesday as defiant protesters vowed to keep fighting after a 21-year-old student was shot and critically wounded by a police officer on Monday morning.
The embattled MTR Corporation was once again badly affected as protesters vandalised the rail giant's facilities from early morning.
The company said that over the course of the day, 32 MTR stations had been forced to close and service on certain sections of several railway lines had to be suspended.
After 7pm, the Airport Express would only run between Hong Kong station and the airport, skipping Kowloon and Tsing Yi.
The problems started before 6am after railway staff found objects including bicycles and ladders thrown onto the tracks between Sha Tin and Tai Wai on the East Rail line. At 7am, a petrol bomb was hurled at Tung Chung station and a fire set at Heng On station.
Protesters were out in force during the morning rush hour, setting up roadblocks and disrupting rail services, as the anti-government protests entered their sixth month.
They retreated for a while but emerged across the city again after the shooting in Sai Wan Ho.
An MTR spokesman said at about 8am in Kwai Fong station, two petrol bombs were thrown inside a Central-bound train when its doors opened for passengers to get on and off. At the same time, some people activated emergency escapes at the end of the train, he said.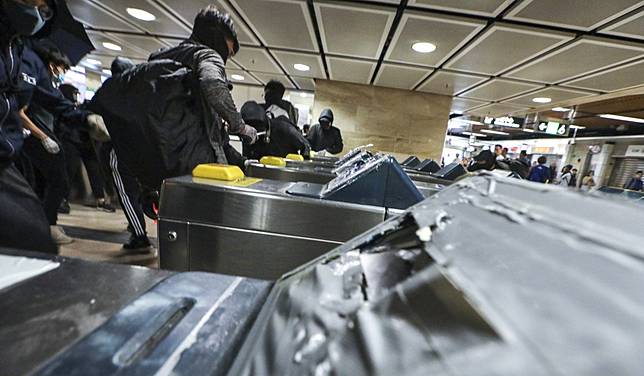 "The platform staff immediately used extinguishers to put out the fire and then evacuated the passengers," he said.
By noon, 25 stations gradually closed, although some resumed services in the afternoon.
"The MTR network has been subjected to persistent violent acts, disturbances and vandalism, especially throwing petrol bombs at passenger-loaded trains and some stations, throwing objects onto the rail tracks and pushing open the emergency escapes," the MTR spokesman said.
Student shot and man set ablaze in one of Hong Kong's most violent days of unrest yet
"We express our indignation and strongly condemn such acts."
Major thoroughfares across several districts were blocked, resulting in the suspension of 48 cross-harbour bus routes and 91 other routes.
Trams on the Shau Kei Wan Terminus-Finnie Street route, as well as from Admiralty to Western Market Terminus did not run on Monday afternoon.
Despite widespread irritation over the disruptions, some Hongkongers were supportive. A high school student surnamed Luk realised on Monday morning that she could not find a tram back to her school in Sai Wan Ho so she decided to join the calls for a citywide strike.
"It is our exam week so I didn't take leave although I wanted to join the strike. But because the road was blocked, I told the school that I could not go back," she said.
In Sha Tin, dozens of residents on Tai Chung Kiu Road decided to walk to Sha Tin MTR station because protesters had blocked the road. Others disembarked from buses to join them.
Shot protester still in critical condition amid arguments over force used
Office worker Johnny Chan, 30, said he was not too bothered by the disruption because he could still take the train at the nearest station.
But a Tseung Kwan O resident and wheelchair user, surnamed Choy, 64, said she was scared when she went out to buy groceries, fearing that bricks strewn across the road would cause problems for her.
"Why they did it, I don't know. The government does not give in, the young people do not give in, it's best they stop this," she said.
Copyright (c) 2019. South China Morning Post Publishers Ltd. All rights reserved.