Education Bureau rejects calls to suspend secondary and primary schools, as well as kindergartens, saying it is up to individual schools to decide
But city's biggest teachers' union says Chief Executive Carrie Lam put politics above student safety, calling her 'irresponsible'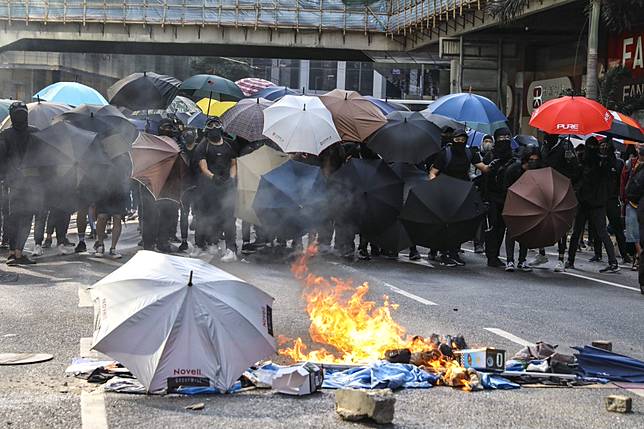 The Hong Kong government has come under fire from parents, teachers and trade unions for refusing to suspend classes in primary and secondary schools as citywide protests, work walkouts and traffic mayhem entered its second day.
But Chief Executive Carrie Lam Cheng Yuet-ngor, speaking on Tuesday before an Executive Council meeting, defended the government's decision, citing a "willingness and eagerness of citizens and students to go to work and school".
"Protesters are attempting to paralyse Hong Kong to create a stalemate in the city," Lam said. "The government cannot recklessly stop all activities in Hong Kong, otherwise it will fall into the protesters' trap."
Lam's remarks brought strong condemnation from the Hong Kong Professional Teachers' Union, which accused her of being "irresponsible".
"Carrie Lam's words show she has put politics above the safety and health of teachers and students just to send a message to protesters that she won't yield to them by insisting it was business as usual at schools," the union said in a statement.
All eight publicly funded universities, as well as Open University, Hang Seng University and the Vocational Training Council, suspended classes on Monday and Tuesday and announced that the suspensions would continue on Wednesday.
The Hong Kong Education Bureau on Tuesday rejected calls to suspend classes in secondary and primary schools, as well as kindergartens, saying it was up to individual schools to decide.
Several schools in the Tseung Kwan O area " including Pok Oi Hospital 80th Anniversary Tang Ying Hei College, Chi Lin Buddhist Primary School, Tseung Kwan O Catholic Primary School and HKMLC Ming Tao Primary School " suspended classes on Tuesday.
On Monday, tear gas was fired at several schools and university campuses for the first time as student protesters clashed with police across the city. Some schools said on Tuesday that students had been affected by tear gas and that facilities required clean-up work.
Most schools in other areas remained open on Tuesday.
Rachel Tong Chung-yee, a spokeswoman for Parents United of Hong Kong, said some parents believed the Education Bureau should have called off classes on Tuesday.
"Some parents worry if they don't let their children to go to school, their children might face punishment or pressure from schools or teachers," she said. "That's why it would be best for the bureau to give a clear guideline."
A father, who declined to be named, picked up his son from Primary One classes at Ma Tau Chung Primary School in Hung Hom at around 3pm.
"We live in Tin Shui Wai and luckily it took us less than an hour to reach school this morning on the West Rail Line," he said in Mandarin. "But I was worried I wouldn't be able to get him in time because some people threw items on the railway."
A mother who gave her surname as Ngan had to pick up her Primary Three daughter earlier than usual from Tai Kok Tsui Catholic Primary School because some after-school activities had been cancelled.
"My daughter is in the choir but practices were cancelled due to safety reasons," Ngan said. "She's a bit disappointed, but at least we can go home together."
Ngan said her daughter was five minutes late to class this morning after some disruptions along their commute from Hung Hom to the Nam Cheong MTR station.
The two parents emphasised that their children's safety was most important and both expressed hope that calm would be restored in Hong Kong.
A Form Three student surnamed Tang said the Education Bureau should postpone classes for children in kindergarten.
"My younger brother is in kindergarten and it is quite worrying when there's MTR disruptions and roadblocks," said Tang, who lives in Whampoa and goes to school in Central.
School principals said the government's decision meant they faced the difficult decision to suspend classes, and some called for more support from the Education Bureau.
Teddy Tang Chun-keung, chairman of the Hong Kong Association of the Heads of Secondary Schools, said schools had to decide whether their location was likely to become a protest flashpoint. "The bureau is best placed to make a comprehensive call because it has the most information of what's going on in all districts," Tang said.
Cheung Yung-pong, the principal of SKH St James' Primary School and chairman of the Subsidised Primary Schools Council, said schools needed to ensure school buses and catering services could operate as normal so students would be safe and fed.
"But is it safer to leave young students at home when their parents are out at work? And will students leave home to join protests and get injured? " said Cheung. "This is a difficult conundrum."
Copyright (c) 2019. South China Morning Post Publishers Ltd. All rights reserved.