Three days of escalating unrest and violence have pushed city to a critical point where protesters, police and government need to seek reconciliation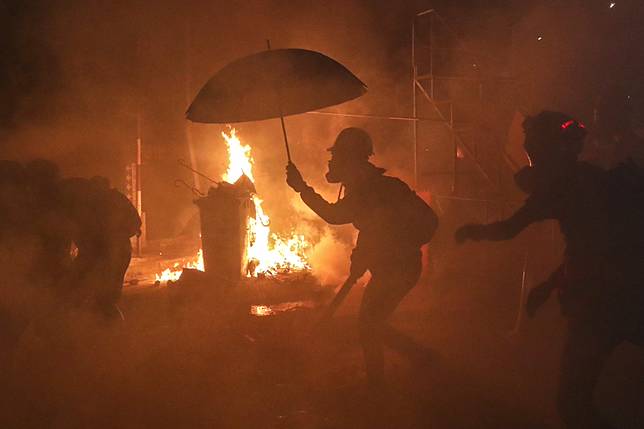 The fate of Hong Kong is hanging in the balance. Three days of widespread unrest and escalating violence have brought the city to a virtual standstill. A critical point has been reached. There is no sign of the trouble ending. But if the city is to emerge from the crisis, a resolution must be found. All stakeholders should consider their positions, put aside narrow interests, and act positively in the city's interests. Protesters have escalated their action since the tragic death of a student on Friday. Clashes with police have become increasingly violent and university campuses turned into war zones. Calls for a general strike have seen barricades erected, roads blocked, and transport disrupted. Parts of this usually busy city have become eerily quiet. Many people have been injured, including a man set on fire by protesters and a demonstrator shot by police.
Hong Kong protesters vow to continue paralysing weekday violence strategy
Radical protesters need a better strategy. The concept of "if we burn, you burn" will benefit no one. It is extremely sad to hear bright young people say they have nothing to live for. They can help shape the future, but violence is not the answer and it must stop if the city is to move forward. Police face a difficult task. They have, however, become part of the problem and often fuelled further anger. The new commissioner must establish a clear policy which strikes the right balance between maintaining order and reducing tensions. Sensitivity is needed with regard to police operations involving university campuses.
Ultimately, the responsibility lies with the government. The latest evidence of its bungling can be seen in the U-turn over whether schools should close. Chief Executive Carrie Lam Cheng Yuet-ngor said on Monday the government would be "falling into the protesters' trap" if it closed schools. Yesterday, the Education Bureau left it to schools to decide. Then, it announced the schools would close today. This is the right decision, as the safety of children is paramount. But, once again, officials have acted too late. Every decision must be given the most careful consideration. There is no room for further mistakes.
Beijing's top office in Hong Kong urges stronger crackdown
Divisions in society are deepening. More must be done to further dialogue and understanding. The divide between Hong Kong and the mainland is also growing. These wounds will not be easy to heal. Meanwhile, the city is entering a recession and the economic impact will be profound.
We need to find a way to return Hong Kong to being the safe, vibrant and tolerant city we love. The death of Hong Kong has been forecast many times. It has always bounced back, thanks to the good sense and strong spirit of its people. That spirit is needed now, more than ever, to bring reconciliation and to forge a better future for all.
Copyright (c) 2019. South China Morning Post Publishers Ltd. All rights reserved.