Case involves pan-democrat Au Nok-hin, 32, who is the first lawmaker to be charged over the anti-government protests
Application is latest case in which justice department has asked for police and civilians who are victims or witnesses to be given anonymity in protest-linked proceedings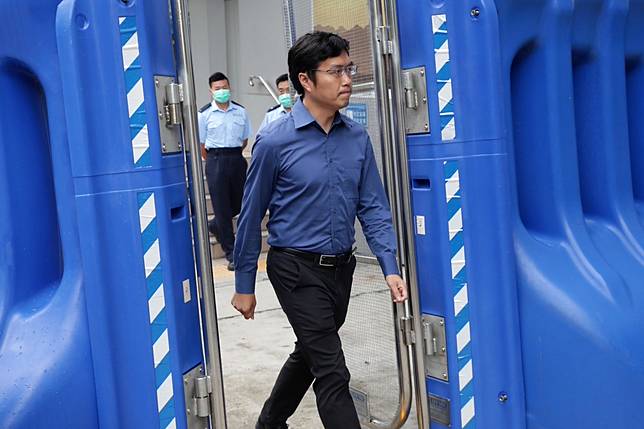 Hong Kong's Department of Justice has applied to hide the identity of two police officers who were allegedly assaulted by a pro-democracy lawmaker during a protest, saying they may be afraid to testify in court if their names are revealed.
The application is the latest in a series of cases in which the department has asked for police officers and civilians who are victims or witnesses in criminal proceedings linked to the protests to be given anonymity.
The latest case involves pan-democrat Au Nok-hin, 32, who is the first lawmaker to be charged over the anti-government protests that have rocked Hong Kong since June. He faced two counts of assaulting a police officer at Kowloon City Court on Thursday.
Au allegedly used a loudspeaker to assault two officers, identified only as constable AAA and superintendent EEE, during a protest on July 8 at a section of Nathan Road between Dundas Street and Hamilton Street in Yau Ma Tei.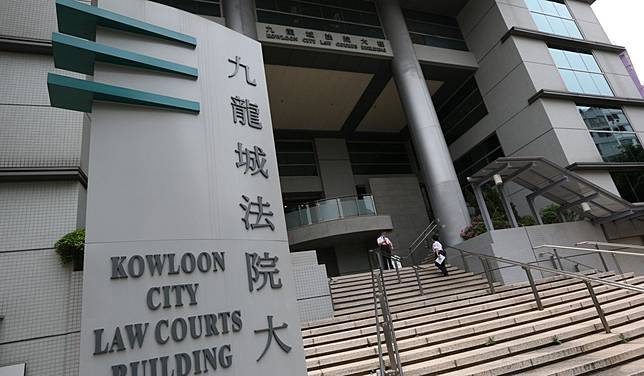 Prosecutors said an anonymity order was necessary to protect the privacy of the officers amid fears of doxxing " the release of their personal details online " and harassment.
Au's lawyer Jonathan Man Ho-ching rejected the "unsubstantiated" application and said testifying in the case would not cause embarrassment to the officers.
But acting Principal Magistrate Ada Yim Shun-yee said the court should not overlook the risk of injuries to the families of police witnesses if their names were made public.
"Everyone in society has a chance to testify in court. If police officers or citizens have such genuine concerns, society should consider how to protect them as witnesses," Yim said.
In rare move, two judges appointed to hear legal bids against mask ban
She adjourned the case to December 12 for the parties to discuss the matter, and for Au to seek legal advice. She released Au on HK5,000 cash bail.
Au said outside court that he feared those who faced police persecution would be unable to file complaints at the end of court proceedings without knowing the identity of officers.
The first anonymity request was on September 13, when lifeguard Sin Ka-ho, 21, faced one count of rioting and two of resisting a police officer during a protest outside the Legislative Council on June 12.
Prosecutors identified the two officers involved only by their serial numbers. They insisted the omission was not deliberate and their identification numbers would be sufficient.
On Tuesday, the prosecution also revealed plan to apply for a gag order on the identity of a police officer slashed in the neck, allegedly by student Hui Tim-lik, 18, citing safety concerns.
On Wednesday, prosecutors asked to withdraw the names of taxi driver Henry Cheng Kwok-chuen and three other witnesses " including two police officers " from allegations against company manager Cheung Tsz-lung, 32, who faced three counts of wounding the cabby, whose vehicle drove into a crowd of protesters in Sham Shui Po on October 6.
But during the hearing at Eastern Court, Principal Magistrate Bina Chainrai questioned the basis for the prosecution to do so, adding that a report by the Post had already published Cheng's full name and pictures. She asked the prosecution to file a written submission for the anonymity order before the next hearing on January 8. She did not make any orders to ban the publication of Cheng's name and that of other witnesses in the case.
Simon Young Ngai-man, a law scholar at the University of Hong Kong, said it would be appropriate for the prosecution to conceal the identity of police witnesses if there was a real risk of harassment for them and their family members.
He said that under section 123(2) of the Criminal Procedure Ordinance, non-publication of such information served the interests of justice and public security, but warned that concealing such particulars from the defendant may jeopardise his right to a fair trial.
"Defence (lawyers) need to know the identity of the witness to fully and properly prepare the case for the client, particularly when it comes to cross-examination of the witness," Young said.
"For example, identity enables full research into the background of the witness to determine whether there is anything in that background damaging to the witness' credibility."
Barrister Johnny So Chun-man said the court may grant anonymity to a "witness in fear", whose safety may be compromised if he testifies, but he could not see how a police officer, given his duty to protect citizens, would qualify to have his name hidden in open court.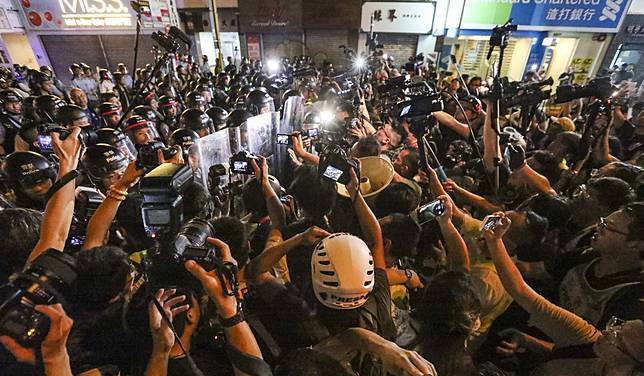 He feared anonymising police witnesses would become a norm in future protest-related cases, casting doubts on the fairness of trials to come.
So, using the example of a case of assaulting police, said: "If police officers are only identified as X, Y and Z, how will the defendant know whether the witness who gives evidence is indeed the one he is accused of assaulting? Is he even a police officer to begin with?"
The High Court on Wednesday rejected an urgent application by the Junior Police Officers' Association, Hong Kong's largest police group, for an interim injunction to ban public inspection of voters' details ahead of the district council elections on November 24. The association said it made the call in response to doxxing threats posed by internet users.
Copyright (c) 2019. South China Morning Post Publishers Ltd. All rights reserved.