In the second instalment of a four-part series, the Post meets pro-democracy debut candidates for November's district council elections
Though running in different areas with varying priorities, all share anger at violence against protesters
A former police officer, the founder of a travel tips website and a funeral industry player are among those inspired by Hong Kong's ongoing anti-government protests to enter politics for the first time in next month's district council elections.
The city's pro-democracy camp is expected to field candidates in almost all 452 seats for the November 24 polls, an increase on the fewer than 400 it produced to challenge pro-government candidates in past elections.
Apart from aspiring politicians from established political parties, this year's polls have also attracted fresh faces, including many first-time candidates.
The Post spoke to four hopefuls to find out why they are in the race.
Cathy Yau Man-shan, 36, Causeway Bay constituency, Wan Chai district
Some may accuse Yau, a former police officer, of being a defector at a key moment in Hong Kong's history.
Weeks after the protests against the government's failed extradition bill erupted in June, she resigned from the force.
Having joined in 2008, she said she could no longer remain after witnessing her former colleagues subjecting protesters to what she thought was rough treatment.
"As police officers, uniformed or not, should you not control your emotions?" Yau said. "Even if you think the person is in the wrong, you should let the judges decide."
Single and possessing an associate degree, Yau was involved in pro-democracy activities from well before she joined the force.
In 2003, she was part of a movement demanding the departure of Hong Kong's first chief executive, Tung Chee-hwa, after his administration tried to enact national security laws under Article 23 of the Basic Law, Hong Kong's mini-constitution.
I feel Hong Kong has hopeCathy Yau
After a mass protest drew an estimated half-million participants, the bill was eventually shelved. Tung resigned in 2005, citing health issues.
Yau said the current protest movement prompted her to run for election, as she feels the pro-government politicians who dominate all 18 district councils have failed to reflect public opinion accurately.
She is challenging incumbent Yolanda Ng Yuen-ting, 44, who has represented Causeway Bay since 2008.
Ng describes herself as an e-commerce director and is an independent with pro-government leanings. She ran uncontested in 2015.
Yau said she chose to run in Causeway Bay because she had served the area as a police officer and Wan Chai's only pro-democracy district councillor, Clarisse Yeung Suet-ying, invited her to enter the November election.
Yau expects a tough contest as she tries to unseat an experienced opponent.
Her police background has also been criticised by some Causeway Bay residents.
"Some said to me, 'Once a rogue cop, always a rogue cop'," she said.
Undaunted, she said she is encouraged by those in the protest movement.
"I feel Hong Kong has hope," she said.
Richard Chan Chun-chit, 48, Lam Tsuen Valley constituency, Tai Po district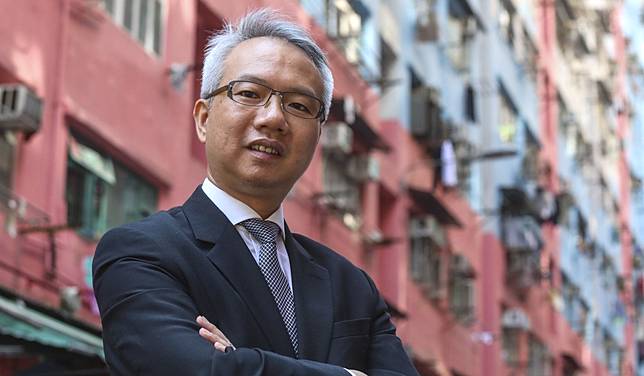 Dubbed "airport uncle" after he stood between police and youngsters during a heated protest at Hong Kong International Airport in August, Chan insists he was only trying to mediate.
"Both sides are my kids; both sides need to be protected," he said, referring to the protesters and frontline police officers.
Married with two children, he has a master's degree in law and heads a funeral college which trains people in a wide range of roles related to conducting ceremonies for the dead as well as heritage and estate matters.
Chan said he was inspired by the current protest movement's demands for greater democracy and decided to run for the Lam Tsuen Valley seat.
My generation has a comfortable life now due to the efforts of the previous generation. If we don't repay by stepping forward, we will be stealing from the next generationRichard Chan
He will be running head to head against incumbent full-time district councillor Chan Cho-leung, 57, a member of the pro-Beijing Business and Professionals Alliance, who has served the area for more than a decade.
Voter turnout in the past has been less than half, but Richard Chan reasoned that was because past contests lacked a pro-democracy candidate.
He also said it was the right time for him to go into politics.
"My generation has a comfortable life now due to the efforts of the previous generation," he said. "If we don't repay by stepping forward, we will be stealing from the next generation."
Hong Kong district council elections: how opposition camp plans to put up a fierce fight
Although he considers himself a moderate member of the pro-democracy camp, he said he did not blame protesters for the increased level of violence.
"It is a vicious cycle," he said. "The police were the first to use violence, and the crowd responded with violence."
Osman Cheng Chung-han, 30, On Tai constituency, Sha Tin district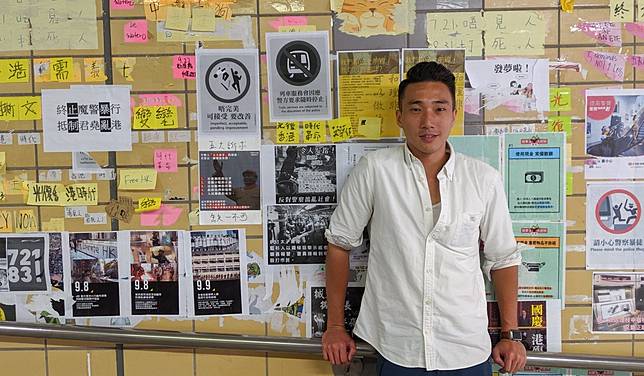 The swing of a baton changed the trajectory of Cheng's life in 2014, when he was hit by then superintendent Frankly Chu while passing through Mong Kok during the Occupy protests.
Chu was later convicted of assault resulting in bodily harm and sentenced to three months in jail. While Principal Magistrate Bina Chainrai said she hoped the sentence would deter other officers from acting the same way, Cheng said her ruling appeared to have had no effect on frontline police officers during this year's unrest.
"When I was hit by the baton I did not bleed or break any bones, but the kids protesting now are hurt worse," Cheng said.
Although Chu was dealt with, he thought there had been no change to the system.
Cheng, who is unmarried, has an associate degree and works as a marketing officer for a trading firm.
My friend told me, if you want to change society, you have to enter the systemOsman Cheng
He said he could not go to the front line of the current protests, because he fears receiving "special treatment" from police.
Instead, he took a friend's advice to run in the district council elections as a way to support the pro-democracy movement.
A resident of Sha Tin, he chose to run in On Tai after being told there was no strong pro-democracy representation there.
He hopes to unseat incumbent district councillor Chiu Man-leong, 36, a member of the Democratic Alliance for the Betterment and Progress of Hong Kong.
Chiu has represented the area since 2013, and previously defeated pro-democracy candidate Donna Yau Yuet-wah by 1,010 votes.
Ready for what lies ahead, Cheng said: "My friend told me, if you want to change society, you have to enter the system."
Frankie Chow Kam-kei, 43, Stubbs Road constituency, Wan Chai district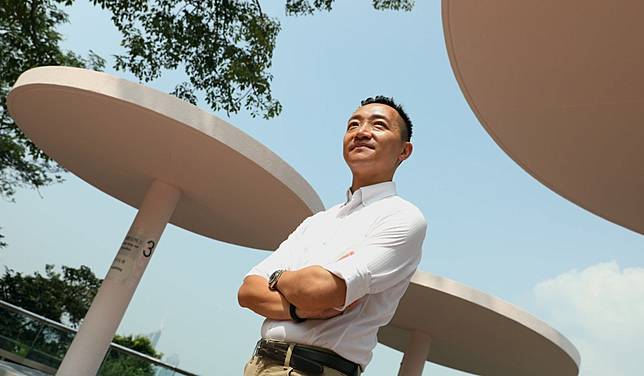 Canvassing in the swish Stubbs Road constituency calls for more than hitting the pavement and handing out fliers to passers-by.
As residents do not spend much time in public areas, businessman Chow has had to find other ways to meet voters and learn their views.
"We've talked over meals, even over dessert and drinks," said Chow, founder of Flyagain.la, a popular travel tips website.
This is his first foray into politics and he is contesting as a pro-democracy candidate, though he is not affiliated with a political party.
Participation is democracyFrankie Chow
Chow said he was prompted to run for a seat in the district council after the Yuen Long incident on July 21, when white-clad men attacked protesters and bystanders. At least 45 people were sent to hospital.
The philosophy graduate from Chinese University said he wanted to help those who had been attacked, but had no idea how.
"I realised that as someone in his 40s, I was quite useless," Chow said.
He will be up against district councillor Ivan Wong Wang-tai, a 55-year-old accountant with no party affiliation, who has occupied the seat since 2004. Wong beat his opponent in 2015 by 508 votes.
Tear gas has not affected water and air quality in Hong Kong: health minister
Chow, who is unmarried, believes his business background fits well with Stubbs Road.
He said he was not planning to win voters' support with a political stance.
Instead, he plans to raise tangible issues such as poorly maintained public facilities and poorly placed traffic lights, some of which had been pointed out to him by residents.
He asked: "If you're paying so much tax, why can't it be spent in the neighbourhood?"
He also wants to encourage residents of the area to be more engaged in community affairs.
"Participation is democracy," he said.
Copyright (c) 2019. South China Morning Post Publishers Ltd. All rights reserved.