US expected to be lenient in granting study visas to students with a record of protest activity
Beijing, Hong Kong officials slam bill, which needs fine-tuning before Trump approves it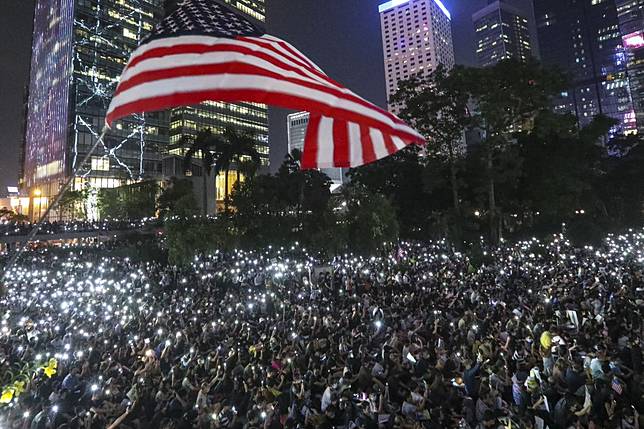 Activists have cheered the progress of a United States bill targeting Hong Kong, saying it will help students convicted for involvement in the ongoing protests to get study visas, while placing government officials under scrutiny.
They hoped the Hong Kong Human Rights and Democracy Act, passed swiftly by the US Senate with bipartisan support on Tuesday, will be signed into law soon by President Donald Trump.
Beijing hit back instantly at the passage of the bill, summoning a senior US diplomat and telling the US to keep its hands off China's internal affairs, warning of retaliation if Trump gives it the green light. Hong Kong commerce minister Edward Yau Tang-wah called it "unwarranted and unnecessary", saying the bill "adds fuel to the fire".
There are now two versions of the bill, the first passed by the US House of Representatives, and the second by the Senate. The differences have to be reconciled before it goes to Trump.
But pro-democracy activists were already cheering on Wednesday, speaking ahead of the US House of Representatives approving the Senate's version of legislation.
Jason Y. Ng, a US lawyer and convenor of the Progressive Lawyers Group, which advocates the rule of law, said the bill stipulated that visa applicants who had been arrested or convicted for their roles in protests would not be denied a US visa, contrary to the existing arrangement.
It will also place Hong Kong government officials, police officers and their family members under scrutiny and deter them from acting with impunity.
Donald Trump set to have final say on Hong Kong democracy act as Senate passes it
"Before a police officer beats up another protester or an inspector offers another tenuous defence for excessive force at the police's daily press conference, they need to think twice because there may be comeuppance for them or their families if they ever want to set foot on the US soil or buy a property or open a bank account in the US," he said.
The pro-establishment Business and Professionals Alliance for Hong Kong condemned the new law, saying what Hong Kong is facing is not a human rights and democracy issue, accusing American lawmakers of "turning black into white".
US lawmakers regard the bill as crucial in holding Chinese and Hong Kong government officials responsible for what they perceive as the city's eroding autonomy as well as human rights violations.
China vows to retaliate if US signs Hong Kong democracy act into law
If it becomes law, the US government will be required to produce an annual report, certified by the secretary of the state, declaring whether Hong Kong enjoyed enough autonomy from Beijing to retain the distinct trading status that protects it from tariffs imposed by the US on Chinese imports last year.
The bill also calls for sanctions against any individuals or entities deemed to have violated freedoms guaranteed under Hong Kong's Basic Law, its mini-constitution.
It will have implications on the special treatment Hong Kong has enjoyed with the US since its handover from Britain to the mainland in 1997, in areas such as trade, visa applications, imports of technology and cultural exchanges.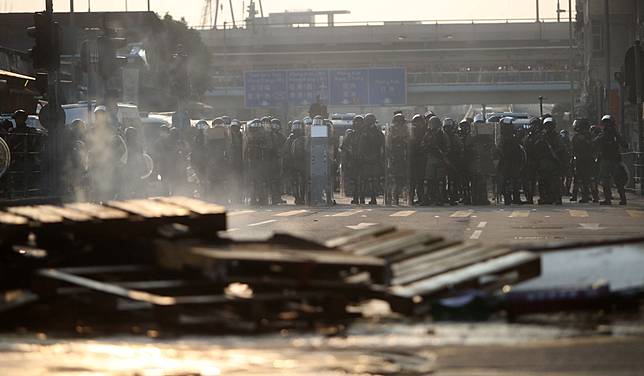 "We want the bill to pass as soon as possible," said Joshua Wong Chi-fung, co-founder of the 2014 Occupy movement, who is facing trial for being involved in unlawful assembly and was jailed in 2017 for involvement in mass protests. "It partly means the US Consulate will consider granting visa to students who will be convicted in protests. We have seen police indiscriminately arresting protesters."
Students have played a big part in the ongoing protests, which started in June and have escalated into street violence and the occupation of university campuses.
"In terms of human rights and freedom, the bill provides another layer of protection and engagement," said legal sector lawmaker Dennis Kwok Wing-hang. "Students should be given a way out as well as options, even if they are convicted in Hong Kong due to the protests."
Copyright (c) 2019. South China Morning Post Publishers Ltd. All rights reserved.