Magistrate questions both teenagers' versions of the incident but rules in favour of the 17-year-old defendant
'I cannot be sure where the truth lies,' she says. 'The benefit of doubt goes to the defendant'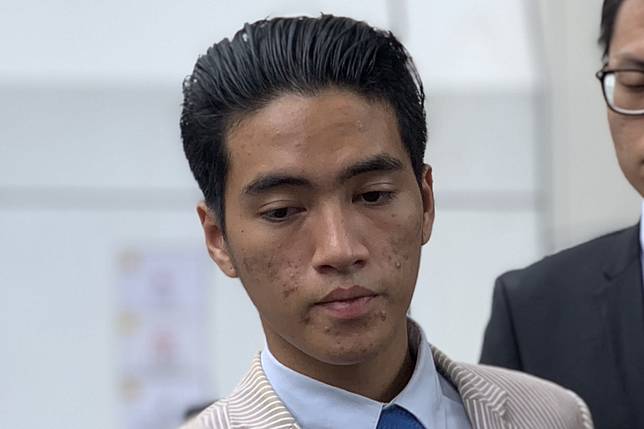 A secondary school pupil accused of slashing a schoolmate's face with a pen over a grudge was acquitted by a Hong Kong court on Thursday.
Deputy Magistrate Vivian Wong Wing-man of Eastern Court questioned both teenagers' versions of the incident but ruled in favour of the 17-year-old defendant, Aramiz Julyan Zita Delfino.
Wong found Delfino's account of his fight with Choi Chak-sum, 16 " which took place on April 11 inside Rosaryhill School " "very suspicious".
Even so, she ruled in his favour after finding that Choi, the prosecution's only witness who could detail how Delfino carried out the attack, gave what she considered an unreliable account of the events.
Prosecutors said the dispute was started by an exchange between the two students, who did not know each other, at a bus stop on Stubbs Road in Happy Valley on April 9. Choi accused Delfino of directing vulgar language at him. But Delfino, an ethnic Filipino, said he was only practising a Cantonese curse taught to him by a friend.
The court heard when the two met inside a dressing room at the school two days later, Delfino cut Choi's face with the pen, leaving two deep lacerations on his left cheek. Choi was left with two scars that remained clearly visible when he gave evidence at trial.
Student accused of slashing fellow pupil's face with a pen charged with wounding
Testifying before Wong, Choi said he asked for an apology from Delfino at the school's snack shop on the day of the altercation. The two students instead went to a dressing room because the snack shop was too noisy. After a heated argument, according to Choi, Delfino "went berserk" and assaulted him as he tried to leave the scene.
Delfino said he had explained to Choi before the incident that the dispute at the bus stop was a misunderstanding. He said he was nonetheless surrounded by more than 10 of Choi's friends who forced him to apologise. Choi later started punching him, by Delfino's account, prompting him to use the pen for self-defence.
Delfino's teachers, who were summoned to defend him, described a "well-behaved, shy and quiet" student who had zero penalties on his record.
In finding Delfino not guilty of one count of wounding, Wong said the prosecution had failed to establish their case beyond reasonable doubt. She pointed out Choi's testimony contradicted the accounts of other witnesses.
Teenager at private secondary school seriously injured after being gouged in face with pen during fight with fellow pupil
Wong found that after the scuffle on April 9, Choi expected to have a long conversation or interaction with Delfino, and called for help from his friends to outnumber him in the dressing room. This was in contrast to Choi, who said he bumped into the defendant that day and had no plans to force him into an apology.
The magistrate gave little weight to one of Choi's allies who testified for the prosecution because he did not witness the assault.
Delfino's version was also questionable, she said, because he could not explain why Choi would need to take revenge if he did indeed reconcile with Delfino before the incident.
"I cannot be sure where the truth lies. The benefit of doubt goes to the defendant," she said.
She rejected the defence counsel's application to apply for costs of the proceedings, stressing that Delfino had brought suspicion upon himself by wounding his schoolmate.
Copyright (c) 2019. South China Morning Post Publishers Ltd. All rights reserved.