Tencent contributes most to the gain on the Hang Seng Index ahead of its quarterly earnings result
China's statistics bureau is due to release key October economic data on Thursday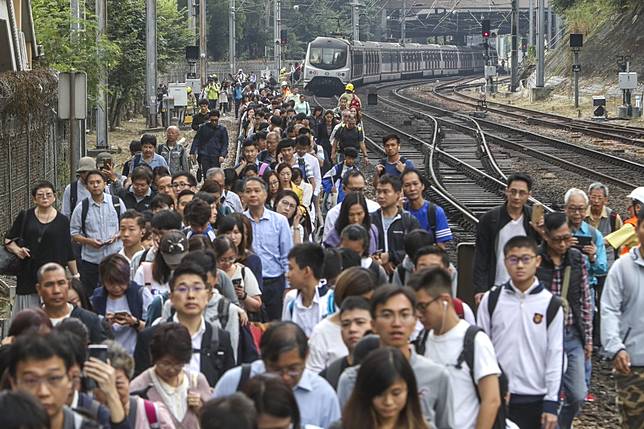 Sell-offs in Hong Kong and China stocks had a respite, with both equity benchmarks rebounding from losses a day earlier, as traders awaited a set of key October economic data and shrugged off the latest violent anti-government protests in the city to shop for bargains.
The Hang Seng Index added 0.5 per cent to 27,065.28 at the close on Tuesday. The city's equity benchmark slumped 2.6 per cent for the biggest decline in three months on Monday, as the protest, which entered its 23rd straight week, flared up again, bringing the financial district to a standstill.
Protesters and police clashed at Chinese University on Tuesday, where a car was set on fire and tear gas volleyed, leading the institution to announce it will close for the third straight day on Wednesday. Meanwhile, a police spokesman said "society is on the verge of breakdown," as protesters upset MTR subway service and car traffic in their tactical shift to disruptions during the work week.
Chinese University stand-off escalates with multiple volleys of tear gas fired by Hong Kong police, and car set on fire by protesters
The Shanghai Composite Index rose 0.2 per cent to 2,914.82 after falling 1.8 per cent a day earlier.
Faltering economic outlook added to shaky sentiment. New loans in China slid to the lowest in almost two years last month, and the data on aggregate financing and money supply both trailed analysts' projections, according to an official report released by the central bank after the market closed on Monday.
Earlier data from the government and industry associations showed that consumer inflation accelerated to the fast pace in seven years in October and auto sales dropped for the 16th consecutive month.
China consumer prices jump to near 8-year high as pork soars more than 100 per cent
"Stagflation is the primary concern on the market and inflation may be even high next month," said Wu Kan, an investment manager at Soochow Securities in Shanghai. "We are cautious about stocks and the market may remain in a weak mode until the end of the year."
Traders will keep a close watch on a slew of key October economic data due on Thursday.
Industrial output probably moderated to 5.4 per cent from 5.6 per cent in September, while growth in retail sales and fixed-asset investment may stay unchanged, according to the estimates in a Bloomberg survey.
Apple AirPods craze spreads to China, becoming music to the ears of wireless-headset stock investors
Tencent Holdings, the Chinese internet giant, gained 2.2 per cent to HK$330.20, snapping a three-day losing streak. The stock was the biggest contributor to the rebound on the Hang Seng Index on Tuesday, accounting for 40 per cent of the gain.
The company is due to post its third-quarter result on Wednesday. Net income for the three-month period probably increased 6.3 per cent from a year earlier, according to the estimates of analysts in a Bloomberg poll.
Developers edged lower on concern the unrest will hurt flat sales and rents at shopping malls.
Wharf Real Estate Investment retreated 1.1 per cent to HK$43.85 and Link Reit slipped 0.8 per cent to HK$82.30.
In the mainland, Sanan Optoelectronics, a maker of light-emitting diode products, surged 4.7 per cent to 15.23 yuan. The company said it plans to raise up to 7 billion yuan (US$1 billion) selling new shares to two buyers in a private stock placement to fund a semiconductor project. Changsha Pilot Investment Holdings Group, a unit under the Changsha municipal government, will buy the stocks for as much as 5 billion yuan and Gree Electric Appliances will take the remainder, according to an exchange statement.
Zhangzidao Group, a sea-farming company based in the northeast province of Liaoning, plunged by the 10 per cent daily limit to 2.70 yuan, a record low since it began trading in Shenzhen in 2006. The company warned investors of an asset impairment loss because of massive death of scallops after a sample check conducted last week. The output may drop to about a tenth of the normal level and in some farming areas, more than 80 per cent of the scallops died, according to an exchange statement by Zhangzidao, without explaining the cause.
Gree Electric Appliances, China's biggest manufacture of air conditioners, fell 3.3 per cent to 59.16 yuan, extending a drop of 3.8 per cent a day earlier. Its controlling state shareholder will postpone signing of a deal on the state sales of the listed company with a firm backed by Hillhouse Capital, Gree said in an exchange statement.
Copyright (c) 2019. South China Morning Post Publishers Ltd. All rights reserved.