Lam is overseeing Hong Kong's airport expansion plan to boost passenger and cargo volume by 60-100 per cent by 2035
Flight disruptions, safety issues and economic recession among industry challenges facing CEO of Hong Kong Airport Authority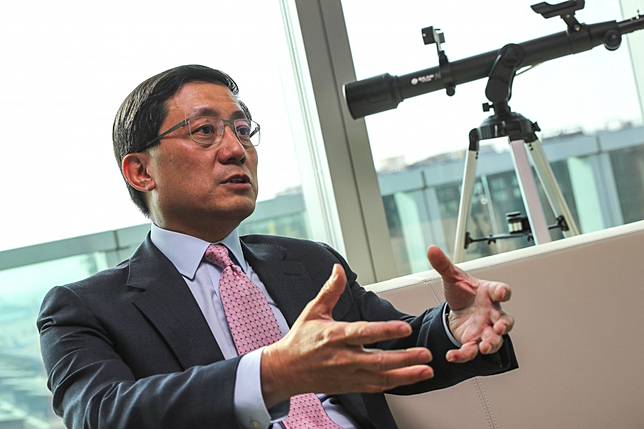 Five years into his job as chief executive officer of Airport Authority Hong Kong, Fred Lam is facing his gravest challenge to keep one of the world's busiest airports humming.
The international airport at Chek Lap Kok managed 74.7 million passengers in 2018 and handled more than 5 million tonnes of cargo, a feat that helped it land the Airport of the Year award. Lam's mission is to grow the size to 120 million and 10 million, respectively, by 2035.
Key to that ambitious target is a plan for a third runway and a sprawling commercial development known as the SkyCity Project, which will add 4.1 million sq ft of retail and entertainment space to the aviation hub in phases between 2020 and 2027.
"Airports have become not only entities to manage the flow of passengers and cargo, they should have more functions," Lam said in an interview. For Hong Kong International Airport, "it should be the growth engine of the city's economy," he said.
Lam's stewardship of a critical infrastructure in the city's economy at its most challenging time in a decade has been recognised with the Executive Award in this year's DHL-SCMP Hong Kong Business Awards, which honours outstanding achievements in the local business and corporate sectors.
The years ahead can only be more demanding for the 61-year old executive. The role he took on when he assumed the hot seat in October 2014 is being severely tested. Heightened geopolitical tension, weather disruptions and flight safety issues have dogged the aviation industry. The International Air Transport Association predicts the collective profits of airline operators to be squeezed in 2019 on oil price volatility, labour costs, and weaker demand for travel.
In Hong Kong, Lam watched as anti-government protesters brought the airport to a standstill in August and more tourists have since avoided the city as violent clashes make global headlines, leaving some carriers in financial distress. The city's growth engine has stalled as recession sets in.
Hong Kong airport occupied by hundreds of protesters amid tightened security
Hong Kong's airport may see a 7 to 8 per cent drop in passenger volume in 2020 because of fewer visitors amid social unrest, according to S&P Global Ratings. It also penned in a tepid zero to 2 per cent growth in the following two years.
Gloomy global trade and economic conditions, including the effect of the prolonged US-China trade war, will also weigh on the airport business, S&P said. In the latest October report, passenger traffic fell 13 per cent year while cargo throughput dropped 5.5 per cent.
The pain is showing in the airport authority's books. Revenue fell 3 per cent to HK$9.5 billion in the first half ended September 30, while earnings slid 15. 2 per cent to HK$3.9 billion, according to latest results. In the 12 months through March 31, 2019, revenue declined 11.5 per cent to HK$19.5 billion while earnings slumped 27 per cent to HK$8.4 billion.
Lam may have faced these challenges before. In his previous job as the city's trade ambassador for 28 years, he has seen the city rebound from the losses inflicted by the Sars (severe acute respiratory syndrome) outbreak in 2003 and the collapse of Lehman Brothers in 2009.
Hong Kong Airlines gets five-day ultimatum to save itself in bleak Christmas season
"Airlines increase or cut flights on the basis of demand," he said. "When the unrest has gone, visitors will come back and carriers will increase flights. That happened in 2003 Sars outbreak and during the global financial crisis in 2009."
As a critical transport infrastructure and the gateway to the world, the airport should be the window to demonstrate to the outside world that Hong Kong is doing just fine, according to Lam. "I'm an optimist. I am confident in the outlook of Hong Kong economy."
This year, Hong Kong's government has rolled out four rounds of fiscal stimulus to arrest the slowdown. The city, one of the wealthiest in the world with HK$4.2 trillion of reserves, should do more with handouts and carrots to lift it out of the worst slump in a decade, according to the International Monetary Fund.
Hong Kong unveils fourth round of fiscal stimulus to support the economy
For the Hong Kong Airport Authority, one of its priorities is making sure the airport stays competitive within the Greater Bay Area (GBA), a master plan to integrate Hong Kong, Macau and nine cities in the Guangdong province into a business and economic hub.
The airport has built a network of 15 terminals in some of those cities, with plans for 14 more by 2025. The GBA, with 70 million population, is large enough to keep a healthy rivalry with cities like Guangzhou and Shenzhen, Lam said.
"We should climb higher and look further to see what we can do to stimulate the city's economy," he added. "We shall see how we can cope with the GBA development."
Standing on the terrace outside his office at the HKIA Tower overlooking the airport during the interview with the Post, Lam is determined to press on with its own US$18 billion spending for the third runway at Chek Lap Kok.
An extension to Terminal 1 was opened last month and an upgrade to Terminal 2 will begin in earnest. Next to them, construction for the third runway is in full swing to stay inside its 2024 timeline.
The airport authority will spend a further HK$30 billion to HK$40 billion for other projects and infrastructure development, including the capacity enhancement and intermodal transfer terminal over the next five years.
Hong Kong airport looking to speed up expansion work to cut impact on flight numbers
The SkyCity commercial project will include a hotel and an integrated retail, dining, and entertainment areas spanning the surface size of 300 Olympic-sized swimming pools when completed in 2027 to match projected demand from tourists and business travellers.
Lam draws inspiration from his role at HKTDC in making the Hong Kong International Airport development a multiplier to the city's economic development. While he was dispensing ideas and recommendation, his current role means he gets to determine and implement those plans.
"I hope many people will notice that the development of the airport does not only benefit the aviation industry, but all of us in the community," said Lam, a father of two sons. "If passengers arrive at the airport way ahead of their flight schedule, and as they notice the many facilities to eat, play and shop, that will make me and my team very happy."
Copyright (c) 2019. South China Morning Post Publishers Ltd. All rights reserved.