Tabloid claims staff from big four accounting firms crowdfunded advert in local newspaper in support of protests
Firms responded by issuing separate statements distancing themselves from the advert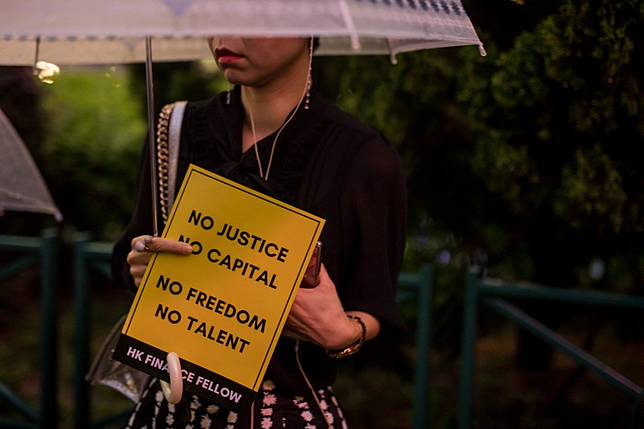 Hong Kong's big four accounting firms have come under attack from mainland Chinese media for remaining silent and not doing enough to deal with employees who support ongoing anti-government protests in the city.
Nationalistic state-run tabloid Global Times led the charge with a report on Thursday, revealing a crowdfunding effort allegedly by staff of KPMG, Ernst & Young (EY), Deloitte and PricewaterhouseCoopers (PwC) to pay for an advertisement in Hong Kong's Apple Daily newspaper.
After the full-page advert appeared on Friday, Global Times followed up with a second report demanding the firms investigate who among their staff was behind it, and to sack them.
In the advert, an anonymous group claiming to be "concerned employees at the respective big four accounting firms across multiple departments" criticised the companies' Hong Kong branches for ignoring the reasons for the protests and Hongkongers' "yearning for democracy and freedom".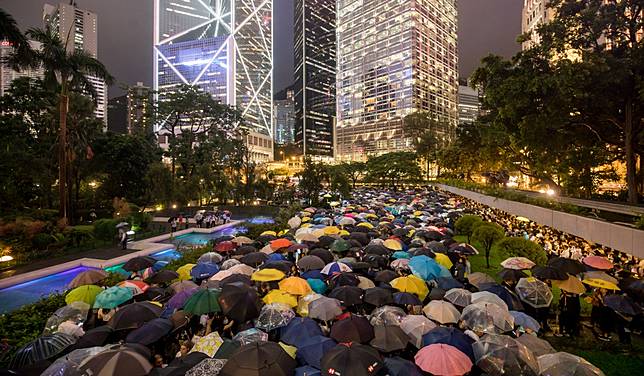 It said statements issued by the firms did not represent the employees, and listed the five demands of anti-government protesters: that the Hong Kong government fully withdraw the extradition bill which triggered the protests; retract its characterisation of protests as "riots"; withdraw criminal charges against protesters; hold an independent inquiry into the actions of police; and implement universal suffrage.
On Friday, the four global accounting firms responded by issuing separate statements distancing themselves from the advert, saying among other things that it did not represent their official position.
KPMG said it opposed any illegal acts and violence.
"We hope that Hong Kong remains peaceful and continues to prosper as one of the world's most important international financial centres based on the rule of law and the principle of 'one country, two systems," said a spokeswoman for the firm, referring to the framework under which Beijing governs the city.
She declined to say if it would investigate and discipline employees found to be involved in the advert, or who took part in a citywide strike on August 5. She also declined to say if staff would be allowed to support the anti-government protest movement.
PwC said it firmly opposed "any action and statement that challenges national sovereignty" and added: "We urge the society of Hong Kong to work together to address the challenges ahead, and safeguard the stability and prosperity of Hong Kong."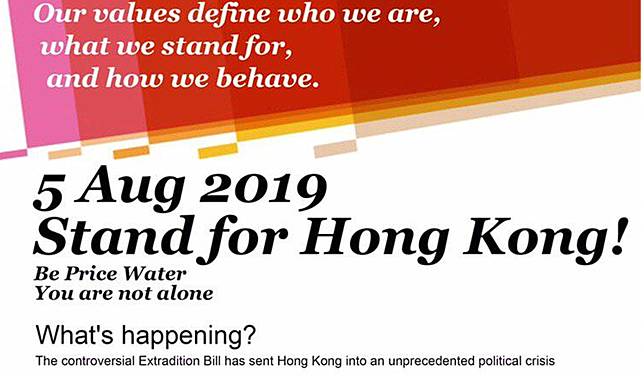 EY said it could not confirm the authenticity of the advert, and condemned "violence and illegal acts". Ongoing protests have seen escalating violence as protesters have clashed with police, with officers firing tear gas and rubber bullets, while demonstrators have hurled bricks and petrol bombs, and besieged police stations.
EY said Hong Kong's status as a successful international financial centre was based on the one country, two systems principle.
Deloitte distanced itself from the advert, but said it respected the rights of individuals to peacefully express their views and hoped "social order will be restored soon through mutual, peaceful dialogue and cooperation of all parties concerned".
Big businesses in Hong Kong have come under pressure from the mainland to show their disapproval of the protests and act against staff who participate in the demonstrations.
Cathay Pacific Airways sacked two pilots who were involved in protests, and two ground staff as well.
On Friday, its CEO Rupert Hogg and one of his deputies, Paul Loo Kar-pui, resigned.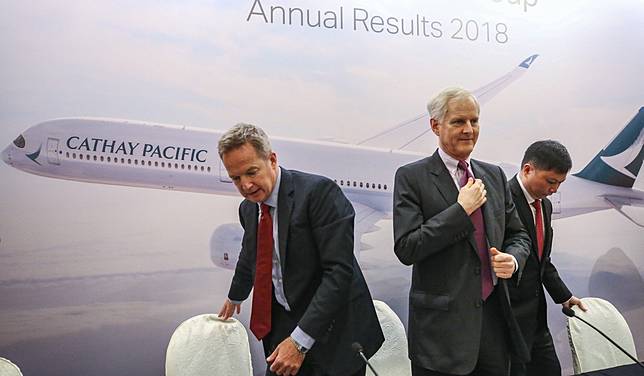 Through the past week, Hong Kong tycoons and conglomerates have issued public statements and paid for full-page adverts in local newspapers to express their support for the administration of Chief Executive Carrie Lam Cheng Yuet-ngor.
The pressure has been building on corporations to state their position, and those companies heavily reliant on the mainland market have been put on notice.
The big four accounting firms have now found themselves having to show where they stand.
Accounting sector lawmaker Kenneth Leung Kai-cheong said any rift between management and employees in the sector was not just a political one, but wider grievances were being aired.
He said the big four had to deal with Beijing while relying heavily on their employees in a talent-intensive industry, while also adhering to their global vision and mission.
Smart people like freedom and they don't like the idea of working in an authoritarian environmentDavid Webb, corporate activist
Leung said Beijing was harsh on big businesses with a large market share on the mainland and did not want them to say anything other than to toe the government line.
He said younger accountants, mainly those aged below 35, "work very, very hard" and have not been happy over pressure at work and rapid burnout, not merely the anti-government protests.
David Webb, a corporate activist, said companies had to be careful in reining in employees or risk falling foul of Hong Kong's mini-constitution, the Basic Law, and the Bill of Rights.
"Smart people like freedom and they don't like the idea of working in an authoritarian environment," Webb said.
"I am not sure who would want to work for a firm that hangs people out to dry, and the whole atmosphere, if it continues, is going to create a new brain drain in Hong Kong."
The four accounting firms could not be reached for comment on Saturday.
Copyright (c) 2019. South China Morning Post Publishers Ltd. All rights reserved.