Activists emerge in Causeway Bay, Kwai Chung, San Po Kong and other parts of city on Friday
Numbers are up ahead of a major protest on Sunday after dwindling attendances in recent days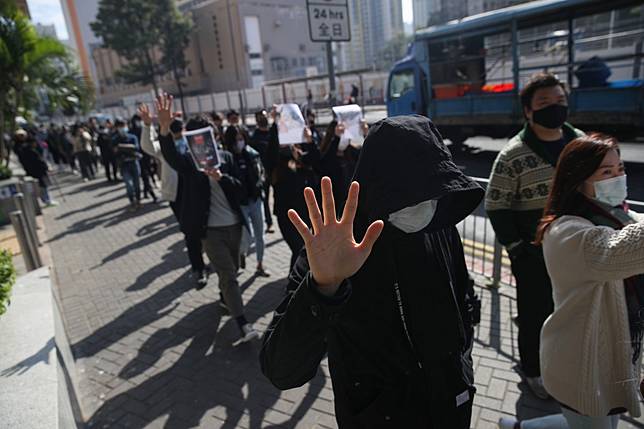 Hundreds of Hongkongers joined lunchtime protests held across the city on Friday, as the movement escalated its daytime show of defiance ahead of a mass rally on Sunday.
Turnout for the early afternoon demonstrations had dropped off in recent days, but numbers swelled when office workers and others marched through the city's business hubs.
There were dozens to more than 100 protesters at each location, which included Causeway Bay, San Po Kong, Kwai Chung, Kwun Tong and Cheung Sha Wan.
Major anti-government rally and march get Hong Kong police permission
Activists called on the government to launch an independent probe into alleged police brutality and relaunch the city's political reform, among other demands.
In San Po Kong, about 100 people, including office workers, students and retirees, marched along Tai Yau Street, chanting "Disband the police force! Hongkongers, take revenge!"
They took to the streets in colder temperatures in what many saw as a warm-up for Sunday's mass march between Causeway Bay and Central, which was approved by police on Thursday.
A music instructor, surnamed Fung and in his 20s, said he would continue to protest regardless of the weather.
''If we can beat the heat, I'm sure the cold weather is not a big problem," he said. "We won't stop until the government responds to our demands."
Fung also vowed to join the anti-government gathering on Sunday, which is organised by the Civil Human Rights Front and involves both a rally in Victoria Park and a march to Chater Road in Central.
"Even though the turn out at the lunchtime protest in San Po Kong might be very small, I'm hoping that we can still stand strong together at the Sunday march to reiterate our demands again," he added.
Police chief warns protesters to shun violence at mass demonstration in Hong Kong
A Form Six student, Louis, 17, also gave up his lunch break and joined the protests with his classmates for the first time. He also planned to join the Sunday demonstration.
"Of course I have to join the march. I'm not afraid of any clashes, I've been tear-gassed all summer," he said, adding he had been on the front line on several occasions.
He said Hongkongers' anger could only be subdued if the government introduced universal suffrage for the election of the city's leadership.
Hospital chief urges greater powers for Hong Kong protest probe
May, a retired beauty salon worker in her 60s, lives nearby and came out to support the protests after seeing online calls.
"This movement will not die down," she said. "We don't trust the government any more. And too many people have died and been hurt because the government has not responded to our calls."
Messages were also circulated online for people to gather in places such as Central, Wong Chuk Hang and Tai Koo.
Hong Kong has been in the grip of six months of social unrest, sparked in June by the now-withdrawn extradition bill.
Mass demonstrations against the legislation have morphed into a broader anti-government movement, fuelled by alleged police brutality, and the campaign for more democracy.
China has its own Hong Kong protest game that lets you beat up activists
Several protesters at the lunchtime demonstrations planned to go to Sunday's march.
In Causeway Bay, Ng, who is in her 30s, was at the lunchtime protests for the first time and said she expected many who did not attend on Friday to join her at Sunday's event.
Ms Suen, 22, a clerk who works in Causeway Bay, agreed that protesters' momentum had dwindled somewhat after the district council elections. She attributed that to the lack of a significant event to drive more people onto the streets, such as the police siege of Polytechnic University which had left many "furious".
Mr Lau, also 22, who had joined other lunchtime protests previously in Central, expected a large turnout on Sunday since it was the first mass rally organised by the Civil Human Rights Front for months and it had been granted a letter of no objection.
Lau said it was "difficult" to say whether the march would be peaceful. He believed, as well as some protesters, police and the government were also blame for the clashes at recent protests.
"It is usually because the government did not respond (to demands) and the increased use of force by police that protesters have to escalate their actions … just like the march in Tsim Sha Tsui when police used tear gas when the letter of no objection was still effective," he said.
Copyright (c) 2019. South China Morning Post Publishers Ltd. All rights reserved.