Protest stretching along three railway lines was a nod to the Baltic Way, when 2 million people joined hands across Estonia, Latvia and Lithuania
Mainland academics say it was 'like a provocation' and that the city's political crisis is totally different to that of the three Baltic states 30 years ago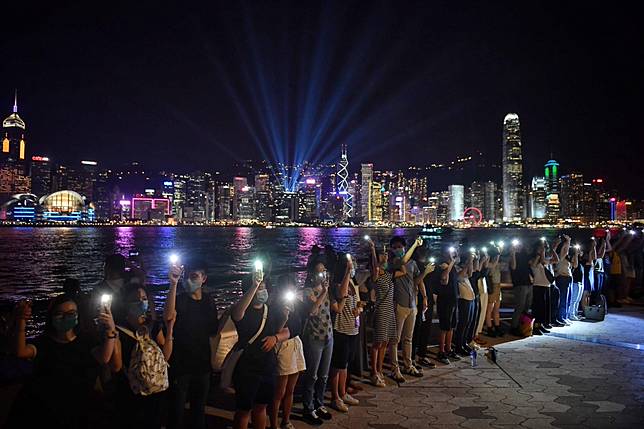 The human chains formed by protesters across the city on Friday night could be seen by Beijing as another sign of an emerging "colour revolution", according to mainland Chinese scholars.
Tian Feilong, a Hong Kong affairs expert at Beihang University in Beijing, said while the central government had so far stopped short of labelling the mass protests a colour revolution " referring to political uprisings in the former Soviet Union in the early 2000s and movements in Central Asia and the Middle East " the rally would add to its concerns.
"This was like a provocation, especially after the Hong Kong government initiated steps for dialogue," Tian said. "(The protesters) have fantasised that Hong Kong's relationship (with the mainland) will be like that between the Baltic nations and the former Soviet Union, but that is just not true."
Zheng Yifan, a Beijing-based historian who specialises in the Soviet Union, agreed. He dismissed comments made by pro-democracy activist Joshua Wong Chi-fung, who linked the political crisis in Hong Kong with those of three Baltic countries " Estonia, Latvia and Lithuania " 30 years ago.
"Estonia, Latvia and Lithuania were independent states before they were annexed by the former Soviet Union and their demonstrations were about calling for independence. This was totally different from (the situation in) Hong Kong," Zheng said.
The rally in Hong Kong on Friday was a nod to the Baltic Way, a protest on the same date in 1989 when 2 million people joined hands to form a human chain that stretched about 680km (422 miles) across the three Baltic states that were seeking independence from the former Soviet Union.
Dubbed the "Hong Kong Way", protesters assembled on pavements to form human chains that stretched along three railway lines " from Kennedy Town to Causeway Bay, from Kowloon Tong to Yau Ma Tei, along the Tsim Sha Tsui harbourfront, and from Tsuen Wan to Lai King, as well as further east along the Kwun Tong line.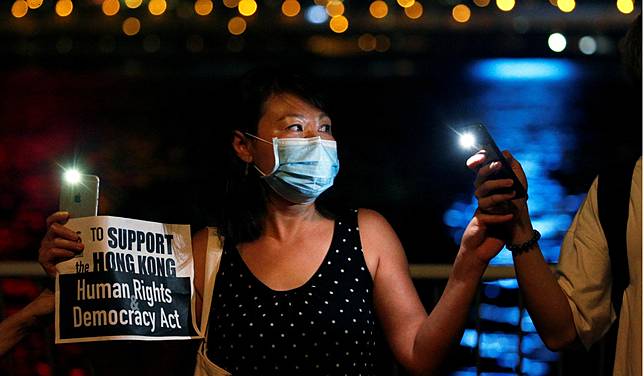 It was the latest in nearly three months of anti-government protests stemming from a now-shelved extradition bill that would have allowed criminal suspects to be sent to the mainland for trial.
According to Tian, Beijing saw the situation in Hong Kong as having reached a "precarious" stage.
Early this month, Zhang Xiaoming, head of the State Council's Hong Kong and Macau Affairs Office, said the protests in Hong Kong had "obvious characteristics of a colour revolution".
"The most pressing and overriding task at present is to stop violence, end the chaos and restore order, so as to safeguard our homeland and prevent Hong Kong from sinking into an abyss," Zhang told pro-Beijing figures from the city at a forum in Shenzhen.
Hong Kong Chief Executive Carrie Lam Cheng Yuet-ngor on Tuesday offered to create a platform for dialogue to end the unrest following another large-scale but peaceful rally calling for her to respond to demands that include a complete withdrawal of the bill and an independent inquiry into police handling of the protests.
Gu Su, a professor of philosophy and law at Nanjing University, said Lam's move indicated that Beijing saw dialogue as the solution.
"Carrie Lam's response shows that Beijing wants to resolve the crisis through dialogue," Gu said.
"If Beijing comes out and defines (the protests) as a colour revolution, then it will mean they have crossed the central government's red line " meaning it sees the protests as aimed at overthrowing the Communist Party and campaigning for independence for Hong Kong," he said.
The Hong Kong Way participants said they were not calling for the city's independence from China.
Copyright (c) 2019. South China Morning Post Publishers Ltd. All rights reserved.