No requests have been received from stakeholders to change venue for match that is also an AFC Asian Cup 2023 qualifier
Security measures at Hong Kong Stadium are to be enhanced as fans are asked to behave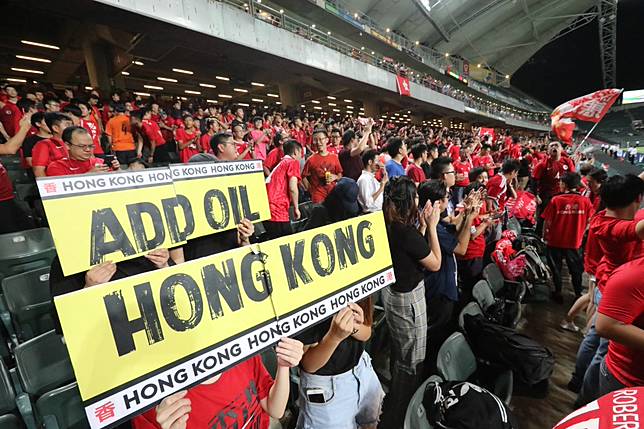 Hong Kong's Fifa World Cup 2022 qualifier against Bahrain on Thursday will go ahead despite increasing social unrest in the city, with the Hong Kong Football Association (HKFA) pleading with fans to refrain from extreme behaviour.
"We have so far received no information from either the government or the sport's governing bodies to change or postpone the fixture," HKFA chairman Pui Kwan-kay said. "We will go ahead with the match because it's an important one and we are facing Bahrain for the first time in the group.
"We will certainly tighten security because of the social unrest but this is not our first home game in these qualifiers. We played host to Iran in September under similar circumstances and the match itself went through with few problems."
The football chief hoped the fans would flock to the 40,000-seat stadium in So Kon Po to support Hong Kong in the match, which also acts as a qualifier for the AFC Asian Cup 2023 in China. Pui also asked that supporters respect the rules and regulations despite the tense political climate.
"We want to provide the fans with a good match, a match for them to enjoy under a good atmosphere," Pui said. "Our objective is to promote Hong Kong soccer and the performance of the representative team at international level plays an important role. Hong Kong are undergoing some difficult times these days and we hope we can bring something for our people to cheer.
"It doesn't have to be a big win over Bahrain as we know it's not going to easy but at least the team have to play their best and put up a strong fight against a quality team from the Middle East, especially in front of our home crowd."
Pui's appeal is, however, likely to fall on deaf ears. Hong Kong has repeatedly been fined by Fifa and the Asian Football Confederation (AFC) for the behaviour of fans, related mostly to the booing of the China national anthem before the start of matches.
After the last group game against Iran in September, Fifa fined the HKFA 15,000 Swiss francs (about HK$120,000) " the third time the local body was punished since the previous World Cup qualifiers when Hong Kong played China in a group match.
The AFC also imposed a fine of US$3,000 after Hong Kong's home match against Malaysia in their Asian Cup qualifiers in 2017.
World Cup: coach calls on fans to back Hong Kong
Social media is being used to gain support with popular local forum "Lighk" calling on fans to attend the match and get behind the Hong Kong team.
Some users are also urging fans to sing protest song Glory be to Hong Kong when the Chinese anthem is being played, as well as observe a minute's silence for the university student who died after falling in a car park in Tseung Kwan O last week.
Pui said there was a possibility Fifa will increase the fine if fans continue to boo the anthem, the worst-case scenario being banning Hong Kong from hosting games at home.
World Cup 2022: how to get tickets for Hong Kong vs Bahrain
"No one wants to see this happen because it will be detrimental to the Hong Kong team and the players," he said. "We sincerely hope the fans will behave themselves and observe this as a football game and not for anyone's political agenda."
Copyright (c) 2019. South China Morning Post Publishers Ltd. All rights reserved.