History-making 20-year-old feels 'so proud smashing the glass ceiling' and hopes her background can give her an edge in rehabilitating prisoners
Correctional Services Department provides four of the head coverings as part of her uniform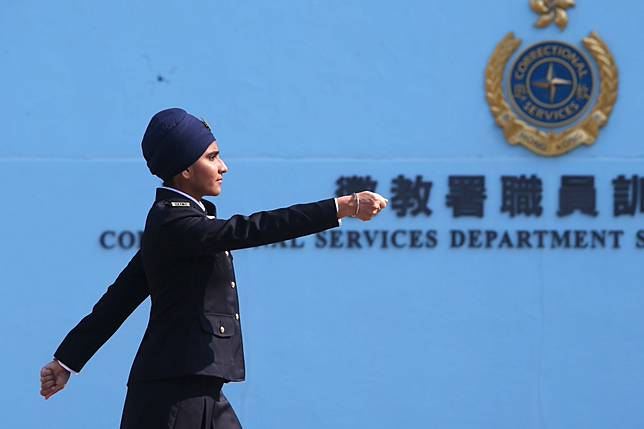 Marching in lockstep with her three-column squad across a parade ground near Stanley prison, Sukhdeep Kaur is the only graduating officer donning a blue turban to match her navy blue uniform.
At the ceremony earlier this month, the 20-year-old made history by becoming Hong Kong's first female Sikh prison officer wearing a turban, in a Correctional Services Department (CSD) which has more than 6,500 officers but only 46 who are not Chinese. To Kaur, an Indian Hongkonger and one of the city's approximately 12,000 Sikhs, the religious garment has always been at the heart of her identity.
"Hair is sacred in Sikhism, because it symbolises naturality and how God made us. We don't cut our hair and we wrap it inside the turban to keep it clean from dust," Kaur said. "I was baptised at 12 and after the ceremony I was fully integrated into Sikhism. To me, the turban represents my religion and culture, and it's also easy for Sikh people to recognise and give solidarity to one another."
The department provided Kaur four blue turbans as part of her uniform, and gave her and other Sikh officers special dispensation to wear a metal bracelet, another symbol of their faith, inside prison facilities. Special meals will also be available to the strict vegans.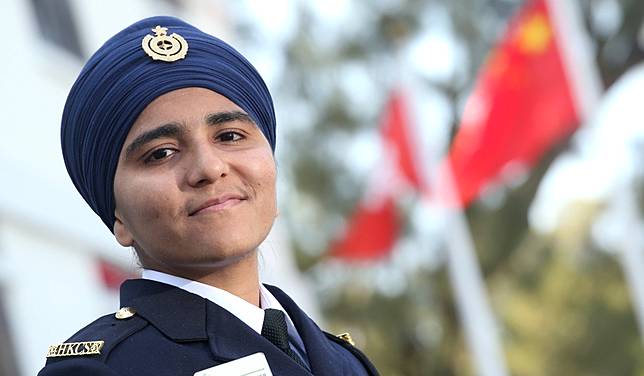 Kaur's turban has occasionally attracted trouble and discrimination for her in Hong Kong. "Some people would hesitate to sit with me on public transport because of my look," she said. "And some local kids did not allow me to play with them, but I wasn't sure why because I didn't understand the local language.
"That is why I feel so proud smashing the glass ceiling and becoming the first woman officer with a turban," she said, adding that she hoped she could be a role model for other Sikhs in the city.
Born in Punjab, a northern province of India, Kaur moved as a seven-year-old to Hong Kong, where her grandparents and parents came in search of jobs and opportunities. But despite studying in the city for primary and secondary school " and speaking a number of languages, including her Punjabi mother tongue " she found it hard to master Cantonese and written Chinese.
"It was a real struggle for me in school, because we were in a separate class from the Chinese kids and didn't have many local friends to speak Cantonese with. The school also had the same curriculum for all students from an ethnic minority background, regardless of their ability," she said.
'Prison flying tigers' join fight against Hong Kong protesters
"Telling the sounds apart is the trickiest part. No one told me there are nine tones in Cantonese, and some words with similar sounds often trip me up, like 'Sunday' and 'Monday', or 'buy' and 'sell'."
Speaking the local language is key to career prospects, so Kaur studied hard and got an A*, the top grade, at GCSE. After graduation, she joined Project Gemstone, a community integration programme run by the police force, which offered more Chinese training. Eventually she passed the CSD job interview, conducted in Cantonese.
Kaur said she can understand 95 per cent of spoken Cantonese, but had to speak slowly and choose her words carefully as she still thought in English.
"But the first week I worked in the prison, I didn't even know it when my superior said my name in the walkie-talkie, because he was talking too fast. He slowed it down when talking to me afterwards," she said.
"I like speaking in Cantonese with persons in custody, because a big part of my job is communicating with them, knowing their hopes and dreams, and encouraging them to get a second life outside prisons. That's why I want to become a prison officer too, because I believe in giving people a second chance."
Married two years ago to a man who works part time in the food delivery and bamboo scaffolding industry, Kaur has also blazed a trail in her community by upending gender stereotypes.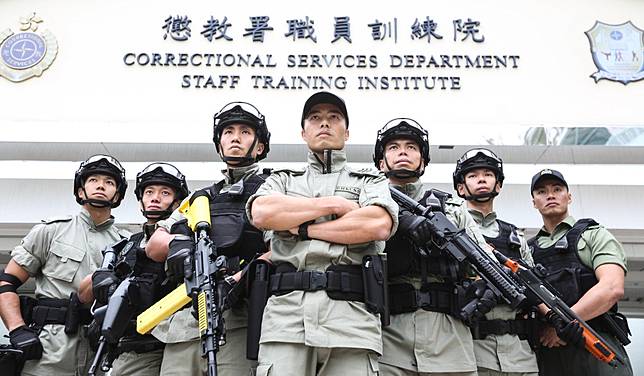 "Women in India are expected to stay at home or take certain jobs. But they definitely won't join the disciplined forces, because protecting the country and society is perceived to be a duty of the men and something only they can do."
Now working in Lo Wu Correctional Institution, a place for women inmates, Kaur believes her ethnic background can give her a unique edge in rehabilitating prisoners. She says: "Some persons in custody have asked me about my turban, which is a good place to start a conversation. Indians there may also feel more comfortable opening up to me in their own native language."
Jeffrey Andrews, who became Hong Kong's first ethnic minority social worker five years ago, praised Kaur's "fantastic achievement", but believed the government needed to do more to truly break the mould and achieve racial equality.
"We should empower more youths by having them in industries beyond those that historically have some ethnic minority workers, like certain disciplined forces and construction sector," the Indian Hongkonger said.
"There should be more people from diverse backgrounds in hospitals, social work, for example.
"It's not about lowering the requirement of Chinese proficiency, it's about the government training more teachers for Chinese learning as a second language and levelling up the Chinese proficiency across our communities."
Copyright (c) 2019. South China Morning Post Publishers Ltd. All rights reserved.