Form 5 student left on Tuesday morning with group of school principals and has been taken to a police station
Parents say the girl was not taking part in protests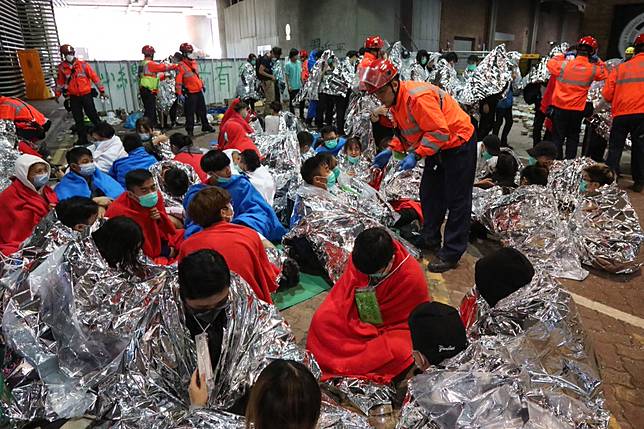 The Taiwanese girl trapped inside Hong Kong's Polytechnic University during a violent stand-off between radical protesters and police left the campus safely early on Tuesday morning and was taken to a police station
The Form 5 student, surnamed Tai, was confirmed to be at the Kwai Chung police station by Taiwan's Mainland Affairs Council (MAC) in a statement on Tuesday afternoon. A lawyer had confirmed she was the station at noon and her mother had been able to travel to the station at around 1pm to assist with her case, the statement said.
The girl is understood to have been inside the campus since Sunday afternoon and had been scared to leave when police earlier warned those at Polytechnic University could face charges of rioting, which carry a jail sentence of up to 10 years.
"Our representative office continued to obtain relevant information from the student's mother and actively provided assistance while remaining in constant contact with Tai's mother," the MAC said. "We again remind our citizens in Hong Kong to be alert to their safety and stay far away from protest conflict areas."
Worried parents caught up in police siege of university in Hong Kong
The MAC said earlier that Taiwan's representative office in Hong Kong, the Taipei Economic and Cultural Office (TECO) had been in touch with the girl until she lost her mobile on Monday, but had spoken with her mother several times and determined that she was safe.
Taiwan's Central News Agency said Tai had left the university campus around midnight on Tuesday, with a group of secondary school principals, and had been arrested. Her parents told the agency they did not know what charges their daughter was facing.
The girl's parents told Taiwan's Central News Agency that their daughter had left the house before noon on Sunday to head towards Mong Kok, then went to Tsim Sha Tsui around 4pm in the afternoon and "may have seen riot police dispersing the area and run into Polytechnic University" before she became trapped.
The parents said their daughter was not taking part in protests at the university and had sought to escape from the campus, but found all exits were surrounded by riot police.
In an earlier interview with the agency, while their daughter was still on campus, the parents had questioned what the police approach was by sealing the exits but urging those inside to leave. "We don't know what exactly the Hong Kong government wants to do," they said, adding that their daughter was too scared to leave after media reports that everyone who left the campus would be charged with rioting.
After losing her mobile, they said the girl had borrowed someone else's phone every two hours to send a message to her parents to let them know she was OK, even as those inside the university struggled with injuries and lack of water and food.
On Tuesday morning Hong Kong Chief Executive Carrie Lam Cheng Yuet-ngor said that about 600 protesters, including 200 aged under 18, had left the university since police surrounded the campus on Sunday. She said those under 18 had been allowed to go home after their personal details were recorded by police, with police reserving the right to arrest them later.
'Cold and hungry' radicals surrender as Lam tells police to let minors go home
Earlier, on Monday afternoon, Taiwan's Mainland Affairs Council warned the situation at Polytechnic University could turn into a humanitarian crisis, and slammed the threat to campus democracy and safety.
"The MAC condemns all kinds of violence and hardline suppression, and urges all sides to exercise calm and restraint, using peaceful and rational dialogue to resolve issues, to avoid the deterioration of the situation and deepening societal scars," it said.
Taiwanese president Tsai Ing-wen has been vocal in supporting the Hong Kong protesters and their demands for greater democracy and autonomy during the more than five months of protests, which have plunged the city into its worst political crisis since the former British colony was transferred to Chinese rule in 1997.
Taiwan's Tsai urges Hong Kong leaders to pull city back from the brink
As the violence in the city has escalated on all sides, Taiwan has evacuated many of its students from the city, with more than 60 per cent, or nearly 600 young people, returning home so far, according to the education ministry. This includes 76 from Polytechnic University and 261 students from the Chinese University of Hong Kong, which also earlier saw violent confrontations between police and student protesters.
Many Taiwanese students in the city have said that most of their community would not participate in frontline protests, due to the higher risks for their participation as Taiwanese citizens.
One Chinese University of Hong Kong student from Taiwan, who declined to be named, said earlier the TECO had helped him fly back home last Wednesday after clashes at his school, which saw the campus rained down upon with tear gas, rubber bullets, and petrol bombs.
"I didn't go to the frontline to protest, but I had classmates who helped pass supplies to those in the front, hoping to help those who were injured," he said. "I just wanted everyone else at the university to be safe, and for the conflicts to not escalate any further."
Copyright (c) 2019. South China Morning Post Publishers Ltd. All rights reserved.