Party hopes to stop officials banning its leaders from contesting polls, analysts say
Manifesto tweak 'a step towards ensuring its place in Hong Kong's political landscape'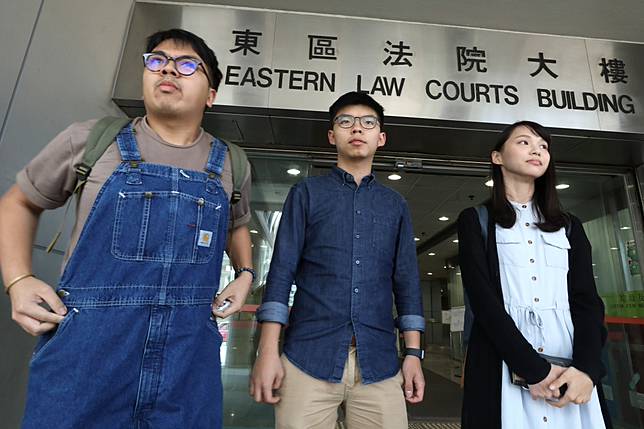 Hong Kong political party Demosisto began the new year with a change to its manifesto, which observers read as a sign that its youthful activist leaders are finally getting to grips with the reality of politics.
On January 8 members approved changing the party's stated objective from "advocating for Hong Kong's democratic self-determination" to "promoting Hong Kong's democratic and progressive values".
With that, it said, the party would focus on strengthening civil society, uniting the city's pro-democracy forces, promoting progressive values and working to further consolidate the democratic movement.
Its original manifesto also pledged to call for a referendum in 10 years' time to let Hongkongers decide their fate beyond 2047, when the "one country, two systems" principle expires.
Joshua Wong banned from travelling to receive British human rights award
Demosisto chairman Ivan Lam Long-yin said that in dropping its advocacy of self-determination, the party would no longer push for the referendum.
Political analysts believe the change reflects a number of issues, not least the party's realisation that Beijing will not budge on the issue of self-determination or talk of independence for Hong Kong.
Also, Demosisto has had no joy seeing co-founder Joshua Wong Chi-fung and key leader Agnes Chow Ting barred from contesting elections because of the party's position.
Celebrated in the international media as a poster boy of the city's pro-democracy movement, Wong helped form Demosisto out of Scholarism, the student group he headed when he led the 2014 Occupy protests, which shut down parts of Hong Kong for 79 days in a push for greater democracy.
Last November, he was the only person barred from contesting the district council elections, after failing to persuade officials that Demosisto did not support independence for Hong Kong.
The government's position was that its call for self-determination was contrary to the Basic Law, the city's mini-constitution.
His party colleague Chow was earlier barred from contesting a Legislative Council by-election in 2018 on the grounds that Demosisto wanted self-determination for Hong Kong.
Political analysts believe that by dropping that controversial objective from its manifesto, Demosisto is signalling its desire to ensure its place in the political landscape without having its leaders disqualified from elections.
Demosisto drops support for Hong Kong self-determination after Joshua Wong's ban
That might have hit home when like-minded pro-democracy candidates swept November's polls and took control of 17 out of 18 district councils.
"Demosisto had to take steps to ensure its survival," said Ivan Choy Chi-keung, a political scientist at Chinese University.
But changing its manifesto does not guarantee that its candidates will not be barred in future, he added.
"That will depend on the political judgment of the Hong Kong government and the prevailing political atmosphere," Choy said.
'It's a pragmatic move'
When it comes to what the party stands for, chairman Lam insists the facts speak for themselves, saying: "What we did last year had nothing to do with self-determination."
He said that in the first half of last year, Demosisto focused on opposing the Lantau Tomorrow Vision, the government's proposal to reclaim 1,700 hectares for housing to the east of Lantau Island.
Its priorities then switched to opposing the now-withdrawn extradition bill, and supporting the anti-government protests which are now in their eighth month.
He maintained that the party amended its manifesto to make its objectives clear and attract new members to help especially in lobbying international support for Hong Kong.
It has only 30 members, about the same as it had at its founding four years ago.
Declining to comment on the suggestion that the change was made with an eye on contesting future polls, he said it was too early to discuss election plans.
He added, however, that the party had never dismissed the merit of winning seats in the legislature or district councils.
Joshua Wong, Demosisto's secretary general, could not be reached for comment.
Political scientist Choy said the stellar performance of Demosisto's allies in the district council polls would have given the party reason to be optimistic about its chances in future.
The party's had to come up with ways to stand on its own feet and ensure its sustainabilityIvan Choy, Chinese University
The winners included Tiffany Yuen Ka-wai, who quit Demosisto to run as an independent, Kelvin Lam Ho-por, who replaced Joshua Wong after he was barred, and Angus Wong Yui-hei, previously assistant to Demosisto's former chairman Nathan Law Kwun-chung.
Au Nok-hin, who was elected to Legco in 2018 after he replaced disqualified candidate Agnes Chow, said he understood that Demosisto had been pondering its way forward in the past few months.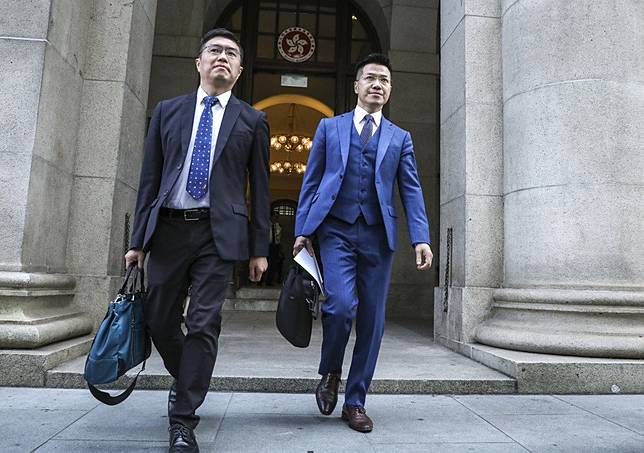 "How to enable members to contest future elections is a question they can't avoid," Au said. "It prompted them to amend the group's manifesto."
He felt the government would no longer be able to use the advocacy of self-determination as "an excuse" to bar Demosisto members from contesting elections.
"I think it's a pragmatic move," he said.
In a twist, Au and fellow pan-democrat Gary Fan Kwok-wai lost their Legco seats last month after the Court of Appeal upheld a High Court ruling that they were unduly elected because the candidates they replaced in 2018, Chow and localist Ventus Lau Wing-hong, were improperly disqualified.
Political scientist Choy noted that Demosisto lost a major source of financial resources when Au lost his seat, as he had hired six party members as his assistants.
Tear gas, arrests as Hong Kong rally for universal suffrage descends into chaos
"The party's had to come up with ways to stand on its own feet and ensure its sustainability," he said.
But will amending its manifesto be sufficient to persuade the authorities " and Beijing " on its true intentions and ensure that the party's choices get to contest future elections?
Lau Siu-kai, vice-chairman of semi-official think tank the Chinese Association of Hong Kong and Macau Studies, was doubtful.
He recalled what happened in August 2016, when pro-independence activist Edward Leung Tin-kei was barred from running in the Legco election even after he made a U-turn and signed a "confirmation form" stating he accepted that Hong Kong was an inalienable part of China.
The form is an additional requirement to the standard declaration candidates must sign to state that they uphold the Basic Law.
In disqualifying Leung, returning officer Cora Ho Lai-sheung cited media reports as well as his Facebook posts with remarks about independence, and said she did not trust that he had genuinely changed his position.
Lau said: "A candidate who has advocated self-determination or Hong Kong independence has to prove he has changed his stance, and it will take a considerable period to show his sincerity."
Copyright (c) 2020. South China Morning Post Publishers Ltd. All rights reserved.