Many protesters 'have been stirred into abandoning reason and replacing it with barbarism', says Edwin Choy, who represented Occupy leaders
Destructive acts serve 'no meaningful purpose', while Hong Kong is 'engulfed in the flames of senseless nihilism', he says.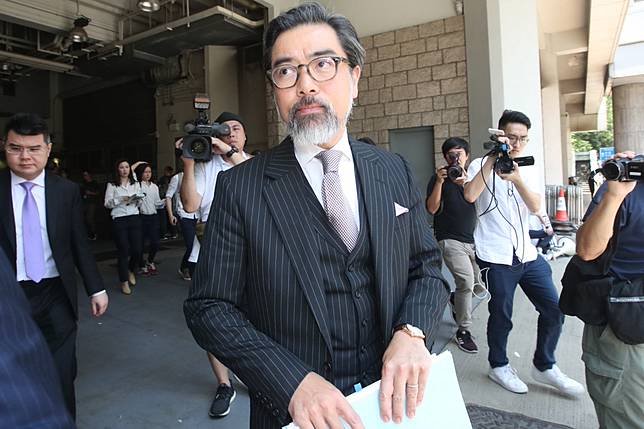 A top criminal lawyer has said he resigned as the vice-chairman of the Hong Kong Bar Association over its failure to condemn protesters' violent acts during the ongoing anti-government demonstrations.
Two days after it was revealed that Edwin Choy Wai-bond, 48, had parted ways with the association's executive office, the Bar Council, the lawyer on Monday wrote to the Post to offer his account.
Commenting on the recent protests, he said while he appreciated many youths for holding fast to their political ideals, many others "have been stirred into abandoning reason and replacing it with barbarism", with their peaceful demeanour morphing into destructive conduct "far beyond the set boundaries laid down by the law".
"As it became increasingly apparent to me that a substantial majority of my colleagues on the Bar Council remained highly reticent to state, with unequivocal clarity, that both the rioters and those who proffer excuses on their behalf should be condemned, I was convinced that my outlook diverged too much from (that of) the council for me to remain among its ranks," he said.
The veteran legal practitioner, who became a senior counsel last year, had earlier represented leaders of the 2014 Occupy protests. He also defended pro-independence activist Edward Leung Tin-kei, when he was charged over the riot that gripped Mong Kok, a popular shopping district, in 2016.
A legal source told the Post that while the association had issued three statements to denounce protesters in the past months, Choy wanted one more but did not get enough support.
Choy was also upset that the council did not consult him before issuing an internal memo in September which accused police of misinterpreting the law, that left barristers with no access to clients except in the presence of a solicitor.
His departure from the Bar Council highlighted the divisive views of the city's more than 1,500 barristers over the increasingly violent anti-government protests.
What started out as a peaceful march by an estimated 1 million protesters, triggered by a now-withdrawn extradition bill, has morphed into aggressive confrontations, with radical activists hurling petrol bombs at police officers.
In return, police officers have fired live rounds, various projectiles and tear gas, while the government invoked an emergency law two weeks ago to ban people from wearing masks at public assemblies.
Choy said the protesters' destructive acts " including damaging banks and metro stations, and assaulting citizens who held different political views " served "no meaningful purpose", while Hong Kong was "engulfed in the flames of senseless nihilism".
He said some youths had not only been insisting on their own rights while disregarding others', many even portrayed themselves as martyrs saying that they were ready for substantial jail terms.
"My experience tells me that there is nothing worth romanticising about the criminal process," he wrote.
He also accused some opinion leaders in the city of offering excuses for protesters, while shifting the blame onto the government and police. The city's police have been under fire for allegedly using excessive force and covering their identities while attempting to quell the protests.
"Nevertheless, it is clear to me that someone else's mistakes cannot justify one's crimes," he said, adding that the law did not recognise retaliation as a defence.
"I thus felt strongly that the Bar Association must express its strongest disapproval of both the perpetrators of the ongoing unrest and those who spin for these rioters," he said.
Bar Council chairman Philip Dykes SC called Choy a "valuable member", and that his views had helped shape the council's decision-making process even though they were not adopted.
He said all members regretted his decision because they valued his input. Personally, Dykes wrote to Choy to say that he would be missed.
Dykes said the council had issued a number of statements since June.
"From those statements it is clear that all forms of violence " whether committed by protesters or by police officers " have been condemned," he said, adding that the council condemned all forms of violence irrespective of the identity of the perpetrator.
He added that if the council issued a statement of condemnation every week, it would become a "broken record".
"We credit people with intelligence enough to recognise that these things are seriously wrong," he said.
Copyright (c) 2019. South China Morning Post Publishers Ltd. All rights reserved.