Chinese cities introduce restrictions on visitors from South Korea, which reported 60 new infections on Tuesday
Only nine of new cases on the mainland occurred outside province at epicentre of epidemic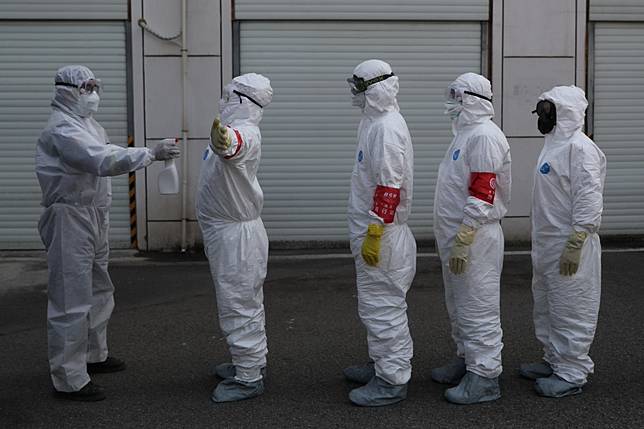 China on Tuesday reported a total of 508 new cases of coronavirus infections, but only nine of these occurred outside Hubei province signalling the country's control measures have been effective in containing the disease to within the central Chinese province where the epidemic began.
But the challenges of the outbreak for Asia are escalating. A sudden rise in cases in South Korea has prompted several Chinese cities to step up precautions against South Korean visitors.
Figures from China's National Health Commission said 499 of the new cases on the mainland were reported in Hubei, of which 464 came from provincial capital Wuhan. The commission said 71 new deaths were reported as of Monday, bringing the total death toll to 2,663. Mainland China reported 77,658 confirmed cases and 27,323 recovered cases since the outbreak started in December.
Chinese cities cautious of visitors from South Korea
While the situation on mainland China appears to be easing, South Korea reported 60 new confirmed cases on Tuesday, bringing the total infections there to 893. Eight people in the country have died from the new virus.
Two clusters of infections " one at a branch of a religious sect in the southeastern city of Daegu and another at a hospital in the neighbouring county of Cheongdo " have continued to expand sharply, accounting for more than half of the total cases in the country, Yonhap News Agency reported.
The escalation of the disease " officially known as Covid-19 " in South Korea has led to several Chinese cities taking precautions against travellers from there.
Yanbian Korean Autonomous Prefecture in Jilin province said customs control and prevention measures had been stepped up at the airport, with a special pickup service for travellers from South Korea. Tourist spots in the prefecture are closed, and tour agencies will not accept tours from South Korea.
Coronavirus: leading Korean health official is infected cult member
Qingdao, the port city in China's eastern Shandong province " about a 90-minute flight from the South Korean capital " said on Monday it would restrict the entry of foreign nationals, but did not name South Korea.
The Qingdao municipality said foreigners entering the city, except those who needed to be quarantined, would be provided with a special pickup service from their residence. If they have a home in the city, they have to isolate themselves there for 14 days, while those travelling on tourist and business visas would have to stay in designated hotels.
South Korea now biggest virus cluster outside China as cases top 893
The US Centres for Disease Control and Prevention (CDC) has raised the travel advisory for South Korea to Warning Level 3, which recommends travellers avoid all nonessential travel to the country due to "limited access to adequate medical care in affected areas".
China is the other country with a Warning Level 3 alert, but the CDC's advice does not apply to Hong Kong, Macau or Taiwan.
WHO experts fly in to Italy
A team of experts from the World Health Organisation and the European Centre for Disease Prevention and Control arrived in Italy on Monday to support Italian authorities in understanding Europe's largest outbreak of the coronavirus.
The hardest-hit regions in Italy are Lombardy, where Milan is the capital, and Veneto, home to Venice. More than 200 people had been infected by the virus in the country and seven had died, as of Tuesday morning.
"This mission to Italy is one of the ways in which WHO/Europe is supporting countries across the region. We are working hard with our member states to ensure that they are ready for Covid-19, preparing for the arrival of cases and possible localised spread," said Dr Hans Kluge, WHO regional director for Europe.
Separately, the European Commission committed 232 million euros (US$251 million) for global efforts to curb the spread of the virus, of which some 114 million euros will support the WHO's global preparedness and response plan, and 3 million euros have been allocated for repatriation flights of EU citizens from Wuhan.
Remdesivir results due on April 27
China is still running official clinical trials for the treatment Remdesivir at several hospitals in Wuhan, and results will not be available until April 27, the National Intellectual Property Administration said on Tuesday.
He Zhimin, deputy director of the administration, said Gilead Science " developer of the experimental compound " had applied for eight patents for the drug in China, of which three had been approved. The remainder were still undergoing reviews.
He warned that all pharmaceutical companies, including generic drug producers, should respect Gilead's legitimate rights by obeying patent law. Gilead has applied for patents covering core structure, similar structure and crystal forms of the compound, as well as related manufacturing methods and usage.
Yan Jiangying, deputy director of the National Medical Products Administration, said China was accelerating reviews and approvals for necessary medicines in the prevention and control of the epidemic.
A WHO senior official had previously said Remdesivir may currently be the best drug to treat the deadly coronavirus.
Purchase the China AI Report 2020 brought to you by SCMP Research and enjoy a 20% discount (original price US$400). This 60-page all new intelligence report gives you first-hand insights and analysis into the latest industry developments and intelligence about China AI. Get exclusive access to our webinars for continuous learning, and interact with China AI executives in live Q&A. Offer valid until 31 March 2020.
Copyright (c) 2020. South China Morning Post Publishers Ltd. All rights reserved.