Negotiators have a few weeks to build on the talks in Washington and lay out how the agreement will be implemented
'Talking while fighting' could become the new normal, influential Chinese social media outlet says, with nothing of substance changing between the two countries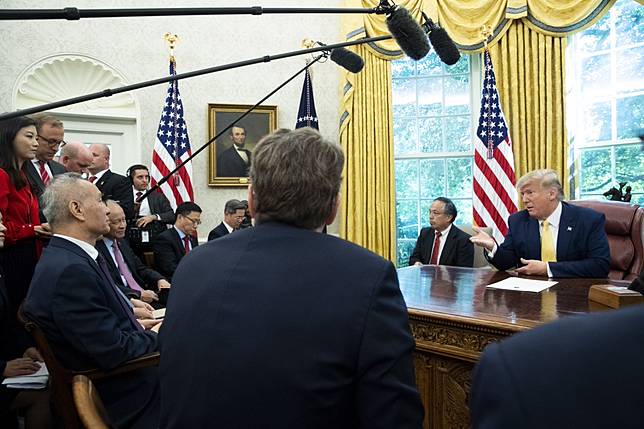 Negotiators from China and the United States will be under pressure in the next few weeks to nail down the details of a partial trade deal struck on Friday, but Beijing has already warned of uncertainties ahead.
Wrapping on two days of high-level trade talks in Washington on Friday, US President Donald Trump said the two nations reached a "very substantial phase-one deal" in which the US would suspend the 5 percentage point tariff increase on Chinese imports scheduled for Tuesday and China would buy more US agricultural products.
Details of the initial deal would take three to five weeks to be determined, Trump said, adding that he and Chinese President Xi Jinping might ratify it during the Asia-Pacific Economic Cooperation summit in Chile next month.
China agreed to buy up to US$50 billion more in American agricultural products, and the two nations said they had made progress on technology transfers and opening up China's financial services market.
Presenting a letter from Xi to Trump, China's top negotiator, Vice-Premier Liu He, said: "We very much agree that to get the China-US economic relationship right, it's something that is good for China, for the United States, and for the whole world, and we are making a lot of progress towards a positive direction."
But Chinese state media responded cautiously to the developments, with state news agency Xinhua saying that "substantive progress" had been in the "candid, efficient and constructive discussions". At the same time, a commentary in Communist Party mouthpiece People's Daily said China would never trade in its principles.
"The final outcome will depend on whether the US can walk together with China, and create the necessary and sufficient conditions to push ahead," the commentary said.
Trump says latest US-China trade deal 'very positive' for Hong Kong, leaving protesters disappointed he did not back their cause
Observers and Chinese government advisers said the outcome was similar to Trump's comments after he met Liu in April.
Back then the US president was optimistic that a written document would be prepared in weeks, but the talks collapsed in May " with Washington blaming Beijing for backtracking its previously agreed commitment and Beijing saying the US demanded too much.
"Trump is taking a victory lap and putting much spin on the to-be-drafted trade deal. In contrast, the Chinese negotiators and media have been careful to not follow Trump's public hype, knowing that the devil is in the written detail and there is no deal until the ink is dry," James Zimmerman, a partner in the Beijing office of international law firm Perkins Coie, said.
"The Chinese are also avoiding any public statements either disputing or agreeing to Trump's unilateral announcement on the to-be-drafted 'deal', knowing that Trump is volatile with his extreme vacillation between recriminations and conciliatory remarks."
Even though Trump had expressed confidence in reaching a deal, he acknowledged that the agreement could fall apart.
US Treasury Secretary Steven Mnuchin said the two sides had "fundamental understanding on the key issues".
"We've gone through a significant amount of paper, but there is more work to do. And we will not sign an agreement unless we get and can tell the president that this is on paper," Mnuchin said.
US Trade Representative Robert Lighthizer said the two sides would have a "very elaborate consultation process" to finalise a dispute settlement mechanism.
He also said a decision had yet to be made on whether fresh duties of 15 per cent on US$160 billion of mostly consumer products that were scheduled to take effect in December would also be paused. Issues related to Chinese telecom giant Huawei " which was put on an export blacklist in May " were not part of the agreement.
Beijing warns of more uncertainty in trade war negotiations despite 'constructive' talks in Washington
A Chinese government adviser who refused to be named said China would face challenges from the US on issues such as enforcement and structural reform.
"The most difficult issue is not the balance of the text of the deal, but how they are going to implement it," the adviser said. "Now it is the time for political determination."
Shi Yinhong, a professor of international relations at Renmin University in Beijing, said there were still conflicts such as US containment of Chinese tech companies, but "at least there is an initial agreement on a small part of the trade issues that might lead to the de-escalation of tensions".
"What fundamentally matters currently is how they reached agreement on improving intellectual property and what kind of concrete agreement there is," Shi said.
Taoran Notes, a social media account run by the official Economic Daily, said the economic and trade frictions between Beijing and Washington had not fundamentally improved because the US had not removed its tariffs on Chinese goods and China's countermeasures were still in place.
"'Talking while fighting' could become the norm, and we should adapt to the norm as soon as possible," it said.
The talks took place as Trump faced the threat of an impeachment inquiry over his alleged attempts to use foreign aid to influence Ukraine to investigate political rival Joe Biden and his son Hunter.
Trump also called on China to investigate the Bidens earlier this month, but he said he did not bring up the former US vice-president in the trade talks.
Lu Xiang, a US specialist at the Chinese Academy of Social Sciences, said Trump needed to resolve the trade friction by the end of this year.
Lu said he expected one or two more rounds of trade talks to get the phase-one pact written.
"Trade issues are the relatively easy part. China is sincere and is able to address the trade imbalance with the US. They may discuss in depth the structural issues in phase two," he said.
Zimmerman said the 2020 presidential election had pushed Trump to "wake up to the fact that trade war and table-pounding is a strategic failure and nothing short of economic sabotage against the US economy".
US companies welcomed the talks result, saying it was a positive step towards breaking the deadlock.
US Chamber of Commerce executive vice-president Myron Brilliant, said Friday's announcement was a "ray of hope".
Thomas Prusa, an economics professor at Rutgers University and a research associate with the National Bureau of Economic Research, agreed.
"Even a small deal, even if it doesn't change things materially, could be helpful. Companies would love some sense of what's going to happen over the next 12 months so they can plan, figure out should we move production out of China," Prusa said.
Copyright (c) 2019. South China Morning Post Publishers Ltd. All rights reserved.