Shenzhen authorities claim Cheng 'engaged in prostitution' but former British consulate trade officer said earlier that he did nothing regrettable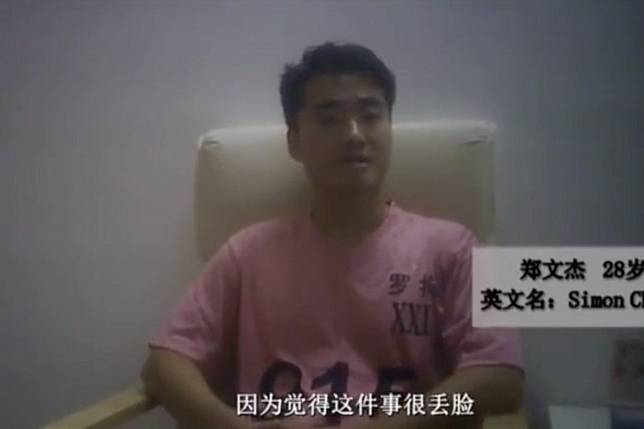 Police in the southern Chinese city of Shenzhen released a video "confession" on Thursday in an apparent attempt to discredit claims by a former British consulate employee in Hong Kong that he was tortured when he was detained in the border city in August.
The video, which was released through the Weibo microblogging account of Communist Party mouthpiece People's Daily , showed Simon Cheng Man-kit, a Hong Kong resident who previously worked for the British consulate in Hong Kong as a trade and investment officer, "confessing" to his interrogators that he felt ashamed of his wrongdoings and promising not to repeat the mistakes.
Another video released by the police purportedly showed Cheng at a club in Luohu district in Shenzhen and later entering a room with a woman.
A report with the videos said Cheng visited the club three times over a fortnight from late July during which he had engaged in "prostitution".
"From the information provided by Luohu police, (we can see that) this was an ordinary case of patronising prostitution and this was supported by clear facts and conclusive evidence," the report said.
"In this case, police have handled the investigation and interrogation in accordance with the law and (they) did not extract evidence (from Cheng) through torture."
Canadian consulate in Hong Kong halts mainland China visits after Simon Cheng detention
Cheng, 29, was released by Shenzhen police on August 24 and later returned to Hong Kong.
In the "confession" video, Cheng was shown saying that what he did was "shameful" and he was "too ashamed to meet my girlfriend and my family".
"I am determined to mend my ways and I will never make the same mistake again," Cheng was shown saying. However, the "confession" did not mention prostitution nor include any footage of the woman involved.
In a long statement posted on Facebook on Wednesday, Cheng gave a detailed account of how he was held for 15 days in Shenzhen and tortured. He was also pressed to give information about activists in anti-government protests in Hong Kong and the alleged roles of the British government in the unrest, he said.
Asked in an interview with British broadcaster BBC on Wednesday whether he had paid for sex during his visits to Shenzhen, Cheng declined to answer.
However, he said in his Facebook statement that he did nothing regrettable.
"I did not harm and did nothing I regret to anyone and all the people I love and cherish," Cheng wrote.
China confirms detention of British consulate trade officer Simon Cheng Man-kit for 15 days
On Wednesday, British Foreign Secretary Dominic Raab said he summoned the Chinese ambassador in London to express outrage at Cheng's alleged mistreatment.
Commenting on Cheng's statement, Raab said: "We were shocked and appalled by the mistreatment he suffered while in Chinese detention, which amounts to torture."
In his own statement, Cheng said he was asked by the consulate to resign in November. But sources said he might have left of his own accord.
Copyright (c) 2019. South China Morning Post Publishers Ltd. All rights reserved.