Next generation of leaders of armed forces given Xiangshan platform to air their views
But new perspectives from China are few and far between, according to one delegate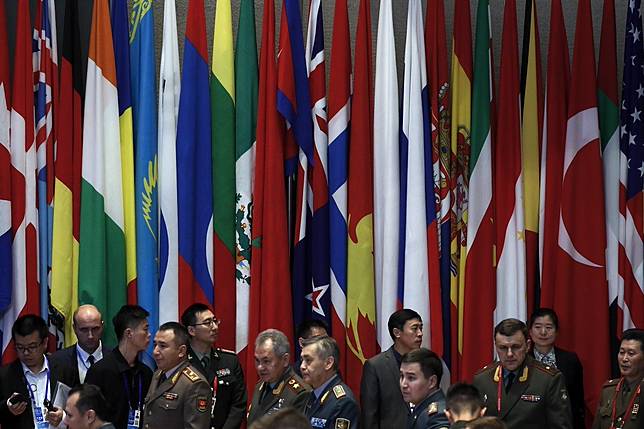 China is seeking to influence the next generation of the world's leaders by giving young officers a platform at the country's leading regional security forum.
At the opening of a seminar for young officers and scholars at the Xiangshan Forum in Beijing on Sunday, Senior Colonel Zhao Xiaozhuo said that China wanted to give young officers a way to have their voices heard.
"Although some of the participants (at the forum) are young, they have made substantial achievements academically," Zhao said.
"They may be young today but they will be senior positions 10 years from now and become decision-makers or influential experts in their specialist fields. And perhaps in 20 or 30 years … today's experience will help them to make the 'right decisions'."
The People's Liberation Army launched the forum in 2006 as China's alternative to the Shangri-La Dialogue in Singapore.
US delegates at Beijing security forum set to face tough time over stance on Hong Kong, 'provocation' in South China Sea
The forum is now an annual event, attracting specialists and officers from militaries around the world.
It first included a seminar for young officers in 2016. By contrast, the Shangri-La Dialogue, Asia's leading defence summit, has yet to offer a similar platform for young professionals.
On Sunday, 24 representatives from 14 countries took part in the seminar, including the United States, Britain and South Korea.
They covered a range of issues from the strategic rivalry between China and the US, denuclearisation of the Korean peninsula, artificial intelligence applications in the military to China's policy in the Middle East.
Intizar Khadim, a political analyst in Kabul, Afghanistan, said the activity was a smart way for China to play a global game.
"China is about to lead global affairs and Beijing clearly knows it cannot play solo. If then want to play a global game, they have to ensure that communities of other countries will engage with China," Khadim said.
US is instigating colour revolutions, China's Defence Minister Wei Fenghe says
Lieutenant Colonel Zhang Chi, from the PLA's National Defence University, said that the exchange of views helped him to understand more about the outside world, particularly in relation to Afghanistan.
"This is a good opportunity to get together so that people can have a better understanding and reduce misunderstanding," Zhang said.
But Rajeev Ranjan Chaturvedy, a visiting fellow at Nanyang Technological University's S. Rajaratnam School of International Studies in Singapore, said the seminar had lost some focus.
"There's not many new Chinese perspectives coming out in this seminar, certainly the Chinese delegates are repeating the official lines and positions. And if they can only selectively explain things, then this is not going to deepen my understanding towards China," Chaturvedy said.
"And it should also be a two-way process, in which young scholars' concerns and perspectives are heard by China."
Copyright (c) 2019. South China Morning Post Publishers Ltd. All rights reserved.