Move by vice-chancellor Rocky Tuan comes after emotional dialogue sessions with students who accuse police of misconduct following arrests
Force says it has not received enough details on cases, urging those involved to come forward
The head of the Chinese University of Hong Kong, under intense student pressure, has agreed to condemn police for "any proven case" of brutality, and will also urge the city's leader to launch an investigation into the treatment of about 20 arrested students.
Vice-chancellor Rocky Tuan Sung-chi made the commitment in an open letter on Friday, marking the first such move by a university chief over the anti-government protests that have rocked Hong Kong for more than four months.
Police countered that they had yet to receive details from the university to pursue complaints, and urged the students making the allegations to come forward.
Tuan earlier pledged to make a statement after marathon meetings last Thursday with highly emotional students who demanded more support for classmates arrested during the protests. They asked him to condemn alleged police brutality, with one student, Sonia Ng, claiming she was sexually assaulted while in custody.
Ng had removed her mask at the session, challenging Tuan to stand with students.
Tuan wrote in his letter: "Any proven case of improper use of force or violations of human rights by certain police officers must be condemned."
Tuan said staff had contacted about 30 arrested students in all, and some 20 recalled they had been subjected to mistreatment, such as being denied medication, slapped in the face and stripped naked unnecessarily.
Police to investigate female student's claim of sexual assault by officers
Tuan had previously mentioned that some students of the university had been arrested over offences such as taking part in unlawful assemblies and rioting.
In his open letter, Tuan said most of them claimed they were not allowed to make a phone call for several hours " up to 78 hours for some " following their arrest. Some also accused police of not permitting them to sleep or lie down to rest during detention, while others said they were not given timely medication or treatment needed.
In one case, a student with a head injury was allegedly only sent to hospital after 18 hours in detention.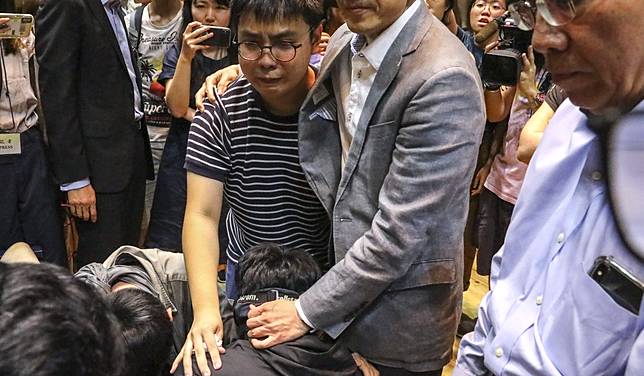 Tuan said more than one student complained about being slapped while giving a statement or in detention, and two said they were forced to strip naked by officers of the same sex in a search room, despite being told earlier it was not necessary.
"These are not isolated incidents but serious allegations from a human rights point of view," Tuan wrote. "Upon hearing from the students themselves what physical and mental pains they had suffered, I felt sad and anguished."
Chinese University welcoming event for new starters turns into anti-government rally
Tuan said he would write to Chief Executive Carrie Lam Cheng Yuet-ngor to "exhort her to initiate (an) independent investigation", outside the existing mechanism, into about 20 cases involving students who alleged unreasonable treatment.
"This will hopefully reaffirm the rule of law and restore public confidence," he said.
Tuan said students did not trust the investigations of the police complaints office and reviews by the government-appointed Independent Police Complaints Council (IPCC).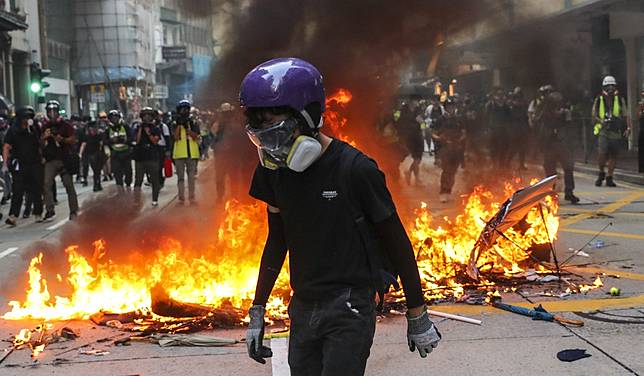 So far, about 2,600 people " including hundreds of students " have been arrested since the protests were sparked in June by the now-withdrawn extradition bill. Mobs have vandalised shops and thrown petrol bombs at officers, who have responded with tear gas and rubber bullets.
Asked about Tuan's letter, Kelvin Kong Wing-cheung, acting chief superintendent of the Police Public Relations Branch, said they were aware of it but pointed out that basic details of the allegations made by students were missing.
Did police use excessive force or issue a proportional response?
"In many types of cases, the most important piece of the puzzle is the testimony of the victim or claimant," he said, urging students with complaints against police to step forward.
The university's student union welcomed Tuan's offer, but noted there was still a gap between his stance in the letter and students' expectations.
"Some students expected him to use stronger wording, for example being clear in making strong condemnation," union president Jacky So Tsun-fung said.
Student Sonia Ng, who accused police of sexual violence, said Tuan's letter was "not perfect" and "acceptable, but needs improvement".
"From the statement, I believe the vice-chancellor has put in effort to understand students' feelings," she added, urging other educational institutions to follow his example.
Ng said as she did not trust the IPCC and the Complaints Against Police Office, she would take her case directly to the city's leader, who is also the university's chancellor, and urge her to set up an independent commission of inquiry to look into the allegations.
The Chief Executive's Office said in a reply that it would handle Tuan's letter upon receiving it.
Additional reporting by Linda Lew
Copyright (c) 2019. South China Morning Post Publishers Ltd. All rights reserved.