China's third-quarter GDP growth, at 6.0 per cent, was the lowest on record and fuelled doubts about the efficiency of government stimulus measures
Property companies and banks pulled the Hang Seng Index lower, but the Hong Kong benchmark still gained 1.5 per cent on the week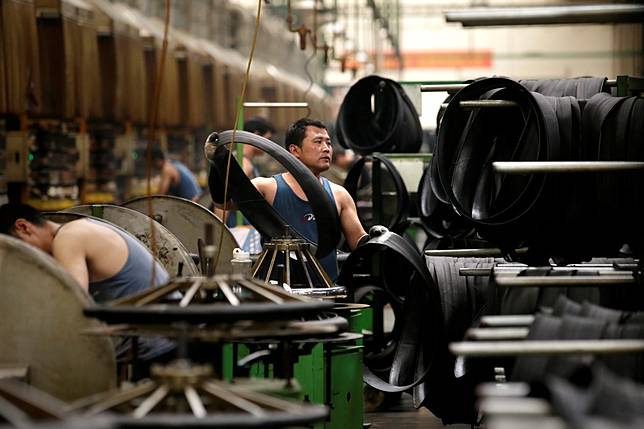 Both the Shanghai Composite Index and the CSI 300, which tracks blue chips listed in Shenzhen and Shanghai, dropped the most in a month on Friday, as China's third-quarter GDP growth at 6.0 per cent, the lowest on record, fuelled concerns about the state of the economy.
The Shanghai Composite Index slid 1.3 per cent, finishing the day at 2,938,14, while the CSI 300 closed 1.4 per cent lower at 3,869.38.
In Hong Kong, property developers and financial firms led the Hang Seng Index down 0.5 per cent to 26,719.58. For the week, however, the benchmark gauge rose 1.5 per cent.
Xu Lei, an analyst with Shenwan Hongyuan Securities based in Shanghai, said investors were beginning to fear that GDP growth, which has fallen in every quarter since the beginning of the year, is reflecting the fact that the various economic stimulus and supportive monetary measures launched by the government and central bank are having a limited effect.
China's economic growth sinks to new low of 6.0 per cent amid US trade war
"There is even some speculation that in 2020, GDP growth could dip below 6 per cent. With 80 per cent of the (domestically-listed) companies still engaged in the traditional economy and representing small-to-medium enterprises, China's economic slowdown has already begun to be reflected in their third quarter results and over the medium term," said Xu.
China's first-quarter GDP growth was 6.4 per cent, falling to 6.2 per cent in the second quarter.
"Given this, over the medium term I believe the market will still be mired in economic growth concerns, and I don't see the Shanghai Composite Index going beyond the 3,000 level."
Leading the losses in Shanghai were financials, with Ping An Insurance falling 2.2 per cent to 89.75 yuan, China Merchant Bank also dropping 2.2 per cent, to 36.18 yuan, and Industrial and Commercial Bank of China edging down 0.7 per cent to 5.67 yuan.
Index heavyweight, liquor distiller Kweichow Moutai, lost 0.6 per cent to 1,175,79 yuan. LONGi Green Energy Tech slumped 3.5 per cent to 23.35 yuan.
In Hong Kong, the positive sentiment from the government's new policies aimed at promoting home ownership, announced on Wednesday, fizzled out, ending a two-day rally in property companies.
Link Reit dropped 2.4 per cent to finish Friday at HK$83.1, Sino Land lost 1.6 per cent to HK$12.1, Henderson Land fell 1.7 per cent to HK$38.1, and New World Development gave up 0.9 per cent to HK$11.08.
"On Wednesday and Thursday, these Hong Kong developers and banks had been overbought due to the positive sentiment from the policy address. But their fundamentals have not improved, hence, it is not surprising that they retraced these gains on Friday," said Alex Wong, a director at Ample Finance.
Concerns about China's slowing growth dragged banks lower.
China Construction Bank lost 0.5 per cent to finish the day at HK$6.28, while Industrial and Commercial Bank of China lost 1.1 per cent to HK$5.42.
Limiting the losses was social media giant Tencent, which ticked up almost 0.2 per cent to HK$331.6; CSPC Pharmaceutical jumped 3.6 per cent to HK$17.5.
"I'd expect the Hang Seng Index to hover at around 27,000-level next week, with capital switching into blue-chip Chinese companies, preferring them over companies with Hong Kong-focused business," said Wong, referring to Hong Kong's dampened economic outlook after more months of violent protests.
Copyright (c) 2019. South China Morning Post Publishers Ltd. All rights reserved.