Supreme Court rules Qiaodan Sports cannot use the Chinese name of the six-time NBA champion, but its logo can still include the silhouette of a basketball player
China is currently drafting an action plan on intellectual property protection as required by the phase-one trade deal with the US
China's efforts to honour intellectual property rights outlined in the phase-one trade deal with the United States appear to be filtering through, at least in part, after its Supreme Court ruled in favour of six-time NBA champion Michael Jordan.
The decision overruled two earlier lower court rulings, finding that Fujian-based Qiaodan Sports had used Jordan's name in Chinese, Qiao Dan, illegally, according to the verdict published last month.
Qiaodan Sports' logo features a silhouette of a basketball player, and is often used alongside Jordan's name in Chinese. The logo bears a resemblance to Jordan's own iconic Jumpman logo, which features a silhouette of the now-retired former Chicago Bulls shooting guard performing a dunk.
The verdict, though, did not mention the profits Qiaodan Sports had earned from using Jordan's name illegally.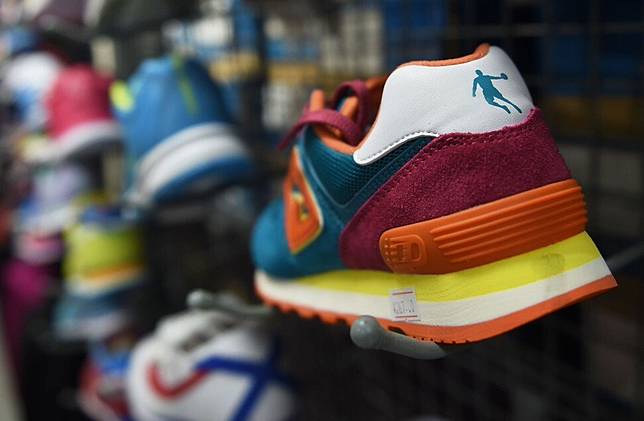 "The Supreme Court verdict has ruled this logo be retried by the trademark office, but we don't know what the retrial will be like, and we are not sure whether Jordan will sue Qiaodan Sports again after the retrial," said Xu Chendi, a lawyer for the Beijing Zhongwen Law Firm.
However, the court also ruled that the silhouette " an image widely associated with Jordan in the West " did not violate Jordan's portraiture rights, meaning Qiaodan Sports could continue to use it.
China is currently in the process of drafting an action plan on intellectual property protection as required by the phase-one trade deal with the US, which was signed in January. It is expected to address a number of US concerns, including trademarks and enforcement against pirated and counterfeit goods.
Last week, China's Supreme Court invalidated two trademarks imitating the signature N mark used by US athletic shoemaker New Balance, bringing a decade-long dispute to an end. New Balance hailed the verdict as "the most significant precedent".
The latest decision against Qiaodan Sports is consistent with the same court ruling in 2016 that a trademark, which contained only Jordan's Chinese name, was a violation of his naming rights.
The Supreme Court also ruled in 2016 that it was legal for the company to continue using the pinyin " the Western phonetic spelling of Chinese words " of Jordan's Chinese name, both qiaodan and QIAODAN, but not the Chinese characters for the name.
Qiaodan Sports has registered around 200 trademarks based on the five-time National Basketball Association most valuable player since it was founded in 2010, including Jordan's Chinese name and the phonetic version in English.
Last year, the company applied for 12 new trademarks involving Jordan's name in Chinese, including "Qiaodan Superdry", which are still waiting approval, according to the Trademark Office of National Intellectual Property Administration.
Since 2012, Jordan has filed 80 lawsuits against Qiaodan Sports, including for the unauthorised use of his Chinese name, his silhouette, his retired jersey number of 23 and the names of his two children " losing on all occasions until the Supreme Court ruling in 2016.
Jordan argued that the unauthorised use of his name would suggest he endorsed Qiaodan Sports. He also argued that their behaviour was an infringement of his rights before the registration of the trademarks in China.
Both the Beijing First Intermediate People's Court and the Beijing Higher People's Court had previously ruled that Jordan was a common American surname and that Qiaodan Sports had not exclusively referred to the American, now 57.
It was also ruled that it was difficult for the public to identify the silhouette as Jordan's image because there were no facial features included within the logo.
Sign up now and get a 10% discount (original price US$400) off the China AI Report 2020 by SCMP Research. Learn about the AI ambitions of Alibaba, Baidu & JD.com through our in-depth case studies, and explore new applications of AI across industries. The report also includes exclusive access to webinars to interact with C-level executives from leading China AI companies (via live Q&A sessions). Offer valid until 31 May 2020.
Copyright (c) 2020. South China Morning Post Publishers Ltd. All rights reserved.